What went wrong for Bangladesh in the Christchurch test?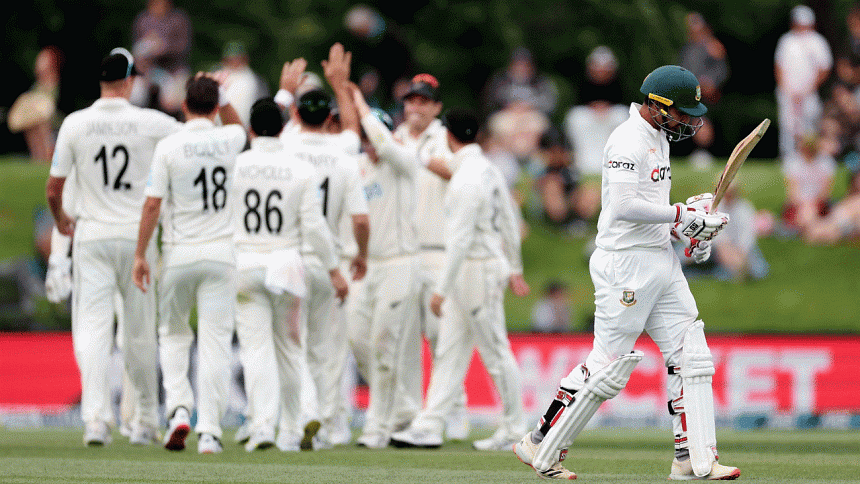 Ardent Bangladesh fans must have dreamt of a stupendous achievement, riding on what was probably the biggest win in our cricket history. But it seems like the test team is back to square one, getting bundled out within three days, at Christchurch. 
Christchurch is the city Bangladesh left last time with a traumatic near-death experience, a memory some players won't probably ever get rid of. However, in the context of cricket, this battering was traumatic as well. On a green pitch that was not that distinguishable from the field, Hagley Oval drove Bangladesh into a frenzy. Despite the toss going in their favour, they seemed out of sorts. Was Mominul Haque's love for the "process" at fault here?
The Bangladesh skipper was proud about how his team went about the "process" in the first test. While it was a laudable course of action, sticking to it no matter what the situation was, came back to bite them in the back.  
Being adamant with following the "process" made Bangladesh look clueless as they really didn't have a plan B on board. Kiwi skipper Tom Latham seemed like a man on a mission – looking to dismantle pacers' line and push Mominul to think outside the box. He trusted the bounce of this green pitch and took on the pacers accordingly. Mominul however was as stern as a baby throwing tantrums for a toy in a shopping mall, so were his bowlers.
An alternate plan would be changing lengths and setting fields accordingly, to make batsmen rethink their approach, which evidently was missing on a very favourable overcast condition. Taskin Ahmed was good with the new ball but not incisive enough. He didn't really push batsmen to play at him. Hagley Oval's wicket had a lot of bounce on offer. A good length delivery, to which on most surfaces a batsman would be indecisive to have a go at, was easy to deal with on this surface. Good length deliveries on the first day rarely challenged a batsman to nick the ball since it comfortably rose up above waist height. Even after that, Taskin went on to hit the same length over and over again.
On the other hand, Ebadot Hossain was too full. And once he was bludgeoned to all parts of the ground, his line and length were all over the place. Often on grounds like this, the slot becomes the danger zone for batsmen as it contains a nice and consistent bounce. Unfortunately, most of the bowlers failed to recognise that and adjust their lengths accordingly.
So did Mominul, with his captaincy. Devon Conway was new to the wicket and had to be pushed back. Instead, he brought Mehedi Hasan Miraz into the attack. And once Conway was in, with help from an innocuous spell from Miraz, he was never going to look back.
What Conway was allowed, Bangladesh wasn't. Latham pushed them to their limits with constant pace and Bangladesh succumbed to that pressure. The application that was on display in Mount Maunganui went missing here in Christchurch. They kept poking at balls on the fifth/sixth stump channel and well above the height of knee roll.
While the batting department was off the charts, the bowling department failed mostly due to lack of any fail-safe plan. Going forward, rather than religiously adhering to the "process" Bangladesh might look to hatch plans for variable scenarios and conditions.
Alavi Ashraf Eram likes to blabber about his favourite movies, songs and sports. Drop him your movie critiques at fb.com/alaviashraf.eram