Farewell, David de Gea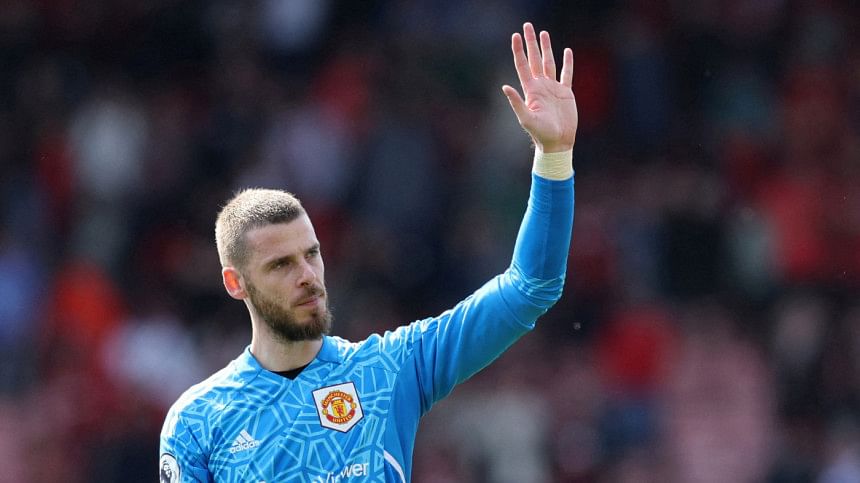 "How does he save that?" 
Peter Drury screamed to millions of TV viewers as David de Gea pulled out yet another logic-defying save from a point-blank Sergio Aguero header as Manchester United held on to claim a 3-2 away victory over arch-rivals Manchester City.
De Gea has been United's saviour for much of the last 12 years. Don't let the recency bias fool you. At the peak of his powers, no goalkeeper comes close to his shot-stopping abilities. Some of his saves, including the point-blank stop at Sevilla in February 2018 and that incredible double stop from Lacazette and Sanchez, are more aesthetically pleasing than most goals. 
In a rapidly declining team, he was often the only shining light. I feel privileged that I started supporting Manchester United just when de Gea was beginning to hit his prime. There was a time when I would only tune in to watch United just to see de Gea play. He is the reason United were even relevant in the big clubs' debate in the dark days of 2014-18. 
Despite United's predicament, his commitment to the club seldom faltered. His Real Madrid fax machine scandal had long since made way for genuine love for both United and the City of Manchester. He could have left for pastures new many times to win the biggest trophies but stayed out of passion for United. This was proven last year, when, ahead of his return to boyhood club Atletico Madrid, de Gea told UEFA that he feels he is a true Mancunian, and never imagined playing for another club. 
Alas, football is a cutthroat game, with little room for sentiments. David de Gea might have left Manchester United, but he leaves behind emotions, achievements, and memories which will last for generations to come. His 2017/18 version – sporting a ponytail, thick beard, and cat-like reflexes – struck fear into the most seasoned of strikers. It's still the best ever season I have witnessed from a goalkeeper. That season was an exhibition of pure shot-stopping at its blockbuster best. 
That season was unfortunately the last time de Gea was at the peak of his powers. He was never the same since Cristiano Ronaldo plundered an error-strewn hattrick past him in his World Cup debut. The fact that he couldn't keep up with the tactical demands of the age didn't help his cause either. His limited ball-playing abilities, penalty saving, and timidness in coming out of his box were exposed far too often. 
De Gea had to go, but some of the hate he received cannot be justified. The club should have thought twice before offering 375k-a-week to a goalkeeper, however good he may be. These wages just set him up for more scrutiny and hate. On top of that, the fact that he was left in limbo for a month before release is unacceptable for someone who has done so much for the club. 
Despite his decline, he saved Manchester United many times in the last four years, with the 11-save game against Spurs being an obvious point of reference. His goalkeeping helped us gain some valuable points in both of his last two seasons. It's quite poetic that he leaves United as a Premier League Golden Glove winner. 
The boy from Madrid leaves with his place secured among the pantheons of the United greats.
Tell Inqiad to do his homework at [email protected]