The youth motors on two wheels
No matter age, class, or gender, at some point in their lives, everyone has come across a motorcycle, seen the wind in a rider's hair, the gloves on their hands and the freedom in their spirit and wondered – "I wish I could ride a bike."
Be it for its affordability or convenience, Dhaka is a metropolis riddled with motorcycles. According to BRTA data, there's a total of 78,551 registered bikes in Dhaka and around 311 thousand of them in Bangladesh. It leaves one wondering, what is it about motorcycles that make them so popular as a vehicle of choice, especially among the youth?
"The aura that I get from motorbikes is that I always think of them as dark, mysterious and rebellious. It may seem a little odd for some, but there's always that bit of gothic punk spunk I get about bikes," said Naim Uddin, a motorcycle owner working as a senior copywriter at Asiatic MCL.
Conventionally, most people learn how to ride a motorcycle first and then buy their own. However, for Naim, it was the other way around.
"I started riding after I was done with high-school. A friend of mine and I learnt how to ride together. Every night we would push the motorcycle I bought out of the garage to practice, but unfortunately for us, we had no idea how to ride it. So, we watched plenty of YouTube videos," said Naim.
"We fell a couple of times after but it was honestly a fun, and a memorable way to get started," he added.
For others, motorcycles act as a mode of escapism – a vehicle that focuses all the senses.
"I only drive in Dhaka to commute. However, when I drive in Rangamati in my hometown, I often feel like all of my usual troubles are past me. I get tunnel vision – it's just the road and me," said Orchid Chakma, photo-journalist at The Daily Star, who's been motorcycle rider for several years now.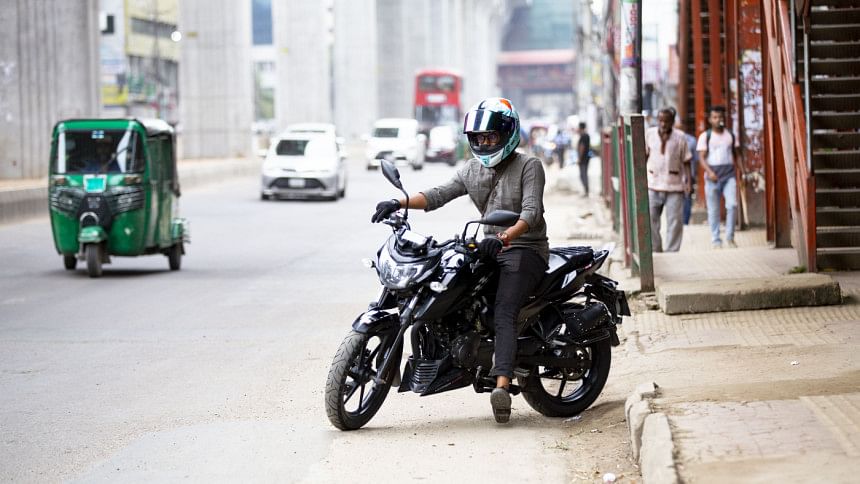 Mahadi Al Rakib Mahi, a student of Independent University, Bangladesh (IUB), echoed something similarly poetic and said, "Whenever I listen to the engine, I feel like that sound is directly connected to the beat of my heart. And when I ride my bike, I feel as though the bike is an extension of myself."
Kafil Wara Rafid, a student of American International University - Bangladesh (AIUB) said, "I hated the endless wait I went through using public transportation, just sitting in gridlock for hours. Using a bike, I can avoid that almost completely, since it's just the best way to get around in a constantly crowded city like Dhaka."
On the other hand, other owners of motorcycles decided to make the shift to the vehicle while making the transition into professional roles.
Sabit Rafat Reevu, associate relationship manager at Eastern Bank Limited (EBL), said, "I just had to get a bike when I entered a job role, since for me there was no other way to get to work on time. Living near Motijheel, a banking hub, I had to travel to Gulshan every day. Everyone who has to travel during peak rush hours through this area, would know how difficult and painful of an experience that is."
"Besides, the maintenance cost of bikes isn't very hefty. However, giving the ongoing price hike of fuel, it's hard to tell if that's the case anymore," he added.
But numerous benefits aside, the first mountain that any young bike owner had to cross was convincing the parents.
"Why I like bikes is precisely the reason my parents hate it. However, since I maintained all costs pertaining to it, they eventually made peace with it," recalled Ragheeb Faatin Moazzem, a graduate from IUB.
"The most exhilarating experience I get riding my bike in Dhaka is probably every Friday, right before Jummah prayers, when the roads are quite free," he added.
Isaba Shuhurat, a final year student at Jahangirnagar University in the Anthropology Department, has been driving her scooter, for almost four years now. For her, the journey of getting a scooter had started with her winning a wager with her parents during her university admission test.
"I got my first scooter when I got into university in 2018. I had a condition with my mother that if I got accepted at a public university, they had to let me get a scooter. My cousin, who had a bike at the time, taught me the basics," said Isaba.
But for Isaba, bringing the parents on board with the concept of her driving independently on Dhaka streets wasn't that easy.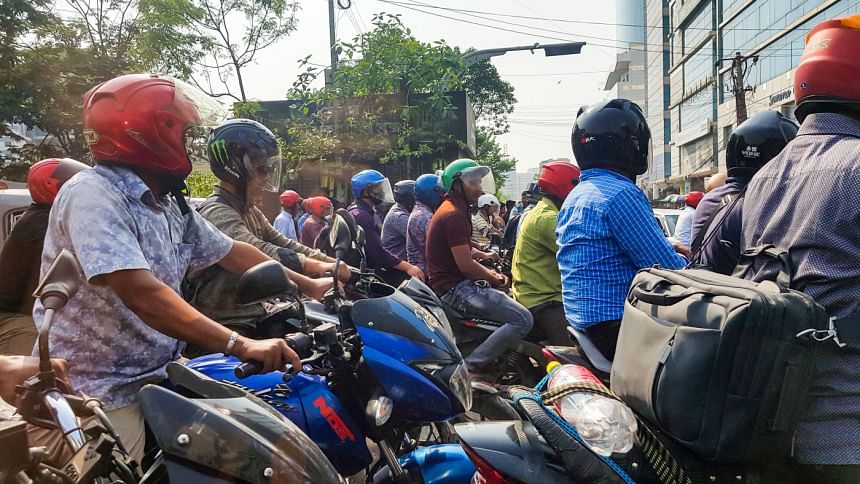 "My father wasn't entirely okay with the idea of getting a scooter, mostly because of the sheer amount of accidents that occur countrywide. Even so, he understood the necessity. And to make sure I was as safe as I can be, he took me out to practice every weekend and that's how I gained confidence riding my scooter on the main roads," she added.
On the topic of safety, Orchid added, "Our country has no helmet certification companies, something that exists in other countries. Even now, you can see riders putting on a construction helmet for protection. We have to fine people to make them wear helmets, which is ridiculous because this is something they ought to do on their own, since it's their own lives at stake if they are negligent."
When it comes to the motorcycle market, Kafil complained that there's a limitation of choice when purchasing motorcycles, especially for young, first time buyers.
"To be honest, the options available in the market are limited if someone is operating within a budget, as young people often can't afford to go beyond 1,30,000 – 2,00,000 range. To stay within the range, they have to compromise in terms of the motorcycle's cubic capacity (CC)," he said.
"It's a bit frustrating for bike enthusiasts since anything under 250cc is a commuter bike and those who want to become professional riders have little to no options available to them," added Kafil.
For many young riders, the look of their motorcycle is often as important as anything. Even here, options are dictated by budget.
"Lower powered bikes often lack in the looks departments as well, which is disappointing because they are often the only ones available for young people with a budget," said Kafil. "Like everything, change of budget fixes most problems. Bikes over 150 CC on a higher budget tend to look nicer too."
Despite the numerous qualms and benefits, everyone unanimously agreed that before purchasing a motorbike, one needs to watch out for the mileage, seat height, availability of parts and see if there is a connection with the vehicle.
"Even though I bought my scooter from a brand showroom, I faced quite the hassle since the brand stopped exporting parts of my scooter's model to Bangladesh. Now I have to be careful so that my bike doesn't need any repairs," said Isaba.
"You need to match the bike to the purpose it would serve. For example, a sport bike might not make the best commuter, especially if one plans on using the pillion cushion. Next thing would be to overlook the flash for the real benefits and long-term value. Your bike should also make you feel something," said Naim.
"There are plenty of ways to get around the city, so if the bike doesn't excite you it's probably best to wait till you come across the one that does," he added.
Nazifa is a sub-editor at The Daily Star. Reach her at [email protected]