Fantasy book series you might be missing out on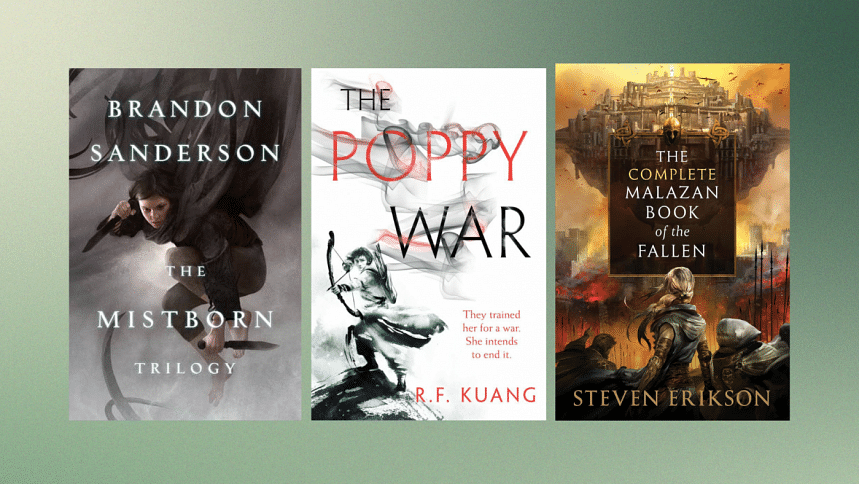 The world of fantasy literature has an infinite variety of stories, each occurring in worlds created to elevate our senses and transport us to a space beyond the ordinary. More than that, a lot of the time these stories can be reflective of reality while also blending in detailed worldbuilding and climactic events. It's a delicate balance, and the best fantasy book series seem to have figured the formulae out in their own unique ways.
Whether you're just getting into fantasy literature or you've already developed a taste for it, there may always be some names you could be (but absolutely should not be) missing out on.
The Mistborn Trilogy (Era 1)
Brandon Sanderson should already be a popular name among hardcore fans of literature by now. Author of multiple fantasy series, standalone novels, and so much more, Sanderson's first major fantasy trilogy is my pick for this list.
The overarching setting of the story is, according to the author, "a world where the good guys lost and the evil overlord rules with a tyrannical fist," but frankly, that isn't as important as the specific elements Sanderson includes in the series itself.
Teeming with complex yet well-defined power systems, Mistborn (the entire saga) serves as the perfect showcase of Sanderson's ability to create a world that feels incredibly lived in. All the characters use their abilities of Allomancy, Feruchemy and Hemalurgy in ways that highlight their personality. The world here is vividly detailed, yet as we are incrementally introduced to new elements of the world over time, nothing feels out of place. This makes for a smooth read that even those just getting into fantasy may enjoy.
Malazan Book of the Fallen
This is not one book but a series of ten books that follow a hoard of characters spread across a sprawling world in what is an epic fantasy narrative in its truest form.
Taking place over a span of many years and encompassing multiple continents, this series overall feels nearly uncontainable with how ambitious it is.
The cast too grows to the size of a small army over time and yet Steven Erikson, the author, makes a point to write every character to be wonderfully well-rounded. The worldbuilding, though initially vague and threatening to topple over, is given more explanation over time in order to create a web of narrative that is dense and complex. With a little effort though, and you might just find a vastly rewarding story of magic and politics handled with an incredible deftness unlike anything which I've ever seen. 
The Poppy War
Written by R. F. Kuang, this historical-military fantasy follows Rin, an orphan from war, who passes an Empire-wide exam that solidifies the future of all those who take it with flying colors.
Soon after, Rin, along with the reader, is thrust into a world of brutal violence that takes many shapes. This is an unflinching look at warfare and violence wrought by political play for power over land and trading commodities.
Inspired heavily by Chinese political history of the twentieth century, such as the Opium Wars, this series serves brutal commentary on China's political history with some gorgeously written fantastical elements to elevate it from being mere historical fiction. Like the best fantasy stories, the worldbuilding is ripe with commentary on world politics and history. This is a must read for anyone interested in eastern fantasy, but readers must be warned that the content may be quite graphic at times.
Raian is bothered but moisturized, send him calming music at IG: @raian_is_burning