Everything you need to know about the opening ceremony of FIFA World Cup 2022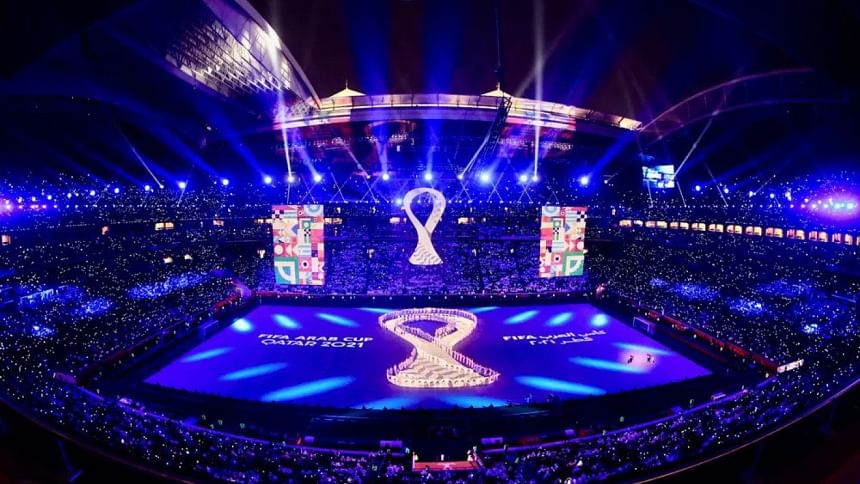 The stage is set for the biggest sporting event of the globe to kick-off and what better way to unveil the festivities than with glamour and glitz. Here is everything you need to know about the opening ceremony of the FIFA World Cup 2022. 
The opening ceremony will take place on Sunday (20th November), before the first Group A match between hosts Qatar and Ecuador. The ceremony is scheduled to begin at 8:00PM Bangladesh Standard Time. 
The original plan was for the opening ceremony to be held before Qatar's first game on Monday, which would have created the unusual situation of two games being held before it. Qatar's opening match was then brought forward by a day.  
The opening ceremony will be at the 60,000-capacity Al Bayt Stadium, 40 km (25 miles) north of Doha. Although FIFA has yet to announce a full list of performers for the opening ceremony, BTS member Jungkook will be gracing the stage with his track titled "Dreamers" at the ceremony. Others named as possible performers at the opening ceremony include the Black Eyed Peas, Robbie Williams and Nora Fatehi, according to The Telegraph. 
British singer Dua Lipa, on the other hand, denied a report that she was set to perform. The pop star previously mentioned that she will go to Qatar once they have fulfilled all the pledges to human rights they have made. On a similar note, Sir Rob Stewart turned down the opportunity to perform at the opening ceremony. In an interview with the Sunday times, he said, "I was actually offered a lot of money, over one million US dollars, to play there 15 months ago. I turned it down. It's not right to go."
Despite the controversy and setbacks, the FIFA World Cup 2022 is set to begin, and fans around the world will tune in to catch what promises to be some mesmerising football. What the opening ceremony can offer remains to be seen.
Viewers can catch the opening ceremony along with all the matches in the following channels: Gazi TV, Tsports and Toffee Live.