Everything wrong with Qurbani cattle markets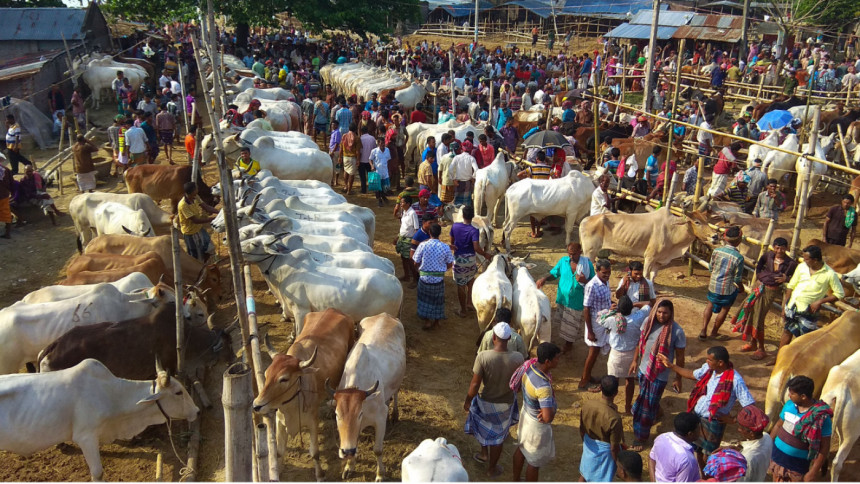 The penultimate festival of sacrifice for Muslims around the world is upon us. Thousands flocked to the many cattle markets throughout the country to buy sacrificial animals ahead of Eid-ul-Azha. 
Sadly enough, a large number of people will not be able to partake in this process, even if they want to.
The blame for that ultimately falls onto the absolutely dire state of cattle markets prior to Eid. Owing to a multitude of factors that combine into a precarious endeavour for all parties involved, these markets remain inaccessible to numerous groups of people every year.
To start off, most markets don't have proper crowd planning, toilet facilities, or guidelines for sellers to follow. As a result, maneuvering your way through tricky passages jam-packed with people and loose cattle becomes a tall order. 
This situation is exacerbated during the rainy season, especially since the absence of proper drainage systems makes it nigh impossible to tread on the slippery slopes and quicksand-esque mud. 
But the utilities aren't the only factor that makes cattle markets unpleasant to visit. The people who frequent these markets play a fair hand as well. For example, girls who want to have the firsthand experience of buying a sacrificial animal for Eid have to face an unpleasant situation every year, without fail.
"From the uncomfortable stares to the unsolicited comments about clothes, cattle markets are extremely unwelcoming to girls," says Samiya Haider Nidhi, a high school student. "Although I want to enjoy Eid like everyone else, I have to listen to people constantly judging my family for allowing me to accompany the men to cattle markets. I feel alienated from the festivities because of all the moral policing."
Besides the inconveniences faced by customers, the dearth of security in these areas is also a serious matter of concern. Cattle owners from remote areas in the country have to make the long journey to urban regions in the hopes of selling their animals for money. 
For many, it is a large gamble that they're forced to make since profits are never guaranteed.
Rahim Mia, a farmer in Mymensingh, once shared his experience of being mugged in a cattle market with me. After selling two cows in a large cattle market in Dhaka, he was waiting for his final one to be sold so he could return to his hometown and celebrate Eid with his family. However, two nights before Eid, three men mugged him in the middle of the night and stole all of his money.
"I was going to pay off a loan with that money. After losing it, I felt helpless because I barely had any money left to return home. But since there weren't any cameras or security guards in the market, no one came forward to help me in my time of need," he stated. 
Despite all these issues, the process of going to a wide open area to buy a sacrificial animal with family members is an age-old tradition — one that had been observed by nearly everybody celebrating Eid. It has also acted as a bonding experience for old and young family members, at least in my personal experience. But since the chances of these places improving seem to be lessening everyday, opting for online cattle markets that circumvent the aforementioned issues seem to be the only reasonable solution left.
Remind Ayaan to study for his SSC examination at ayaan.shams@gmail.com