What it's like for women at a qurbani haat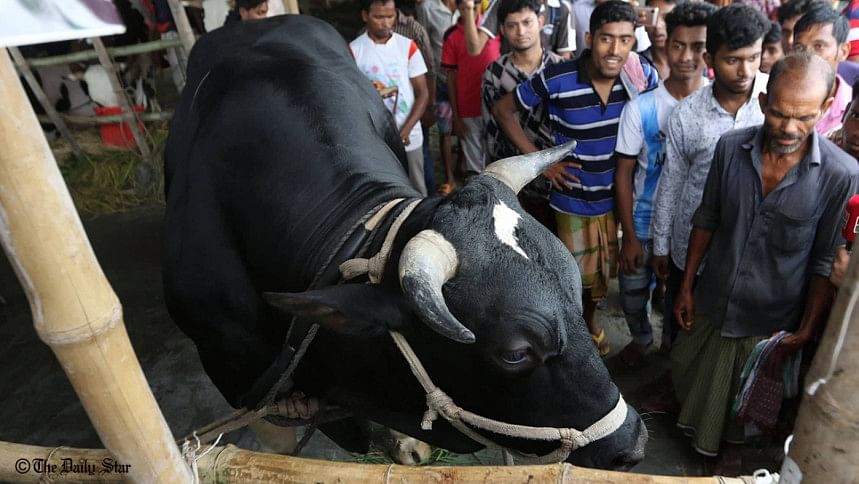 Before the pandemic, I accompanied my mother to a cattle haat, intending to buy our sacrificial animal for Qurbani Eid.
Having only visited small makeshift haats on neighbourhood streets as a child, I mostly planned to be wary of cow dung, odour, and rogue animals. However, the lack of order and surveillance at the haat proved to be the pressing issue.
Looking around, we noticed that we were among the few women present there, uncomfortably pushing through a chaotically moving crowd. Truth be told, even though Eid imparts teachings of sacrifice and devotion to all Muslims, qurbani haats, which have always been integral to Eid-ul-Azha, grossly lack safety and appropriate conditions for female buyers. Discriminatory behaviour towards women visitors is also part of the problem.
Mom and I found ourselves sidestepping countless cattle, carelessly set up in the middle of walking lanes. Tightly clutching my mother's hand, I was mostly worried about getting harassed or mugged because there were no law enforcers and garrulous crowds provided opportunities to individuals with bad intentions.
Mom was on the lookout for newly-arrived cattle trucks being unloaded. These animals tend to be particularly tetchy from their long journeys. At the slim chance of their slipping out of control, we definitely didn't want to be anywhere near them.
Perhaps, the uniqueness of visiting a qurbani haat lies in the thrill that comes with unpredictable behaviours of domesticated animals. Sure, I was in a constant state of anxiety from having to watch my back so as to not get skewered by bulls coming at me. According to my mother, who has been to haats several times, she can never get used to animals sneaking up on her. However, the humour in watching someone get hit by the swinging tail of a bull and stepping on animal faeces cannot be found anywhere else.
Although there weren't many female buyers around, it was quite impressive to see businesswomen selling cattle they raised themselves. We almost struck a deal with an older woman who owned her own cattle farm and had been selling buffalos and bulls at qurbani haats for a number of years.
As we moved on from stall to stall, talking to sellers and discussing prices, it was pretty evident that knowing market prices of cattle was imperative to identify price discrepancies between sellers. At such marketplaces where business is conventionally conducted between men, women face huge amounts of condescension and prejudice.
In our case, there were strangers coming up to us with unsolicited advice on the basics of cattle buying, which was extremely sexist considering the fact that no such suggestions were being made to male customers around us. The way most people gawked at us the entire time, spoke a thousand words.
Our societal restrictions and superstitions have still held us so far back, women are still considered unfit for responsibilities like this that men have always been conventionally entrusted with. Despite the struggles, nothing beats the joy we felt from finally having bought an animal, all by ourselves and replying to "Apu koto nilo?" from haat goers.
Nuzha eagerly wants to visit a qurbani haat again but dreads Covid. Console her at [email protected]