Daraz launches D-Force
Digital freelance employment for the youth of Bangladesh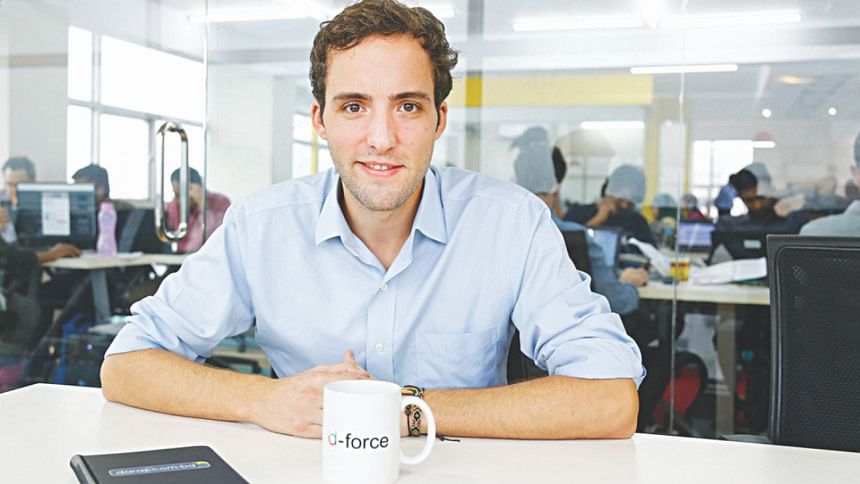 Daraz Bangladesh has recently launched an ambitious sales programme called "D-Force" – a digital freelance employment platform for students and part-time workers. In their efforts to pioneer freelance employment in Bangladesh, Daraz representatives have conducted interactive sessions at multiple universities, including IUB, ULAB, BRAC University and University of Asia Pacific. The D-Force project is a pioneer in merging online platforms with reform work, particularly employment. During an interview with Antonio Fantappiè, Business Development Manager and Head of Sales Force at Daraz, SHOUT learned about D-Force and the philosophy behind this innovative concept.
When asked what motives led to this venture, Antonio said, "The exciting element of this project is that it has an untapped potential for growth. The large population of Bangladesh will allow D-Force to grow dramatically, especially in the rural areas."
D-Force, short for Daraz Force, provides selected students with a special log-in ID with which they are able to place orders and work for Daraz as sales consultants. This allows an unlimited number of freelancers to sell through any mobile device, thereby, making the entire process much more efficient. Free sales training is provided to the best performing agents who also receive certification from Rocket Internet and Daraz Bangladesh. D-Force offers salaries based on commission which increases with performance. 
In today's globally competitive labour market, such specialised training is indeed crucial in order to start a promising career. Through this opportunity, students will not only learn valuable skills but also receive certification from a renowned multinational company. Needless to say, this is a unique chance to boost their CV and get some real hands-on experience.
So far, the response has been tremendous – not only for the training programme but also for subsequent internship opportunities. "One of our core team members was a sales consultant until a few weeks ago. Through his outstanding performance and dedication, he's earned a permanent spot in the D-Force team. At this rate, I won't be surprised to see many of our agents working as interns or even full-timers," added Antonio. 
Eventually, D-Force plans to expand to rural areas in order to train the youth in basic computer, sales and communication skills. The D-Force team plans to partner with local NGOs and expand their training programmes to underdeveloped localities. Although Bangladesh has seen a growth in such innovations starting off with a dramatic flair, the progress tends to wane eventually. 
"Every innovation has to overcome its own set of obstacles. If we're able to maintain an organised framework and provide effective training to our agents, then I see no reason why e-commerce and D-Force will not grow," said Antonio.
Antonio and his team have built the entire project from scratch. From marketing and expansion strategies to setting training schedules and materials, the D-Force team has been working around the clock to set up this platform for Bangladesh. So far, D-Force has been tremendously successful in Nigeria, providing employment to roughly 30,000 people within a year. The team is confident that they'll be able to achieve similar numbers in Bangladesh as well.
Antonio had a few parting words regarding entrepreneurial innovation to maximise social benefits: "There are endless ways to unleash your creativity and become an entrepreneur. D-Force provides all the tools necessary to unleash such creativity. I'm proud of the work we've done so far. Most importantly, I'm glad to have provided the youth of this country with the instruments to develop and hone their personal skills."
Mithi Chowdhury is a dog-loving-movie-watching-mediocrity-fearing normal person. Either that or a penguin. Find out at [email protected]