E-commerce recovery: Card purchases cross Tk 900cr in March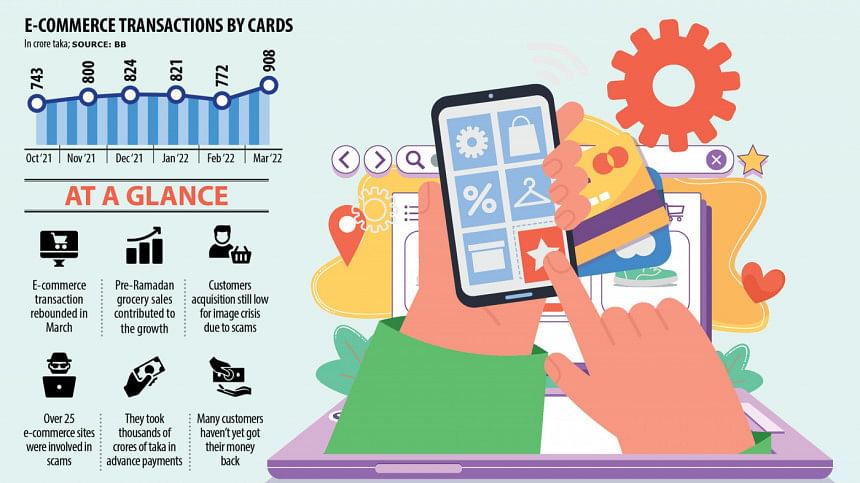 E-commerce purchases through cards bounced back in March as the total transaction value crossed Tk 900 crore for the first time since July last year, when a number of scams were unearthed in the sector.
Customers spent Tk 908 crore through cards on products and services availed from e-commerce sites in March, up by about 18 per cent from the month before and 6.31 per cent year-on-year, according to data from Bangladesh Bank.
Industry insiders said pre-ramadan sales, especially groceries, contributed to the growth in March.
Orders of Daraz, the top e-commerce platform in Bangladesh, grew by more than 40 per cent year-on-year that month.
"We witnessed growth in our fashion and grocery sales in March," Tajdin Hassan, chief marketing officer of Daraz, told The Daily Star.
Campaigns on women-centric goods -- fashion items and beauty products -- early in March and grocery items later the same month contributed to Daraz's growth in the period, according to Hassan.
Waseem Alim, chief executive officer of the biggest online grocery platform Chaldal, said the e-commerce sector is slowly recovering from the downturn triggered by the scams uncovered last year.
Syed Mohammad Kamal, country director of Mastercard, said customers started spending more in March as they were in a buying mood after the Covid-19 situation improved.
Industry people say that considering the better performance in March, the e-commerce sector would have grown at a much faster rate if the scams that plundered thousands of crores taka did not take place.
E-commerce purchases through cards hit an all-time high of Tk 1,277 in June last year and the figure was Tk 1,183 core a month earlier.
At the time, controversial e-commerce platforms in Bangladesh were deluged with orders under Ponzi-like schemes that lured unsuspecting customers on the back of hefty discounts.
A comprehensive assessment by Bangladesh Bank found that twenty-five e-commerce platforms in Bangladesh, including Evaly, E-orange, Qcoom, Dhamaka, Aladinerprodip, Sirajganj Shop, Alesha Mart and Dalal Plus, received Tk 6,050 from March to June last year from clients through payment gateways and banks.
However, many customers did not receive their desired products despite making payments in advance. This dealt a huge blow to the e-commerce sector, which was growing at breakneck speed before the anomalies surfaced.
In July last year, customers spent Tk 740 crore on products and services through cards, which was the lowest in the preceding five months and 42 per cent less than its value in June last year, when it was Tk 1,277 crore.
From July to October in 2021, e-commerce transactions through cards remained below the Tk 800-crore mark as customers lost their faith on e-commerce platforms.
Alim of Chaldal said new customer acquisition has been slow ever since the Ponzi-like schemes of certain e-commerce companies emerged last year.
The local e-commerce industry had been growing over the last decade and the growth accelerated after rising Covid-19 infections forced people to stay at home and place orders online.
The sector has been scrambling to regain momentum ever since a Bangladesh Bank report last year on Evaly found that the e-commerce platform had a huge mismatch in its assets and liabilities.