Daraz: Your all-in-one e-commerce solution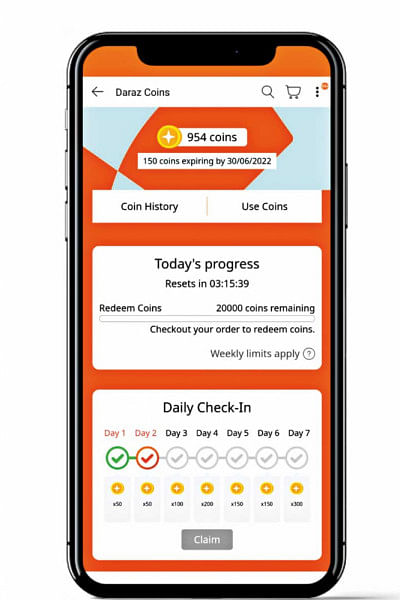 In the post-pandemic era of remote working and online shopping, there is seldom a need to step outside the comfort of one's home to buy desirables. Thanks to the rise of local e-commerce platforms, home deliveries are slowly taking over the traditional method of purchasing from physical stores. Among these revolutionary online shopping portals is Daraz, the global e-commerce company that has solidified its place in Bangladesh as the one-stop destination for all kinds of consumer electronics, home appliances, clothes, cosmetics, health products and many more.
Starting internationally in 2012, Daraz officially launched in Bangladesh in October 2015. Following its most recent rebranding earlier this year, Daraz has made a name for itself in the local sphere of online shopping - a growing trend among modern consumers; and plans to reach 100 million customers by 2030. While the success of Daraz can be stemmed from its humble beginnings, an important reason why it has secured itself as a top e-commerce platform is because of its user-friendly app.
With smartphones becoming an everyday necessity in the modern urban lifestyle, there has been a growing need for apps that fulfil a customer's wants in the most accessible way possible. The Daraz mobile app is an example of such an app: meeting demands while retaining a long-lasting positive user experience.
User interface
When you log into the Daraz mobile app, you will be greeted with a range of products arranged in different categories. From cleaning supplies to home decorations to trendy apparel to handy gadgets, the bombardment of different items readily available in the user interface is a memorable first impression for any first-time user.
The Home menu, understandably, is the first menu that the user will see upon first opening the app, which hosts a variety of links to the latest discounts, sale offers, categories and sub-sections of the Daraz app, such as Mart, Fashion, Beauty & Glamour, Home & Decor, Live, etc. The topmost section includes a search bar, a QR code scanner and access to the Coins menu, which shows how many usable coins the user currently possesses, the current daily check-in progress and when the coins would expire.
It is also important to note that despite the high number of daily active users as well as a host of different categories and menus, the app is lag-free: providing a smooth user experience even when browsing through multiple items at once. The app is also available in Bangla to increase accessibility to local users. Currently, the Daraz app has a user base of about 6.8 million in Bangladesh.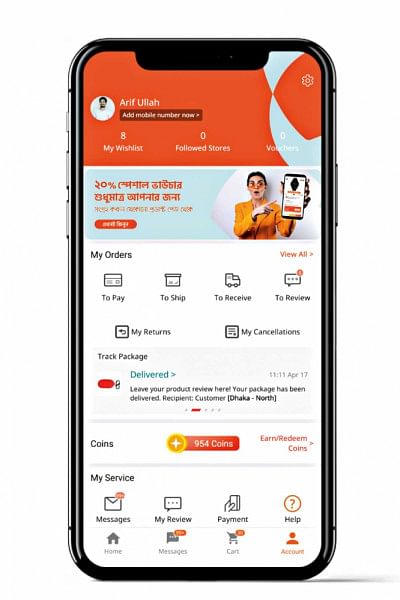 A whole new world to discover
Let's move on to the selection of products. You can buy almost anything from Daraz, including but not limited to home appliances and gadgets, groceries and food items, clothing items and accessories, and cosmetics and make-up products. There is usually a range of discounts available for nearly all items, offering competitive prices for a range of different products.
Daraz Mall has a frequent assortment of Mega Deals, in which vouchers collected from the product's page can let the user avail of a greater range of discounts, including options for cashback with prepayment. Daraz Mall features authentic products from trusted brands, which saves the hassle of purchasing fake products online. It also has a 14-day return policy, with specific returnability mentioned with each item.
Daraz Mart offers a wide range of groceries and daily necessary items such as toiletries, mother and baby products and pet food. Daraz's fast and secure delivery ensures that no time is wasted in obtaining the product; perfect for busy users. The range of everyday items and consumables available in Daraz Mart makes it a welcome platform to buy weekly and monthly necessities. The app also offers groceries and household essentials at an affordable price, with options for same-day delivery. Clicking on the Daraz Mart icon on the app will take the user to the portal to buy these daily essentials.
Daraz Fashion, arguably the trendiest category in the app, features a range of wearables and accessories such as t-shirts, pants, sarees, jewellery and shoes. It also usually features branded sales from prominent fashion brands such as Aarong, Mirror, Ease, FlyFlora, StyleStore, Walkar, Winner Fashion and many more, with deals such as using coins to get extra discounts, flat percentage-based discounts on some selected brands and cashback offers when using pre-payment options. The user can also buy special gift vouchers from certain selected stores from Daraz Fashion, which are sent to the user's phone number and can be availed for physical purchase in branded retail stores. You can also click on the Daraz Fashion icon to easily find this large assortment of fashion products.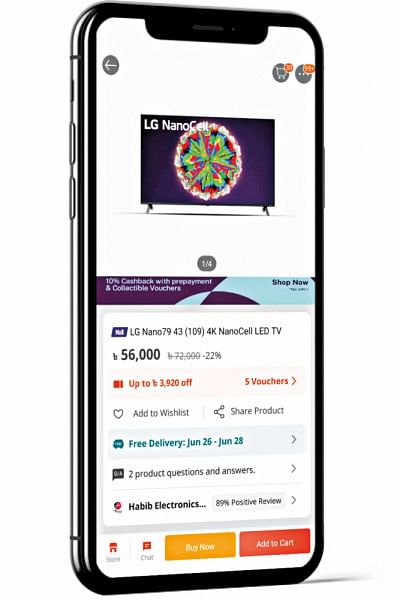 Daraz Beauty, expectedly, features a host of makeup, skincare, hair care and fragrance products. It also has a wide assortment of beauty products available. Like other categories in Daraz, this one also features discounts for products, including special vouchers which refresh every day at 12 pm and 6 pm and can be obtained through a minimum expenditure of Tk. 500, 1,000 or 2,500. In Daraz Beauty, the user can access official products from famous international cosmetics brands such as Nivea, Pantene, Revlon, Maybelline, Focallure, Bioxin, W7, Lafz, Pink Flash, Imagic and many others.
Aside from just products, the Daraz mobile app is the home of an interactive stream channel called Daraz Live, which consists of live shows that feature new products and discounts that the user can avail of. Daraz Live runs multiple shows throughout the day, and the channel feed states the schedule of upcoming streams, including the option to set reminders. 15 shows on average are shown per day, with about 3,000 viewers tuning in to each show.
Current campaigns are directly accessible from the banner on the Home menu, which shows information on ongoing events and discount offers such as Eid discounts during Daraz's Grand Eid Fest. The user can also swipe the homepage banners to explore all relevant offers.
An interactive product page
Now that we had a look at how expansive the product catalogue of Daraz is, let us try purchasing a product. As soon as the user clicks on a product, the product display page pops up, which includes a lot of new details that weren't visible in the main menu. Aside from price and available discounts, the product page also shows ratings, reviews and questions-answers about that specific product.
The rating system is a big part of what makes the Daraz app on par with international e-commerce platforms such as eBay and Amazon. The rating system includes a number given to the product out of the maximum 5 stars, and beside it, the user can find how many reviews contributed to that rating. For example, you may be more likely to trust a product rated 4.5 stars with 300+ reviews than a 4.9 stars product with under 10 reviews.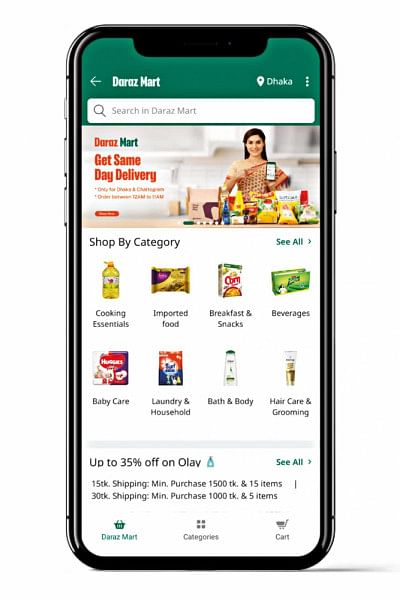 The user can also see how many times that particular product has been sold to help make their purchase judgement. Following a similar example, you might be more likely to trust the same 4.5 stars product more if it has been sold over 300 times, compared to the 4.9 stars product that has been sold under 30 times. Of course, user preferences and personal experience can make or break such decisions - but the fact that such crucial information is available right before purchasing a product goes a long way in verifying the authenticity and potential customer satisfaction of that item.
The Daraz product page also features a question-answer section, in which users can ask questions about the product that the seller can answer. This is another feature that experienced eBay and Amazon users will find familiar, for a majority of customer purchases in international online stores are largely dependent on how interactive the seller is in answering common questions and problems.
The app also consists of a push notification feature, with which users can receive customised push notifications throughout the day. These notifications can be regarding new offers, exclusive time-gated deals or reminders on incomplete product purchases.
Daraz also ensures that the buyer is always in the loop regarding their purchases by sending updates via email. Usually, three mails are sent: when the order is placed, when the package has been shipped, and when the package has been delivered. This app-to-email integration not only works as proof of the purchase but can also be used for security purposes, thus enhancing the overall user experience.
More about Daraz
Being Bangladesh's first PCI DSS-certified company Daraz ensures complete credit card security for cashless transactions. The PCI certification also includes a firewall which stops sensitive bank information from reaching any third parties. This makes Daraz one of the safest e-commerce platforms for purchases via credit and debit cards.
Currently serving in Pakistan, Nepal, Sri Lanka and Bangladesh, Daraz provides a unique shopping experience akin to popular international e-commerce platforms. Not only does its nationwide distribution channel ensure deliveries to all 64 districts in Bangladesh, its cross-border delivery support means that Bangladeshis can order foreign products from their home and receive them to their doorsteps within a month.
Daraz Express is also one of the largest logistics networks in Bangladesh, and the app offers multiple payment options in cash on delivery, bank transaction and bKash payments to make purchasing hassle-free for the users. Daraz is also crucial in uplifting communities through the power of commerce, as it promotes a platform for both buying and selling for users across the nation.
Currently, the Daraz online shopping app is rated 4.5 in Google App Store with around 1 million reviews and over 50 million downloads. In terms of making remote shopping more accessible to local users, this app does an excellent job of providing an easy-to-navigate UI while ensuring a robust product information page to help make purchasing decisions.
All in all, Daraz not only features an impressive quantity of products, but its quality of service, exciting deals and offers throughout the year all rolled into one interactive community-driven e-commerce app truly makes it stand out from the crowd.