Lexus RX200t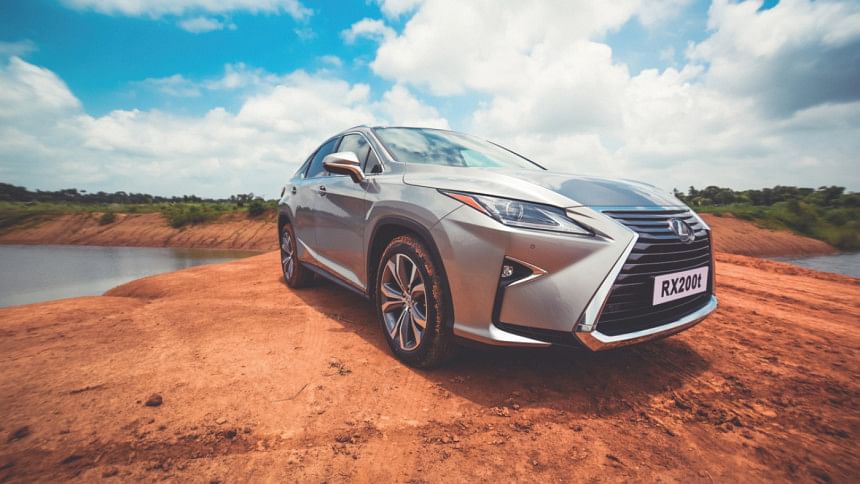 Two nights ago I had taken the second generation Lexus RX along these same bad roads. And it was a squishy, squashy floaty comfy ride. It was like being on an air-conditioned cloud. This brand new for 2016 RX on the other hand is a whole different affair.
What's under the hood?
For starters, it's more fun than I expected a mid-size luxury SUV to be. The 2.0 turbo makes 235bhp and 258lb ft of torque with all-wheel drive. All that is coupled to a proper smooth 6-speed automatic that is a little reluctant to shift down but is always at the right gear when you need it. Which from an auto is usually rare. But avoid using the manual option because it doesn't feel any quicker. Just leave it in drive. The RX optimally resides in a gear that will provide you the majority of the torque curve so that whenever you push down, the car surges forward belying the fact that it's 'only' a two litre. The 9.5 second sprint to 100kmph stacks up well against other SUVs.
How does it look?
The design team for the current Lexus range started with an origami kit and plenty of RedBull. They folded paper over many sleepless sugar-high nights and created the entire new lineup. And then they brought in a samurai and asked him to take a few judicious sword swipes at the body. The RX and the NX especially ended up with sharp creases and intriguing curves. The creases and beltlines visually break up the larges sides to create a sleeker illusion. It's a lightweight anime robot on wheels.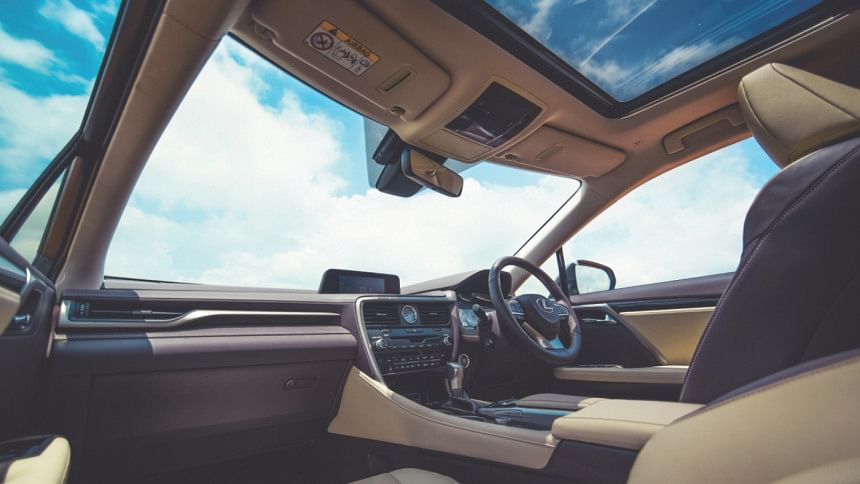 How does it ride?
The interior is properly 'Lexus-y' with plenty of wood, leather and the quintessential analogue clock in the middle of the dash. Nice touch that. Seats are super comfortable with the front getting cooling and heating to bring your buttocks to the right comfort zone. Lexus may have gotten this gimmick right because my photographer went ga-ga over the bottom caressing airflow.  He wants his Premio and office chair to have the same features.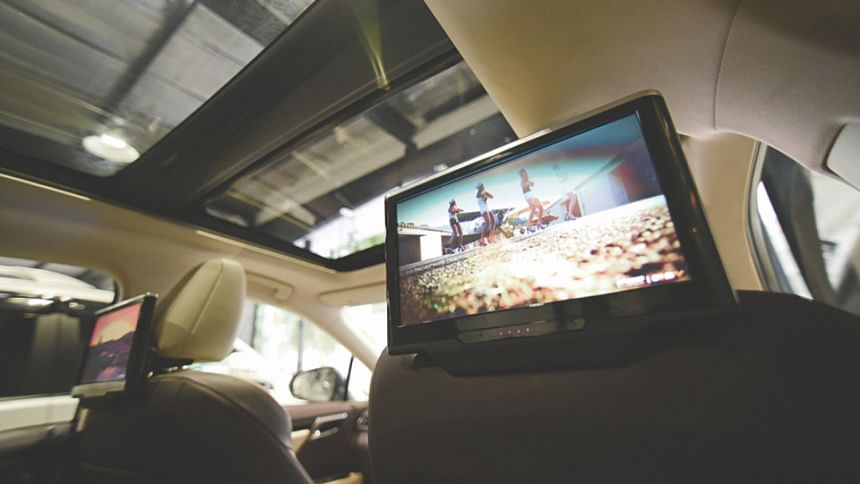 Despite the thick pillars the interior is airy thanks to that massive sunroof. And it is quiet as a meeting where the boss asks someone to take lead of a dubious, unpaid new task.
That is till you hit a bump.
Those 20 inch alloys look great but they thump loudly in Dhaka's massive potholes. Which bring us to the fact that you drive slowly in these. Take the bumps gently, cruise judiciously and this is a supremely comfortable car. Find a good smooth curvy road like those Sylhet tea estate winding bits and this will be fun. The moderately stiff suspension provide stable, crisp turns crisp with body roll better managed than most low riding new cars I've been in.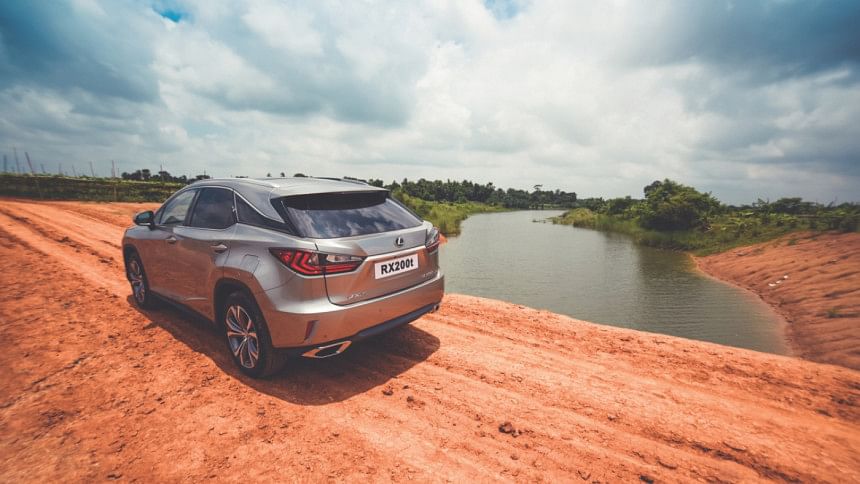 Is it just a city based pretty boy?
We know these things in Dhaka will likely spend all their time in the city travelling from Gloria Jean's to Gloria's jeans. So we took them offroad and introduced the car to much mud. It's composed, quiet and handles the goo and grit with aplomb. Fantastic grip with the AWD kicking in when needed. You probably won't ever take it there but you can.
Go to next page for specs, features and verdict.
Features
It comes loaded with all the right stuff. A Pre-Collision Safety System (PCS) detects movement in front of the car according to speeds and prepares the braking force to be applied before the driver can react: something we weren't too keen on testing. Mostly because none of the junior sub-editors were willing to stand in front of the car as it approached. It is tough to stare at that gaping front too long unless you're Arnold Schwarzenegger. The thing looks like the unmasked alien Predator's mouth ever ready to bite.
The reverse camera with blind spot sensors and sonar work even while moving ahead at higher speeds. Those fat rear pillars weren't a problem when we were parking among some erratic bamboo structures with things poking out at different angles and heights.
Why should one get it?
Right up to 2013, Lexus and Toyota had parallel models offering basically the same things glued under differently priced badges. That didn't stop the Lexus badged version being one of the highest selling luxury SUVs in the US (quite possibly also its biggest market). Then boom, Lexus RX becomes its very own car. It's better to drive than the hybrid and so far everyone who looked at it loved it.
Do you want a boring SUV capable of climbing hills but never will? Get a big, bloated, boat like Lexus LX or a Toyota Landcruiser. Do you want style, decent power and comfort? You know where we are headed now.
Just don't stand under the automated tailgate when closing. Yes, the warning stickers are all there. But we still insisted our sub-editor Mahbub to willingly put his head underneath. Found out the gate won't stop unless you press a button. He lives to drive another day.
SPECS
2016 Lexus Rx200t

Under the hood:

2.0 turbo 4 cylinder (235bhp and 258lb ft of torque), 6-speed automatic, AWD. 

Safety: 

10 SRS airbags, all-speed radar active cruise control, lane keep assist, pre-collision safety, blind spot monitor,

clearance and back sonar

Bling and bragging rights:

20 inch wheels, LED foglamps, daytime running lights, 12 speaker premium audio 10-way power/heated/ventilated front seats, Stop/Start system, panoramic roof, heads-up display.
Available from Rancon Imports for a price of 1 crore 35 lakh taka.
Photos: Rahin Sadman Islam