Myanmar conflicts hurting Bangladesh
Rohingya repatriation process gets complicated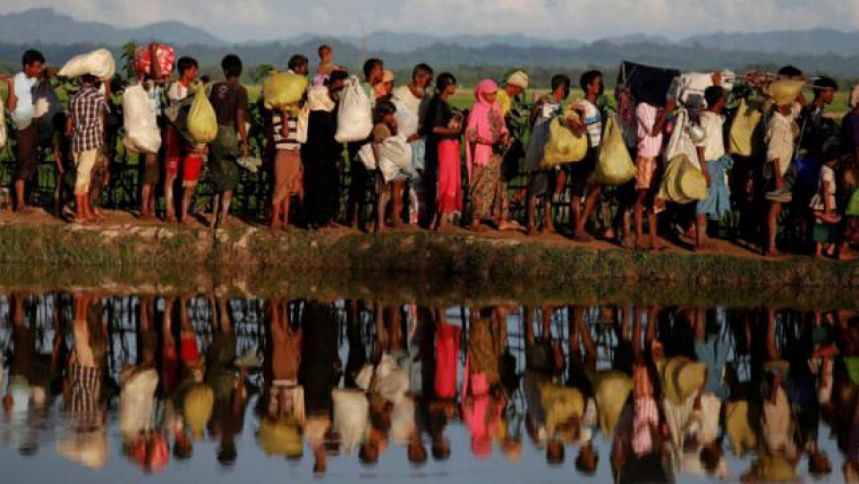 Conflicts in Myanmar intensified after the military coup on February 1 last year, as pro-democracy activists, the armed wing of National Unity Government and three dozen ethnic armed groups began fighting the junta.
The Arakan Army, which was maintaining a ceasefire since November 2020, engaged in conflicts with the military from the middle of this year.
The conflict has escalated to the point that there have been instances of mortar shells landing on Bangladesh's side of the border.
Given that Bangladesh has been negotiating for repatriation of around one million Rohingya refugees, the conflict has serious implications on Bangladesh and beyond, analysts say.
They observed that the Myanmar military is losing the public trust it enjoyed for decades. The junta has also become weaker while fighting the combines of the NUG's armed wing Peoples' Defence Force and ethnic armed groups that have been fighting for autonomy.
Now, armed groups have become stronger and are stepping up their battle for full autonomy.
The Arakan Army has been able to control administration in much of Rakhine State and is now desperate to take full control of the state, which is strategically important due to its proximity to the Bay of Bengal, they observed.
Shahab Enam Khan, professor of international relations at Jahangirnagar University, said the junta also could not deliver on the five-point ASEAN consensus, including ending violence and restoring democracy. Also, the economy is suffering, and that is affecting Rakhine, already a cash-starved region.
Harvard University Fellow Anu Anwar, an expert on Myanmar and China, said the Myanmar military had for decades been able to maintain territorial integrity despite being in a civil war with various armed groups.
"What is new is the addition of new rebel groups, intensification of fighting in Arakan, and the emergence of NUG's armed wing. Most importantly, [there is] a tacit consensus among major armed groups on a common enemy -- military junta. Therefore, certainly this time the challenge is much greater."
Free Rohingya Coalition Co-founder Nay San Lwin, who is based in Germany, said the Burmese youths are much more united now against the Myanmar junta -- a reality that reflects the unity among the wider public of Myanmar. He thinks in the long run, the military will not last.
WHERE IS MYANMAR HEADED?
Prof Shahab Anam said Myanmar is moving towards massive chaos as the military is failing to properly handle the situation. Eventually, chaos may lead to disintegration of Myanmar, he said.
The intensified fighting will severely affect Myanmar's economy, which is already in a bad shape after the Covid-19 pandemic and supply chain disruptions amid the Russia-Ukraine war. Hundreds of thousands of people have been displaced by the conflicts across Myanmar, while several thousands were killed.
Prof Shahab said so far, mostly the Rohingyas have been the victims of conflicts in Rakhine State, but now Rakhine Buddhists are also becoming victims. Therefore, there is a real possibility of displacement of hundreds of thousands in Rakhine State.
In that case, Bangladesh and Myanmar's other neighbours have reasons to worry.
Anu Anwar said the intensified fighting certainly accelerated the possibility of disintegration.
He said geo-strategically, Myanmar connects South and Southeast Asia with the Bay of Bengal. For economic, connectivity, and geopolitical reasons, regional powers such as Japan or India and superpowers like the US, China and Russia take a greater interest in Myanmar affairs.
"A conflict in Myanmar will have multidimensional effects on the regional geopolitics…
"Bangladesh, in particular, will be the primary victim of any conflict in and around Myanmar. A turmoil in Myanmar will not only increase the chances of a fresh influx of Rohingyas but also create the real possibility of an active conflict between two armed forces along the Naf River."
REPATRIATION COMPLICATED
Anwar said there has never been any real hope of repatriation regardless of the regime in Naypyitaw. Not a single leader in Myanmar has ever taken meaningful initiative towards reparation.
The only time Myanmar has taken the Rohingya issue seriously was in 1978, when the government of Bangladesh made a credible threat that unless Myanmar took back their people, Bangladesh would arm Rohingyas, and if necessary, Bangladesh's military would launch a pre-emptive strike against Burma. Since then, Bangladesh has pursued only diplomatic means, but that has produced no substantial results as the number of Rohingya refugees only increased, he said.
"A fresh crackdown in Rakhine will not only tarnish the dying hope of repatriation but will generate a real possibility of a further influx of millions of Rohingyas into Bangladesh."
Shahab Enam Khan and Naw San Lwin said Rohingyas will not be willing to return to Myanmar when conflicts are escalating there.
WHAT SHOULD BANGLADESH DO NOW?
The experts said Myanmar's violation of territorial sovereignty and Rohingya repatriation are separate issues and should be dealt with separately.
Anu Anwar said defending the land, air, and maritime boundary of a country is the duty of the armed forces.
Shahab said Bangladesh should have deployed troops for deterrence and strongly raised Myanmar's violation of sovereignty with the UN.
"Bangladesh needs to build a coalition of countries that support Bangladesh to mount pressure on Myanmar and work for Rohingya repatriation," he said, adding that bilateral negotiation is not working anymore.
Nay San Lwin thought the same.
HOW WILL WORLD POWERS REACT?
Shahab Enam said Myanmar faced various sanctions because of the genocide against Rohingyas and military coup, mainly from western countries. Now, despite good relations, world powers like China and Russia, and even Japan, India and ASEAN are feeling uneasy about Myanmar.
But it is likely that Myanmar's resources will still continue to attract them more than those of Bangladesh, he said.
Anu Anwar said Beijing and Moscow provided cushion for the junta, which is nothing new. However, the new aspect is that world support for Bangladesh has increased in a dramatic fashion over the last few years.
"Myanmar's isolation is a win for Bangladesh if Dhaka is able to seize the opportunity," he said.