No end in sight
Influx on as 3,000 newly arrived Rohingyas moved to Balukhali; malnutrition soars among children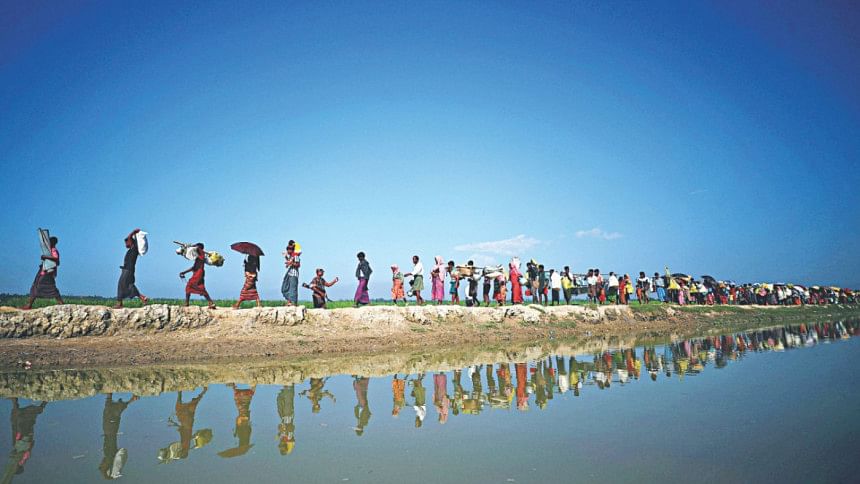 About 3,000 Rohingyas who entered Bangladesh through the Anzumanpara border point in Ukhia on Wednesday night were shifted to Balukhali temporary shelter over the last two days.
The BGB members handed over some 1,700 Rohingyas on Thursday and about 1,300 yesterday to the Relief and Refugee Repatriation Commission who moved the refugees to Balukhali, said Maj Iqbal Ahmed, additional director of BGB 34 Battalion in Cox's Bazar.
On the other hand, around 500 Rohingyas entered Bangladesh through Shah Porir Dwip on Thursday night, Nur Hossain, chairman of Sabrang union in Teknaf, told The Daily Star yesterday.
After passing the night there, they came to Teknaf by boat. They were listed by law enforcers and given necessary treatment and relief before being sent to Balukhali where tens of thousands of Rohingyas have been sheltered in makeshift tents.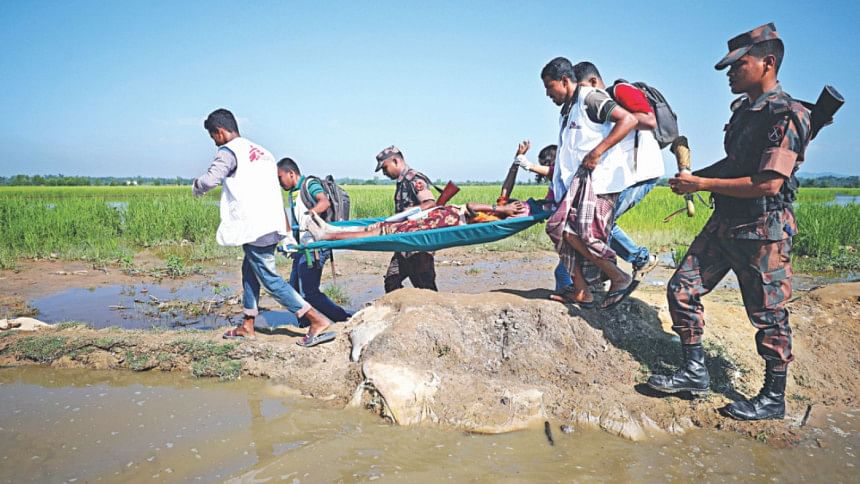 Local sources told our Cox's Bazar correspondent that several hundred more Rohingyas streamed into Shah Porir Dwip yesterday.  
According to an estimate, more than 623,000 refugees have crossed over into Bangladesh and taken shelter in crowded settlements in Cox's Bazar since August 25, fleeing a brutal military crackdown in Myanmar's Rakhine State.
Meanwhile, the UN warned that life-threatening levels of malnutrition have risen dramatically among Rohingya children sheltered into Bangladesh.
The UN children's agency yesterday said preliminary data indicated a full 7.5 percent of the children crammed into one of the camps in Cox's Bazar were at risk of dying from severe acute malnutrition, writes AFP.
Malnutrition rates among children in northern Rakhine were already above emergency thresholds. The condition of these children has further deteriorated due to the long journey across the border and the conditions in the camps, said Unicef.
"The Rohingya children in the camp -- who have survived horrors in Myanmar's northern Rakhine State and a dangerous journey here -- are already caught up in a catastrophe," said Unicef Bangladesh Representative Edouard Beigbeder in a press release.
"Those with severe malnutrition are now at risk of dying from an entirely preventable and treatable cause."
Around 26,000 people now live in the Kutupalong camp, faced with an acute shortage of food and water, unsanitary conditions and high rates of diarrhoea and respiratory infections. Cases of measles have been reported, said the UN agency's press release.
The Kutupalong nutrition assessment, conducted between October 22 and 28, surveyed 405 households including families who arrived there both before and after violence escalated in northern Rakhine on August 25.
The Unicef and partners are treating over 2,000 acutely malnourished children at 15 treatment centres, with six additional centres currently being set up.