Rohingya crisis cannot stop progress: PM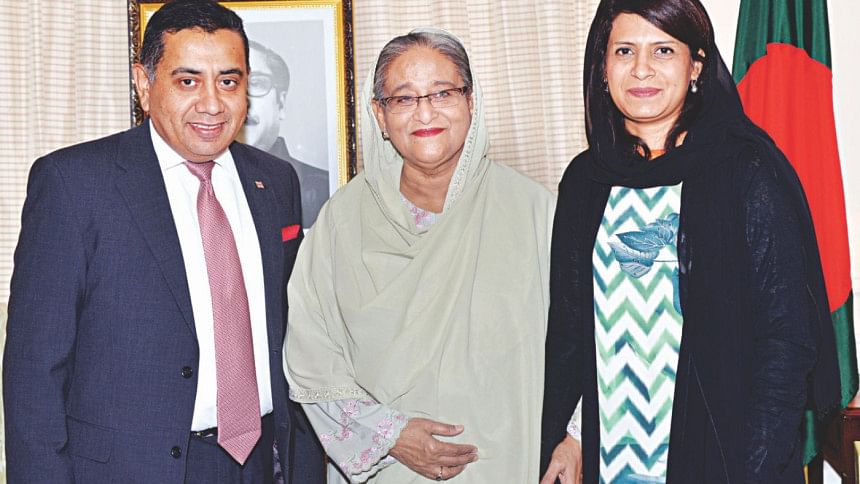 Prime Minister Sheikh Hasina has said Bangladesh will surely make great strides in development, despite the huge influx of Myanmar nationals.
"We, the Bangalee nation, fought and liberated the country, responding to the call of Father of the Nation Bangabandhu Sheikh Mujibur Rahman... we never got scared in the face of any problem. Rather we want to advance further by tackling it [problem]," she said.
The PM was exchanging views with Awami League leaders based in the UK and other European countries on Thursday, PM's Press Secretary Ihsanul Karim told reporters after the meeting.
Hasina said discussions with Myanmar have already begun to resolve the crisis with the recent visit of Kyaw Tint Swe, minister for the Office of the State Counsellor of Myanmar, to Bangladesh.
Bangladesh sheltered the Rohingyas on humanitarian grounds as the country's people always believed in humanity, she said.
"Human beings are for human beings... we can't throw them [Myanmar citizens] into the Bay of Bengal. If we can feed 16 crore people, we will also be able to feed an additional five to seven lakh in their bad times.
"If necessary, we'll take one meal a day and share another with these distressed people... we're not that rich, but our heart is big enough and we stand for mankind," Hasina told the meeting.
According to the PM, the Rohingyas will be relocated to an island called "Bhasan Char" from Cox's Bazar.
Turning to the Padma Bridge project, she expressed happiness over the installation of the bridge's first span. "We have proved we can."
She said ill-efforts were made by vested quarters to tarnish her and her family's image by making false allegations of corruption. "But the allegations were proved to be false in the Canadian Federal Court."
About the recent flood in the country, Hasina said the deluge caused massive damage to crops. Despite having an adequate stock of food, the government was importing rice so that people don't suffer, she added.
She mentioned the destruction and mindless atrocities perpetrated by the "BNP-Jamaat clique" in 2013, 2014, and 2015.
She urged the expatriate leaders of AL and its associated bodies to work together for ensuring the party's victory in the next general election.
She also called upon them to further brighten the country's image abroad through their work.
AL Office Secretary Abdus Sobhan Golap, UK AL President Sultan Mahmud Sharif, Vice President Jalaluddin Ahmed, General Secretary Syed Sajedur Rahman and Joint Secretary Anwaruzzaman Chowdhury were present, among others.