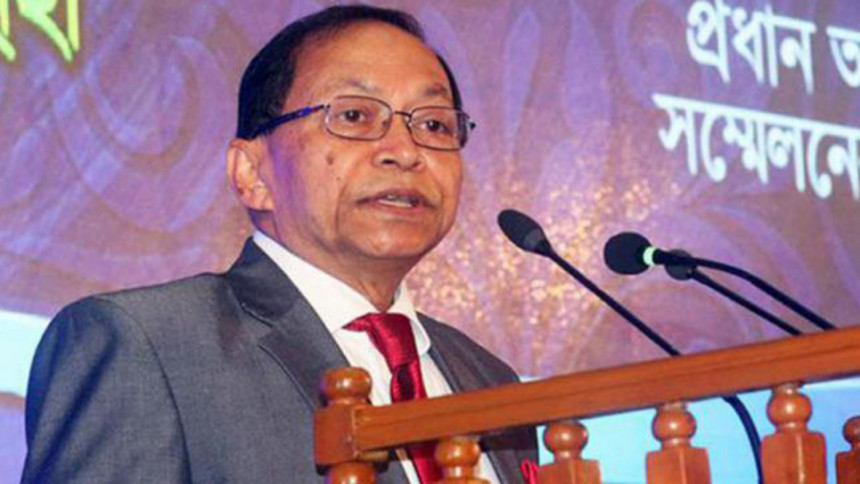 Chief Justice Surendra Kumar Sinha has resigned from his office, Joynal Abedin, press secretary to the president, said today.
Read More: 11 'charges' against CJ
Now abroad, Justice Sinha sent the resignation letter to Bangabhaban, the official residence of President Abdul Hamid, this morning, press secretary Joynal Abedin told The Daily Star in the afternoon.
Reason behind his resignation could not be known yet as the press secretary could not give details of the contents in the letter or through whom it was sent.
Also read: 16th Amendment Hearing: Chief justice, AG trade heated words
Justice Sinha on health grounds went on leave from October 3, which expired yesterday.
While talking to The Daily Star around 1:00pm today, Law Minister Anisul Huq said he was yet to talk to the president over the issue.
Attorney General Mahbubey Alam told the correspondent that there is no provision of dismissing the resignation letter.
Until the president accepts the resignation, Justice SK Sinha will remain the chief justice, the AG said.
And if the president accepts the resignation, a new CJ will be appointed, he added.
Seeking anonymity, a close aide to the CJ told the correspondent yesterday that Justice Sinha left Singapore yesterday for Canada to see his ailing daughter. Sinha flew to Singapore from Australia for treatment on November 6.
The aide, however, could not say whether the CJ informed the government or the Supreme Court authorities about the date of his return.
Contacted, Attorney General Mahbubey Alam said he did not know whether the CJ extended his leave or where he is staying now.
According to a gazette notification issued by the law ministry on October 12, Justice Md Abdul Wahhab Miah, the most senior judge of the Appellate Division of the Supreme Court after Justice Sinha, will carry out the duties of the CJ till November 10 or until Sinha rejoins office.    
Amid backlash from the ruling quarters over the SC verdict on the 16th amendment to the constitution, Sinha left for Australia on October 13 night, months before his retirement on January 31 next year.
The SC scrapped the amendment that empowered parliament to remove SC judges for incapacity or misconduct.
Before leaving the country, Sinha said he was not sick, contradicting the government claim that he went on leave on health grounds.
On October 14, a day after Sinha left for Australia, the SC said Sinha is facing 11 charges, including money laundering and corruption.
On the same day, the attorney general said Sinha's rejoining the office of the CJ after his return from abroad is "a far cry."