16th constitutional amendment verdict
Expunge comments against country or face public wrath, Amu asks CJ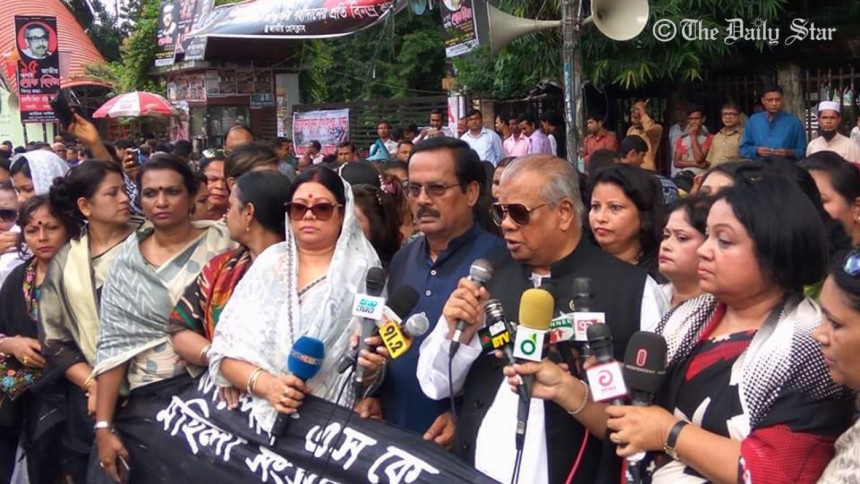 Industries Minister Amir Hossain Amu today warned that the countrymen will "come forward" if the observations made in the 16th amendment annulment verdict against the country are not expunged.
"The remarks you [chief justice] have made in the 16th constitutional amendment verdict against the country must be expunged, otherwise people will come forward," Amu also an advisory council member of the ruling Awami League, warned pointing finger at CJ Surendra Kumar Sinha.
Amu came up with the warning while addressing a human chain in front of the Jatiya Press Club in Dhaka this noon.
Awami League youth women wing Awami Jubo Mahila League organised the programme in protest against what they said "derogatory remarks made against women MPs in the 16th amendment verdict."
Amu said, "You (CJ) should have thought before taking stance against the parliament that appointed you. The president of this parliament has appointed you."
Hinting others judges of the apex court, Amu said, "You should remember that he [Sinha] wants to take all the charge in the judiciary and we will have to follow whatever he would say. All the powers would be bestowed upon him and there would be nothing beyond that."
He blamed the chief justice for his "attempt to grab all the state powers".
Amu warned, "There must be a limit of such audacity. We can't allow such a system in the judiciary at all."
Highlighting the government's strength, the Awami League leader said Awami League and the government of Sheikh Hasina, is not a fragile organisation.
"Sheikh Hasina is a three-time prime minister. Repeated attempts were hatched to kill her but went in vain. You must not forget this," Amu said.
Claiming that Sheikh Hasina is working for the betterment of the country and its people ignoring all obstacles on her way, Amu said," Who has given you [chief justice] provocation to speak against her? And what examples have you set by issuing her a threat?"
"The people who are trying to fish in troubled waters by inciting you against Sheikh Hasina are not your friends, rather enemies," he said.