Weak probe in Bangabandhu killing case: CJ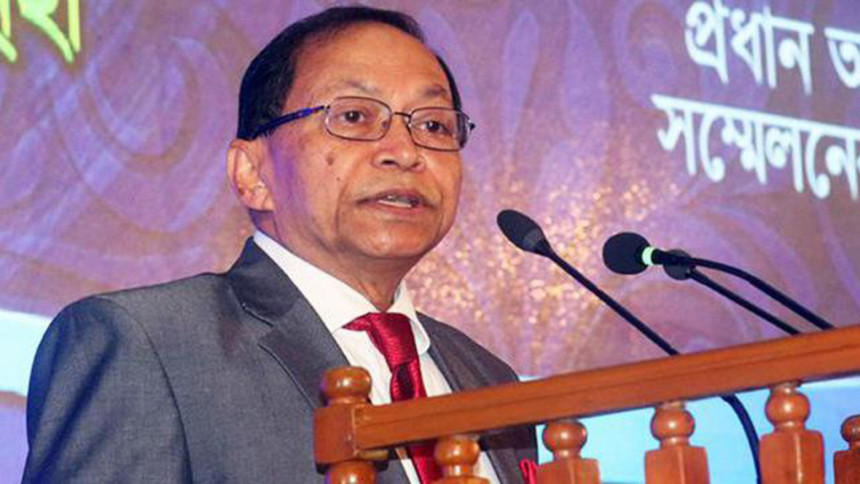 Big fishes in Bangabandhu Sheikh Mujibur Rahman's murder could not be tried due to weakness in the investigation process, Chief Justice Surendra Kumar Sinha said today.
"Big fishes were involved in the killing. But they could not be put on trial due to weakness in investigation. There was a deep conspiracy in this case," he said.
The chief justice was speaking at a voluntary blood donation programme at Supreme Court premises, organised in association with Bangabandhu Sheikh Mujib Medical University.
"Bangabandhu might have had enemies, but his four-year-old son and other family members were killed because they wanted to eliminate the whole bloodline," the chief justice said.
"It is very painful that the state had formulated the indemnity ordinance to stop the trial of this killing," Chief Justice SK Sinha said.
"The Supreme Court has cleared the way for holding the trial of Bangabandhu killing by scrapping the indemnity ordinance," he said. "As a member of the judiciary, I feel proud for clearing the way for holding the trial."
Justice Md Abdul Wahhab Miah, a senior-most judge of the Appellate Division, who also spoke on the occasion, said: "There is no confusion that Bangabandhu is the Father of the Nation."
"It was because of him that Bangladesh was liberated. It was because of him, that I could be a judge of the apex court," Justice Wahab said.