CJ is a cancer patient, hence leave: Minister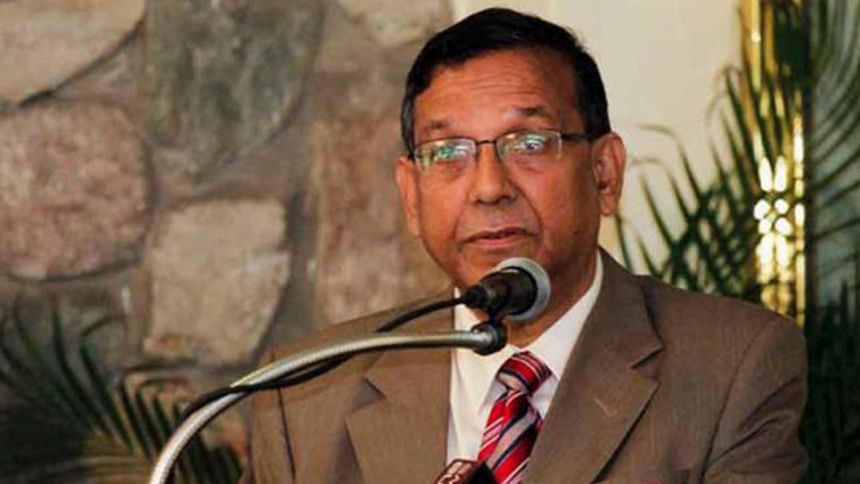 As talks arise over Chief Justice Surendra Kumar Sinha's leave, Law Minister Anisul Huq today said the chief justice went on the leave for treatment as he was suffering from cancer.
The chief justice's month-long leave ahead of retirement in January after a spate of criticisms from the ruling quarter over 16th amendment verdict has sparked debate.
Supreme Court Bar Association has claimed it was a forced leave under pressure. However, law minister and the attorney general have both ruled it out saying it was on health grounds.
"The chief justice has been suffering from cancer and different other ailments, which are yet to be cured completely," Law Minister Huq said. "That's why he's decided to take the month off".
In response to queries regarding allegations that the chief justice was forced into leave, Minister Huq said it was "totally baseless" and that those "who want to hinder democracy" are claiming such.
A wave of protest sparked when the chief justice-led Supreme Court annulled the 16th amendment of the constitution that had empowered the parliament to impeach judges. Many ruling lawmakers demanded his resignation.
CJ was forced to go on leave: SCBA
Meanwhile, the Supreme Court Bar Association today held an emergency meeting and came up with the statement that the chief justice was forced to take leave.
"We believe he was put under tremendous pressure," SCBA President Zainul Abedin told a press conference. "We all know that the government and a political party was pressurising him after a judgement."
"We believe that he was sent on leave as part of such pressure," he said.
Attorney General Mahbubey Alam, however, refuted such allegations and said it was an evil ploy of the association to tarnish the reputation of the judiciary.
"We know he is a cancer patient. We know he went on leave because of physical illness," he said. "The SCBA, which is controlled by a certain political quarter, is trying to make a gain by bringing such allegations."