Who is responsible for Abdul Momen?
The government does not want to take responsibility for his public statements. Nor does the ruling party.
Yes, I am talking about our foreign minister, Dr AK Abdul Momen.
Last week, during an event in Chattogram, Dr Momen said he had "requested" India to do "whatever necessary in order to keep Sheikh Hasina in power."
When asked about it, Awami League General Secretary and Road Transport and Bridges Minister Obaidul Quader said, "It may be someone's personal view. It is neither the government's view, nor the party's."
Awami League Presidium Member Abdur Rahman said since the foreign minister was "not a party member," there was no question of the party being embarrassed by his statements.
Interestingly, Dr Momen is an adviser to the Sylhet district unit of Awami League, and he is also a member of the party's Sylhet metropolitan unit. Still, he is not a part of the ruling party?
Whom, then, is the foreign minister affiliated with? Who will be held responsible for his words and actions? Are Obaidul Quader and Abdur Rahman's comments representing the government and the ruling Awami League, or are those their personal views too?
Discussing Bangladesh's internal political situations with foreigners is nothing new. Both the Awami League and BNP have done it on several occasions – usually when they were the opposition.
Recently, UN High Commissioner for Human Rights Michelle Bachelet paid an official visit to Bangladesh, during which she spoke to government high-ups, civil society members, human rights workers, and the BNP too. At that time, Quader said, "Lobbying to foreigners would not bear any fruit. Foreigners or the UN cannot probe our internal issues." The information minister echoed him.
This is exactly when Momen came under the spotlight, by stating to the public what he'd done during his India visit.
Why did Momen visit India? He went to India as the foreign minister of Bangladesh to discuss certain matters. He received due diplomatic protocols there. He attended meetings and discussed issues with India's ruling party members, ministers, chief ministers and bureaucrats. All of these were state-level meetings between the two countries.
Abdul Momen did not visit India as an individual. He did so as a representative of the Bangladesh government. The cost of his travels was entirely borne by Bangladeshi taxpayers. How, then, can this visit or what he did or say during this visit be considered personal?
We Bangladeshis have self-respect. Bangladesh is a small country, but it's independent and sovereign. Our freedom came at a very high cost. How can the sitting foreign minister of that sovereign country make such a "personal" request to another country's leaders? Doesn't it break the oath he took when he was sworn in as a minister of the Bangladesh government? Doesn't it hurt the self-respect of the people whom he vowed to serve? Doesn't it hurt the self-respect of Obaidul Quader, or the government?
There are two ways of seeing this: either he didn't realise the implications of what he was saying, or he knew what it meant to make such a statement.
If the first scenario is true, that a country's foreign minister would speak like that during an official visit to another country without understanding the implications cannot be acceptable. If that is the case, his qualifications, skills and intellectual level come under question.
But if the second scenario is true, then the Bangladeshi people were humiliated. Statements like this are what damage the country's "image," which our government is concerned about, the most.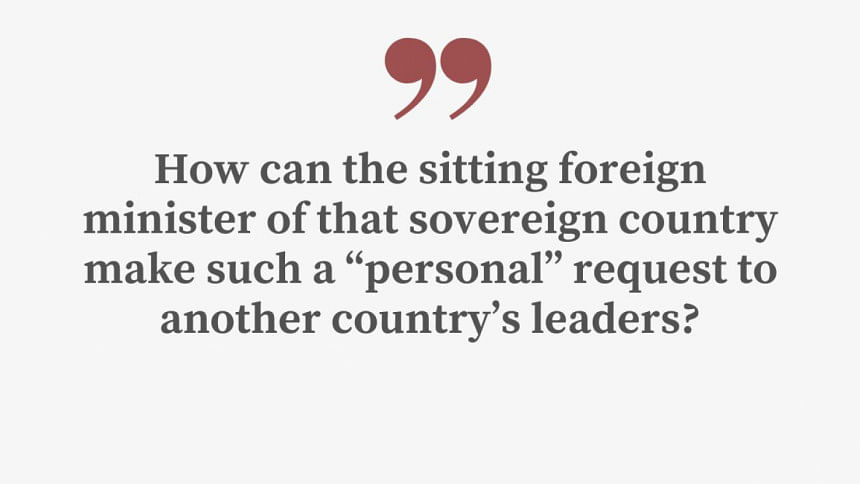 Let's revisit some of Dr Momen's past statements as Bangladesh's foreign minister. He once compared the relationship between Bangladesh and India with that of a husband and wife. That a foreign minister of a country would describe two nations' relationship in such away is probably unprecedented in history. This by no means is diplomatic lingo, nor is it the language of politics in general.
India is Bangladesh's neighbour and ally. We must maintain good relations with India. But that doesn't mean we have to ask them to ensure the government's or any individual's continuation in power.
Recently, the Swiss ambassador in Dhaka said Bangladesh had not specifically asked about which of its citizens have deposits in Swiss banks. The next day, the foreign minister said the ambassador had lied. Diplomacy requires a certain tone, certain skills and application of strategies. But none of that exists in Abdul Momen's dictionary. He directly called an ambassador a liar. He has been speaking like this for years. During his visit to the US, he told his counterpart Antony Blinken, "Bringing the BNP to the election is a challenge. Please bring them to the polls."
The general public understands that the incumbent government has India's support. Since Bangladesh helped India with the situation in the Seven Sisters states, the latter has a high level of confidence in the Awami League. It is expected that Bangladesh will continue to have a good relation with India based on confidence and trust.
But a perception has formed in the Bangladeshi people's minds that India plays a critical role in determining who stays in power in Bangladesh. Momen's statement has made that perception only stronger. It may not be comforting for India either.
Last year, the US imposed sanctions on the Rapid Action Battalion (Rab) and some of its officers. It is only natural that Bangladesh will try to have these sanctions lifted. Bangladesh should have taken punitive action against the allegations of human rights violation, for which the sanctions were imposed. We should have ensured that there are no more violations of human rights – that Rab is not involved in such violations.
Instead, we saw the incidents of "crossfire" virtually stopping. The US also brought allegations of enforced disappearances and fraudulent cases. There has been no visible change regarding those either. The Bangladesh government prioritised seeking India's help in this regard over bringing in the much-needed fundamental changes. Foreign Minister Abdul Momen said Bangladesh had requested India to help remove the sanctions, and India was lobbying the US for Bangladesh.
The problem is Bangladesh's, and Momen is Bangladesh's foreign minister. But he requested India to help with removing the US sanctions. Of course, we want the sanctions to be lifted.
However, in order to remove a US imposed restriction, he lobbied with India. We definitely want the removal of any restrictions on RAB. But first we need to verify the allegations and see if they are authentic. Then, following due action, we can negotiate with the US directly. Instead of that, we sought India's help.
This tendency of seeking India's help in everything does not show an iota of professionalism or diplomatic etiquette, and it is humiliating for the people of Bangladesh, as well as its government and the office of its foreign minister.
Do we understand these issues? If we still don't, that it is an unfortunate situation for us as a nation.
The article was translated from Bangla by Mohammed Ishtiaque Khan.
Golam Mortoza is the editor of The Daily Star Bangla.