'Asked India to help maintain stability here'
Foreign Minister AK Abdul Momen yesterday said he told the Indian government that Bangladesh would be happy if New Delhi helped Dhaka maintain stability.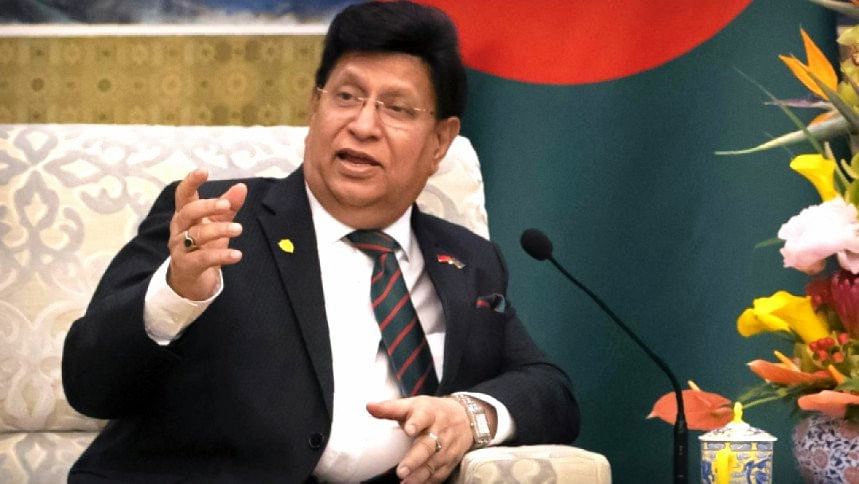 Foreign Minister AK Abdul Momen yesterday said he told the Indian government that Bangladesh would be happy if New Delhi helped Dhaka maintain stability.
Explaining to reporters the remarks he made in Chattogram on Thursday night, the minister said, "Stability is most important. We want stability in this region too. We don't want any instability. If we can do this, it will be meaningful in the 'Golden Chapter' of our relations."
He said Prime Minister Sheikh Hasina wants stability and communal harmony in the country.
Earlier, Momen offered munajat and paid homage to Father of the Nation Bangabandhu Sheikh Mujibur Rahman at his grave in Tungipara, Gopalganj, reports UNB.
The minister said he conveyed that there are some wicked people in both Bangladesh and India, who make provocative remarks and instigate turning minor issues into big ones.
"Both governments have the responsibility to stop this. If we can do that, there will be communal harmony and no uncertainty will be there."
Responding to a question, the minister said Bangladesh is witnessing development amid communal harmony as Sheikh Hasina is in power.
On Thursday, Momen said, "I went to India and said Sheikh Hasina's continuation must be ensured. She is our role model. If her continuation is ensured, our country will stride towards development and become a truly non-communal country."
Yesterday, the minister said he referred to what the Assam chief minister told him and that he exactly conveyed it to the Indian government.
"Travelling to India, I said Assam chief minister thanked Prime Minister Sheikh Hasina for her 'zero tolerance' policy and her announcement that Bangladesh cannot be a hub for terrorists," Momen said.
He said there are no terrorist activities in Assam and its adjacent areas and they are seeing growing development with increased investment in Assamand Hasina's efforts were credited.
"I conveyed to the Indian government that yourchief minister said there is stability as Sheikh Hasina is there. It benefits both sides," the minister added.
'NO REQUEST MADE BY GOVT, AL'
Road Transport and Bridges Minister Obaidul Quader yesterday said Awami League didn't make any request to India regarding staying in power, reports our staff correspondent.
"As the general secretary of Bangladesh Awami League, I want to say that we have a bond of friendship with India. India is our friend in bad times ... But should I make a request to India regarding staying in power? No such request was made by the Awami League," he said.
Speaking at the inauguration of a Janmashtami procession at the capital's Palashi intersection in the afternoon, Quader said no one was given the responsibility by  Sheikh Hasina's government in this regard.
"This may be the personal opinion of the person who has said this. It's neither our government's statement nor our party's," he said.
BNP DEMANDS EXPLANATION
UNB adds: BNP Secretary General Mirza Fakhrul Islam Alamgir yesterday demanded an explanation on the foreign minister's recent statement on seeking India's backing to keep the PM in power.
Speaking at a discussion, he questioned whether the AL government has been in powerwith India's backing.
"Ministers from an Awami League rally in Dhaka issued threats and used the language of terrorists. When you're issuing so many threats, then why does your foreign minister seek India's help to sustain your government and your prime minister?" he said.
The BNP leader said, "We want to know from the government, the foreign minister and also from the Indian government the meaning of what the foreign minister has said. Does it mean that this government is sustaining with India's backing? People want to know the meaning of this. It's urgent."
Fakhrul also said questions have been raised about whether Bangladesh would really be an independent state or not, a democratic country or not, and whether its people would get back their rights or not.