The dread of dengue has taken over
Human lives are on the line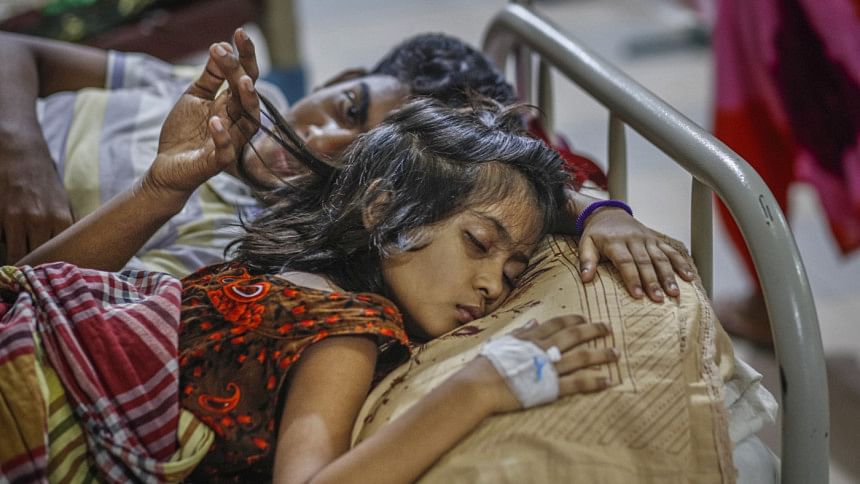 The photographs of two young siblings who died of dengue recently have been doing rounds on social media, triggering an outcry. In one photograph, printed by a Bangla daily, nine-year-old Arafat Hossain Rauf is seen sitting with his seven-year-old sister, Isnat Jahan Raida. It's hard to take your eyes off the adorable picture. But that warm feeling turns into anguish as soon as you read the news of their demise. The mental state of their parents just adds to the heartbreak. It's beyond anyone's imagination how they would cope with this void that has now taken the place of their precious children.
According to the newspaper reports, the father, Mohammad Ibrahim, while sharing fond memories of his children, said that Rauf and Raida would always cling on to him, whether it be at the dining table or when they would go to sleep. Ibrahim had plans to paint Raida's room pink and Rauf's blue. But all those plans have been shattered in the span of a week. Rauf died of the dengue on August 18, while Raida breathed her last on August 25. Raida had developed a fever on the day her brother died. As her condition deteriorated, Ibrahim rushed from one hospital to another for a paediatric ICU, but to no avail.
Rauf and Raida are among several hundreds of people joining the procession of the dead. Once a seasonal fever, dengue is now taking its heaviest toll on Bangladesh, shattering all previous records of infections and deaths. Despite this, we have hardly seen any effective measures from the authorities concerned, especially from the two city corporations in Dhaka. Far from admitting their shortcomings, authorities have maintained that they have done enough, that too with the same old approach to contain the vector-borne disease. Both the Dhaka city corporations have spent hundreds of crores in their war against mosquitoes, but nothing seems to have borne any result as people are dying every day and hospitals are still scrambling to serve patients. As many as 597 precious lives have been lost this year, and more than 1.25 lakh people have been infected as of September 1.
The situation wouldn't have been so dire had the authorities learnt any lessons from past experiences.
We don't know how many more parents will have to lose their children to the disease, a fate that can be preventable if the appropriate scientific steps are taken.
In 2019, Bangladesh registered the highest number of dengue cases – 1,01,354 – ever since the disease's official outbreak in 2000. That year, 179 people succumbed to the virus. Then came 2022, the year when the country recorded the most dengue deaths – 281. Yet, we have seen an absence of concerted efforts from city corporations round the year, despite the fact that dengue has been an all-year-long phenomenon for the past decade.
The city corporations continue to carry out anti-mosquito activities with the same old methods, like fogging and using larvicide in a non-systematic manner, along with some occasional drives. This casual approach, coupled with a lack of planning and coordination among government bodies, have only made the situation grimmer. Besides, we have seen some bizarre strategies being employed by the city corporations, such as flying drones to detect stagnant water and releasing frogs in ponds to destroy mosquitoes and their larvae. Before the frogs, authorities tried to control mosquitoes by releasing guppy fish in the city's drains, and ducks and tilapia fish in the lakes. That did not help, either: all the fish died within a few days, and most of the ducks either died or were stolen. All this while the city corporation high-ups never lagged behind is advising citizens to play their part in ensuring mosquito-free houses and neighbourhoods.
Human lives are on the line. We don't know how many more parents will have to lose their children to the disease, a fate that can be preventable if the appropriate scientific steps are taken. We would like to know whether the people in responsible positions are witnessing the families' despair. Are they hearing the cries for lost loved ones? How many more lives will have to be sacrificed before the authorities wake up from their slumber and take necessary measures? We don't want any more Raufs and Raidas to meet such a tragic end.
---
Wasim Bin Habib is head of reporting at The Daily Star.
---
Views in this article are the author's own.
---
Follow The Daily Star Opinion on Facebook for the latest opinions, commentaries and analyses by experts and professionals. To contribute your article or letter to The Daily Star Opinion, see our guidelines for submission. 
---