Odhikar duo's convictions are regrettable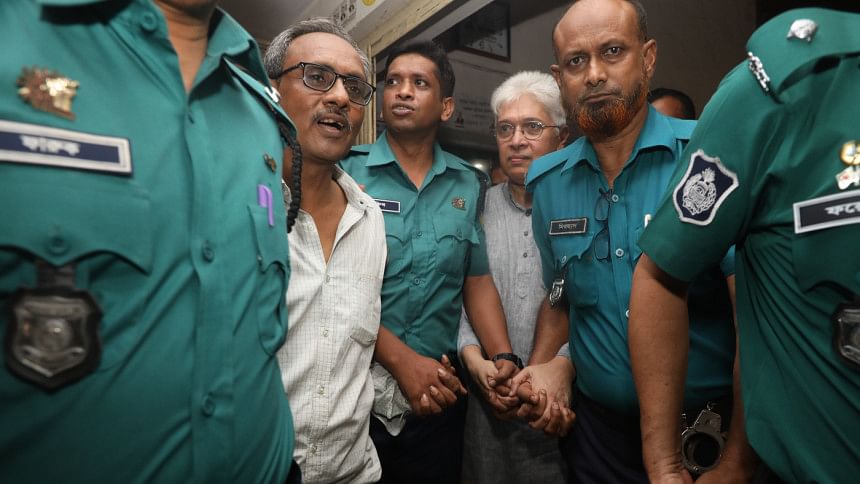 Most recently, Bangladesh again found a place in global media headlines. Sadly, it was for convicting and imprisoning two of its most prominent human rights defenders, Adilur Rahman Khan and Nasiruddin Elan of Odhikar. This is the first awarding of jail term to any human rights defender in Bangladesh since independence. Adilur founded human rights organisation Odhikar in 1994. With an initial slow start, it soon became a leading independent rights monitoring group. Since then, it has been diligently documenting all kinds of violations of human rights by both state agencies and non-state actors.
Odhikar's annual reports on rights dating back to 2004 are still available on the organisation's website. These reports contain well-sourced data about custodial deaths, crossfires, extrajudicial killings, detentions without trial, use of force to break up political and union protests, violence against minorities and women, border killings, and most other violations of citizens' rights. It also monitored the two national elections held in 2001 and 2008, and documented post-poll violence particularly targeted at members of minority communities. In its 2001 election monitoring report, Odhikar mentioned that poll-related violence had caused 52 people to die and 867 to be injured, which I quoted in one of my columns in Prothom Alo when Adilur was first arrested in 2013.
In its 2004 annual report, Odhikar stated, "The year 2004 witnessed an alarming escalation in human rights violations. From 01 January to 31 December 526 people were killed, 6235 injured, 2918 arrested and 28 abducted in incidents concerning political violence. 240 people were killed at the hands of law enforcers. Of them, 149 were killed in crossfire." Can anyone cite a better compilation of rights' violation data dating back to those years, when the BNP-Jamaat alliance was in power?
Adilur, despite being the secretary of Odhikar, was then working as one of the deputy attorney generals. A former student activist belonging to the student wing of Jatiya Samajtantrik Dal (JSD), led by Hasanul Haq Inu, Adilur has never been a member either of the BNP or Jamaat. But in the era of alternative truths, ministers and leaders of the ruling Awami League have relentlessly been trying to delegitimise his role as a human rights defender, claiming Adilur's service to the state under a different regime as proof that his work was politically motivated. Perhaps this reflects the workings of their own minds, as they have long ago erased the fine line that should exist between the state and the party in power by capturing all the state institutions using loyalists.
Adilur Rahman Khan and Nasiruddin Elan have been convicted of criminal offences for allegedly harming the nation's image by falsely claiming that 61 people died in the mayhem following Hefazat-e-Islam's Dhaka siege on May 5, 2013. This figure is almost five times higher than the government's official count of 11. But there were other tallies that also showed huge variations and, till now, there has been no attempt to establish the full facts of one of the most unsettling incidents in Bangladesh's history.
The verdict against Adilur Rahman Khan and Nasiruddin Elan under the ICT Act, a law which has already been replaced twice and is still being criticised as unfair and repressive, is another reason for it to be seen as unfair. Besides, the ruling party's policies of appeasing Hefazat in the years following makes one wonder whether their aggrievement towards Odhikar can be justified any longer.
On May 7, Amnesty International said that unofficial figures from hospitals obtained by them confirmed 22 deaths in Dhaka and 22 more in places outside of Dhaka. In total, Amnesty International claimed that it was able to confirm the protest-related deaths of at least 41 civilians and three police or security force personnel across the country on May 5-6.
US-based global rights group Human Rights Watch (HRW), in its August 2013 report titled "Blood on the Streets," said, "Based on hospital logs, eyewitness accounts, and well-sourced media reports, Human Rights Watch believes that at least 58 people died on May 5 and 6, seven of whom were members of the security forces. However it is likely the death toll was even higher."
Ekattorer Ghatak Dalal Nirmul Committee, an advocacy group closely linked with the ruling party and campaigning for trials of suspected war criminals of the Liberation War, in its white paper published on November 8, 2013, claimed that 39 people had been killed during the rally and sit-in programmes of Hefazat-e-Islam. Of them, it added, 24 were killed between morning and 8pm on May 5 in Hefazat activists' clashes with law enforcers and Awami League activists. And, according to the group, another nine people were killed on the morning of May 6 during clashes between Hefazat and Jamaat activists and law enforcers at Kanchpur on Chittagong Road, Madanipur, and Narayanganj.
All these figures are much higher than the officially admitted numbers. Yet, the government sued only the two executives of Odhikar. In July 2013, the information ministry asked Odhikar for the addresses and names of the relatives/family members of the deceased persons that it had listed. Odhikar declined that request, claiming that doing so could jeopardise the family members' safety. This wasn't unreasonable as we have heard of such allegations of intimidation and harassment by members of the security forces from the families of enforced disappearance victims. Odhikar, however, said if the government formed an independent inquiry commission, it would hand over the names and addresses to the commission.
Though Odhikar did not publish the list of victims, ruling party activists and a section of the media claimed that they had traced some victims listed by Odhikar to be alive and commenced a smear campaign against Adilur, Odhikar, and the fact-finding report. Some ruling party supporters are now arguing that Adilur had 10 years to clear his name, but have conveniently forgotten that the latter's computers and server were taken away by police, making them inaccessible.
Odhikar's defence team and many national and foreign observers of the trial have alleged that the trial did not follow due process. In this regard, they have pointed out that they weren't afforded full and timely access to discoveries made by the prosecution. They've also alleged that, in an unusual and rare move, the judge allowed the prosecution to reinvestigate the case after the completion of witness testimonies. The lead prosecutor, Nazrul Islam, responding to a post-verdict query, told Prothom Alo that the supplementary investigation (after 10 years) was necessary for the conviction.
The verdict under the ICT Act, a law which has already been replaced twice and is still being criticised as unfair and repressive, is another reason for it to be seen as unfair. Besides, the ruling party's policies of appeasing Hefazat in the years following makes one wonder whether their aggrievement towards Odhikar can be justified any longer.
It is no wonder that 72 organisations working across the globe to defend human rights have termed the Odhikar duo's conviction as a punishment for their work. The organisations stated that the hearings had been accelerated following the designation of US sanctions against Rapid Action Battalion (Rab) and its officials in December 2021, and that this acceleration was based on allegations that Odhikar was behind these sanctions.
The European Parliament's resolution, and concerns expressed by at least four Western governments – namely the United States, the United Kingdom, France, and Germany – should not be taken lightly. The regret expressed in the France-Germany joint statement for convicting the Odhikar duo may prove regrettable for us sooner than the government may believe.
---
Kamal Ahmed is an independent journalist. His X handle is @ahmedka1
---
Views expressed in this article are the author's own.
---
Follow The Daily Star Opinion on Facebook for the latest opinions, commentaries and analyses by experts and professionals. To contribute your article or letter to The Daily Star Opinion, see our guidelines for submission.
---