Why are human rights defenders being targeted?
The state must protect their rights unconditionally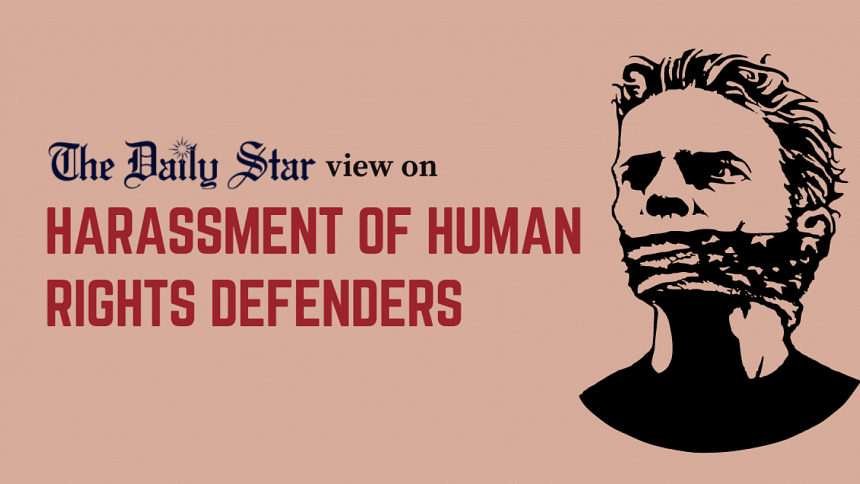 We are concerned by a recent report of Centre for Government Studies (CGS) which found that at least 65 percent of 50 grassroots human rights defenders across 36 districts have faced obstructions in their work from the state and members of the ruling party. The report also found that one in five human rights defenders was harassed by law enforcement agencies and one in 10 by intelligence agencies. The methods of harassment include death threats, physical attacks, threats to family members and slapping of legal cases. The majority of respondents said the situation in the country was unsafe. Half of the respondents reported the harassment to the authorities, while the remaining respondents remained silent because they feared reprisal. In more than 40 percent of the cases, threats against them were not investigated either because of the state's involvement or because the perpetrators were connected to power. Three reported that they were victims of enforced disappearance because of their work.
While the sample size may not be very large, the survey findings are still significant. They provide an idea of how constrained human rights defenders are in doing their work and how vulnerable they are to various forms of harassment and intimidation. The report also notes how sometimes organisations' activities are curtailed by blocking access to foreign funds. Meanwhile, the Digital Security Act has been used arbitrarily to clamp down on human rights defenders.
These are disturbing developments in a democracy. As the elections approach, we apprehend that there will be more such attempts to intimidate human rights defenders. We urge the government to ensure their safety by instructing its law enforcement and intelligence agencies to stop harassing or intimidating them. As recommended by CGS, vague terms such as "anti-state activities", "inimical" and "derogatory" comments about the constitution and constitutional institutions that can be used to prosecute individuals must be removed from the Foreign Donations (Voluntary Activities) Regulation Act. The National Human Rights Commission (NHRC) must be reformed as an independent body with the capacity to investigate incidents of human rights violations and take effective action against violators, regardless of their affiliations.
Human rights defenders, as their title indicates, have an important role to play in documenting human rights violations as well as in helping victims get redress. It goes against all democratic norms and principles if they are punished for doing their job.