Are we only paying lip service to human rights?
Bangladesh must improve its record
Today, as Bangladesh observes Human Rights Day with the world, we cannot help but notice the long shadow that has been cast upon it by the recent political violence. It is even more disheartening to note that, 51 years after our independence, demonstrators are still losing their lives to police brutality in clashes surrounding an issue as simple as a political rally. According to Ain O Salish Kendra (ASK), till November this year, there have been 448 incidents of political violence, leading to 64 deaths and 6,496 injured. 
We are reminded of the times when the current ruling party was in the opposition, and took to the streets to press forward their demands. Back then, a number of human rights – peaceful assembly, freedom of expression, freedom from arbitrary arrest and detention, etc – were first and foremost in their rhetoric. Yet now, the party that once upheld these rights no longer seems to be interested in them. 
We feel there is no better day than today to remind our leaders that the rights they once held dear are applicable to all, including their opponents. In the current political situation, we must reiterate this simple fact: human rights are universal and inalienable, and cannot be wielded as a weapon for political gain.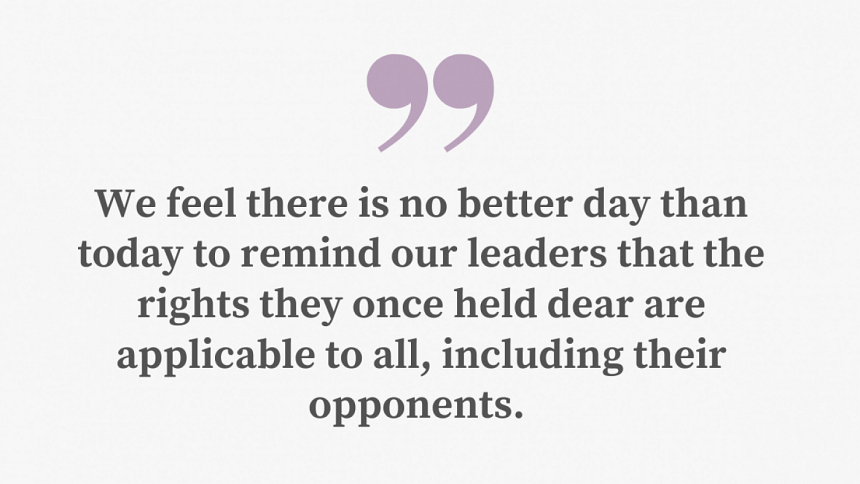 While our democratic rights are most in the public eye in the run-up to elections, we must also remind the government of other rights violations that are relevant today. 
The family members of the victims of enforced disappearances – around 86 are still reported to be missing – are still coming together to demand the return of their loved ones. Although there was a temporary lull, "crossfires" with security forces are again leading to unexplained deaths, and allegations of torture and ill-treatment are yet to be seriously investigated. According to ASK, 56 people have died in police custody this year. In all of these instances, we have seen little progress in terms of justice; an environment of impunity and fear has been created instead.
The state of minorities, women and children also leave much to be desired. There has been a spate of communal attacks across the country this year, but in most cases, law enforcers failed to apprehend the perpetrators. At least 886 women and 535 children have faced sexual violence so far, and 474 children have been killed. 
Beyond these near-daily acts of violence that have somehow become normalised, the recent economic downturn and cost of living crisis mean that a large portion of citizens are being deprived of the right to education and an adequate standard of living as well. Clearly, there is a lot that needs to change, but before any of that can happen, the authorities must demonstrate their commitment to upholding human rights. So far, the total abandon with which we have recently witnessed armed police obstruct protests, the aggressive tone that has been used by political leaders who should be trying to avoid escalating conflict, and a general disregard towards an equitable application of law, seem to point towards the opposite.