Dealing with a consistently inconsistent Bangladesh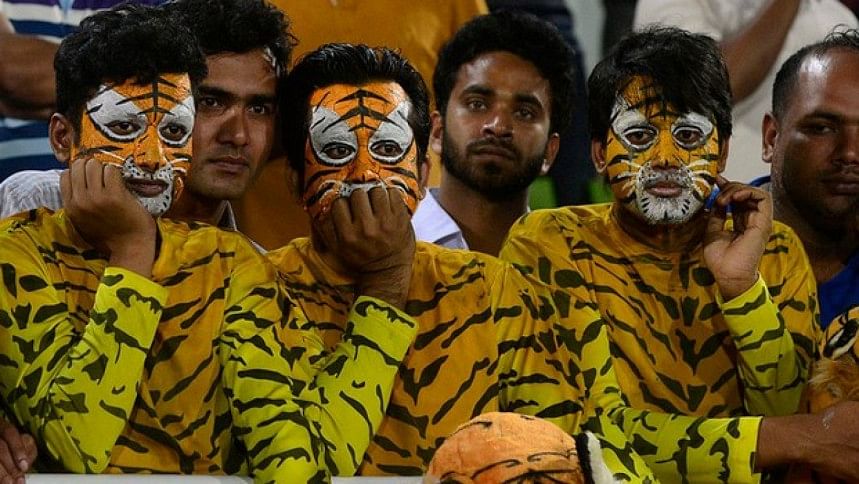 In the Asia Cup, Bangladesh started off by losing poorly to Sri Lanka, but came back strongly and convincingly against Afghanistan to proceed to the Super Fours. While Afghanistan have less experience than most in the Asia Cup, they are certainly not a team to be taken lightly, as they further exhibited by nearly knocking Sri Lanka out of the tournament by chasing 292 in 37.1 overs. Bangladesh followed up the big win by succumbing to yet another harrowing defeat – this time against Pakistan – where they did not manage to score even 200 runs for the second time in this tournament. Still, the most optimistic among us relied on the consistent inconsistency of Bangladesh and hoped to see them make a comeback against Sri Lanka. That was not to be the case as Bangladesh fell 21 runs short of the target.
To put things into perspective, I ran data from Cricinfo Statsguru to visualise Bangladesh's win percentage by year since 2007. This dizzying image could also represent how Bangladesh plays in a given match. On Saturday against Sri Lanka, after the first innings, 258 seemed like an achievable target. Bangladesh started the chase well, scoring 55 runs in 11 overs without losing a wicket. From there, they fell to 84-4. Some stability was provided by the middle order as the youngster, Towhid Hridoy (who averages 40.18 in 13 matches, at a strike rate of 89.29, and has four 50s) scored 82 and seemed to have found the rhythm of the pitch. An important partnership was formed with Mushfiqur Rahim at the other end, but he failed to increase the run rate as he got out just as he seemed to want to go after the bowler. There were glimmers of hope till the end as the tailenders showed some courage, but it was really just a matter of time till Bangladesh were bowled out.
Finding a pattern in Bangladesh's cricket journey seemed impossible and the numbers validated my feelings. It seems like the fate of the Bangladesh team's performance is determined by a pendulum swinging at free fall. It echoes many of our feelings as we are dumbfounded by some of the decisions taken by the team and management. While a sport is not a hard science – a level of unpredictability is inherent and contributes to the beauty of the game – things should not be so confusing or mysterious.
If we follow the examples of our neighbouring cricket nations, it is easier to find the strategies that define their approach to the game. It is difficult and certainly beyond my capacity to predict what can induce more stability in Bangladesh's trajectory. There are many complex factors at play, such as infrastructure, strong focus on and competitiveness of school-level and domestic competitions, making data-informed decisions, and sports psychology. Most people will say that talent is not the issue. In fact, in recent years, the most noticeable difference we have seen is the development of our pace attack. We struggled to bat on seam-friendly conditions – which we still seem to do – but at least our fast bowlers are able to yield better and more consistent results than we have seen before, thanks to Allan Donald being a crucial member of the coaching staff. Nevertheless, there are other areas that could use a lot of improvement. Even when our batters are batting well, we woefully struggle to increase the run rate or hit sixes. Our batters' attempts to attack usually result in wickets falling. Sometimes we struggle to continue momentum: an entire batting unit will collapse when one wicket falls. We are also not the best at shifting momentum back in our favour.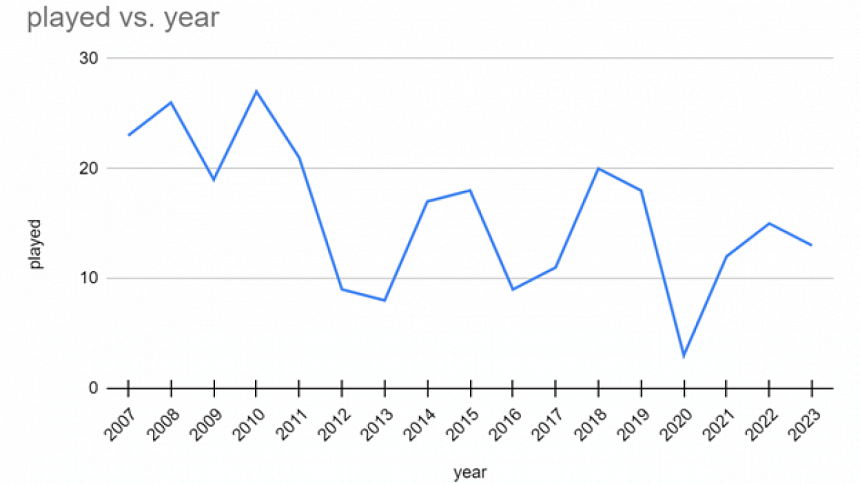 Another important thing to note is the number of ODI matches Bangladesh have played every year. It is no secret that you want to play as much as possible, to get better at the game. Here, too, there is no consistency. Ideally, Bangladesh should aim to play at least 15-20 matches every year. It is also worth mentioning that this is the format we have gained the most success in. The best year in the last decade, 2015 (72.2 percent match wins), saw us playing 18 matches.
In a nation as cricket crazy as Bangladesh, there is inevitably high emotional attachment to the game. I spoke to some fans about how they process their feelings about the sport. Understandably, people fall on different ends of the spectrum. It is not an uncommon phenomenon in sports to be loyal to a team that does not provide a lot of joy. But that's just the thing with Bangladesh: we have series victories against top nations and a convincing ODI series win against India as recently as in December 2022. But the harrowing defeats in between prove to be too much disappointment for many Bangladesh fans. For some people, it causes emotional exhaustion and a feeling of helplessness. There are those who stop watching cricket altogether because the highs and lows become unbearable. For others, watching cricket feels like a part of their identities. They remind themselves that wins and losses are inherent parts of the game, and it's actually enduring optimism that helps them deal with the heartbreaks.
For most people, the love for the sport does not disappear simply due to poor or inconsistent performance. For the players too, I imagine, it's hard to shake off the previous day and start on a clean slate, because there isn't one. We are all impacted and moulded by the journey we have been through. Things need to change, and there are better people out there to say what those changes should be. Then there's the rest of us, strapped to our couches, remote at the ready, unsure of what to expect. We can only rely on the lack of consistency and watch the story unfold.
---
Madiha Athar Khan is a technical writer at Optimizely and an art enthusiast leading the Art for Soul movement. She can be reached at [email protected].
---
Views expressed in this article are the author's own.
---
Follow The Daily Star Opinion on Facebook for the latest opinions, commentaries and analyses by experts and professionals. To contribute your article or letter to The Daily Star Opinion, see our guidelines for submission. 
---