Spirited Bangladesh take giant strides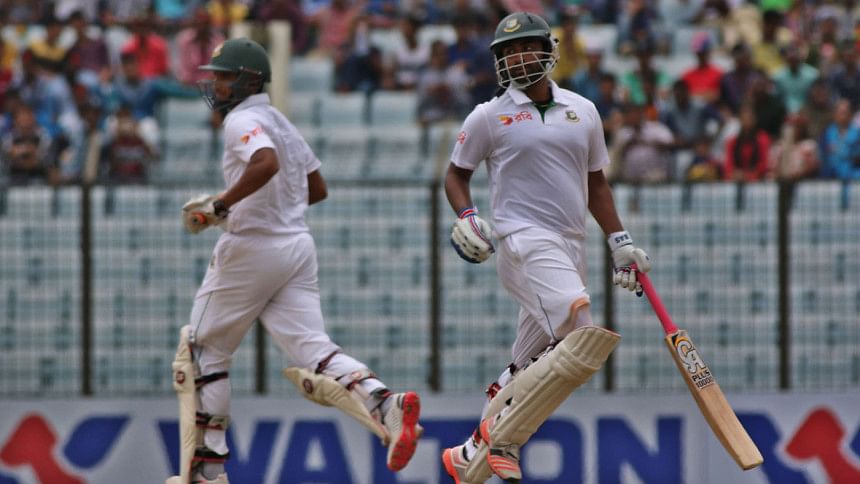 Bangladesh made plenty of gains from the 221 overs of play possible in the Chittagong Test. Despite rain playing havoc in the last two days, the draw is still Bangladesh's most positive result against South Africa in 13 years. More importantly, the Test will be a visible symbol for the team taking three indispensable strides.
Bangladesh bowled out a higher-ranked opponent under 300 for the first time in nearly three years, and handled one of the best pace bowling attacks in the world well enough to take a first-innings lead for only the fifth time in their history. It cannot be a coincidence that the hosts could play this way after reverting back to the seven-batsman, five-bowler strategy for the first time this year.
The indication that Mushfiqur Rahim would side with five bowlers came at the end of the Fatullah Test against India in June. Mushfiqur had lamented the bowling attack's inconsistency and also cast concern over Shuvagata Hom's mediocre performance. Bangladesh used three specialist spinners and one pace bowler against India on a flat pitch, and ended up conceding at 4.46 per over for 103.3 overs. It had followed the trend of the two Tests against Pakistan in April and May when Bangladesh were far too dependent on Shakib Al Hasan's undercooked left-arm spin.
Shakib managed to get out of Fatullah with little damage, but against South Africa, he looked in far better bowling form. Pertinently, he bowled only 14 out of 83.3 overs, taking the big wicket of Faf du Plessis. With more bowling options at the other end, Shakib remains an attacking spin option alongside Jubair Hossain.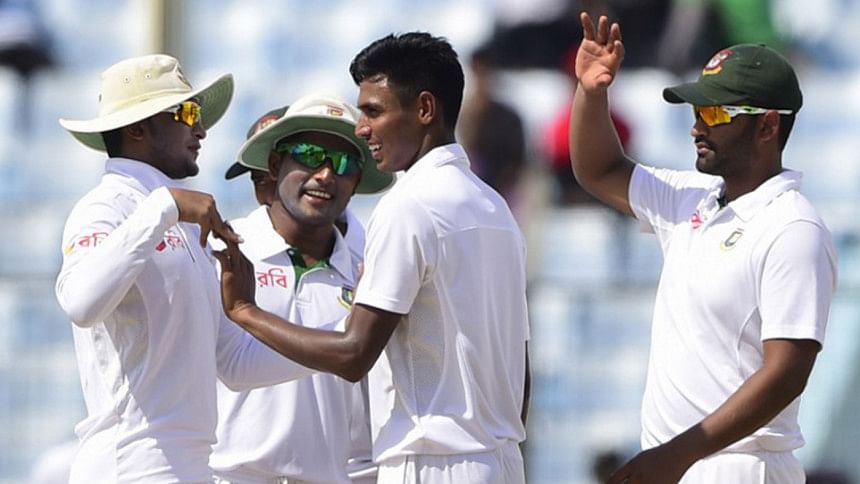 Jubair's first spell of 7-1-25-0 just after lunch on the first day put South Africa under pressure. Later, his triple-strike to remove the tail only strengthened his credentials as an important wicket-taking option.
Of course, Mustafizur Rahman's addition has made a big difference to Bangladesh's bowling attack. He smoothly carried over his limited-overs form to his Test debut, taking his first three wickets in the space of four balls. In particular spells, he has shown maturity beyond his age and experience. Quite quickly, Mustafizur understood that his variation should be used patiently.
Mohammad Shahid, too, seems to have gained the trust of his captain and coach, at least in the last four Tests. He was unlucky having had two catches dropped off him, but his ability to bowl for long stretches rewarded him with eight consecutive maidens on the first day. The spell, bowled in tandem with Jubair's attacking legspin, brought Bangladesh back in the game.
Bangladesh's batting would have also soothed some nerves in the team management, particularly because of the timely mellowness shown by Tamim Iqbal and Shakib. The pair calmly worked through difficult circumstances on the second and third day, offering the full face of the bat for most deliveries. Shakib's dismissal will be talked about for a while, but that should not take away how well he did to ease Liton Das in. Tamim and Mahmudullah, on their part, held the innings together quite skilfully when South Africa threw everything at them.
The second Test in Dhaka will be another opportunity for the hosts to try and prize out 20 wickets. A bowling attack that consists of Shahid, Mustafizur, Shakib, Jubair and Taijul Islam should be given more time to settle and become a wholesome force.
The batting should also be continued with the same intention. Rain could play spoilsport again in this series, but Bangladesh will look to keep taking strides in any way possible in Dhaka.