Domestic violence: When society is an abettor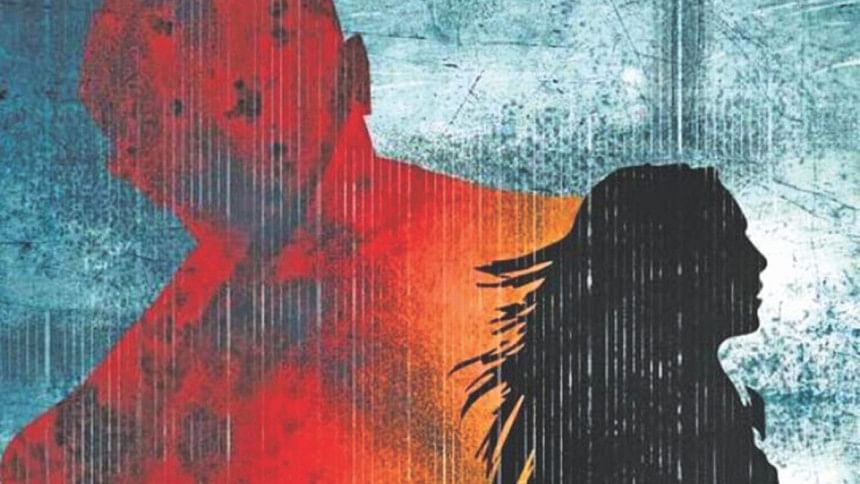 Things are not changing for women in this country when it comes to gender-based violence. Some recent studies and research findings have brought to light the fact that despite many preventive measures taken by the government and non-government organisations, violence against women in Bangladesh is far from decreasing.
Globally, one in every three women and girls experience physical or sexual violence in their lifetime, most frequently by an intimate partner, according to the UN.
Although there are fewer reports on domestic violence compared to the reports of sexual harassment, rape, gang-rape and murder of women and children in our media, this does not mean that domestic violence has at all decreased. Rather, it is the most prevalent form of violence against women across the country, according to a recent research by ActionAid and Jatiya Nari Nirjatan Protirodh Forum (JNNPF). Their research found that two-thirds of all violence against women occur inside victims' own homes.
And not only in Bangladesh, the situation seems to be pretty much the same across the world, as a recent UN study has found the home to be the "most dangerous place" for women. According to the United Nations Office on Drugs and Crime, an average of 137 women across the world are killed by a partner or family member every day. The UN calculated that of a total of 87,000 female homicide cases worldwide in 2017, some 50,000—or 58 percent— were committed by the victims' intimate partners or family members. Therefore, the extent of violence women across the world face inside their own home is far more severe than many of us might have imagined.
In Bangladesh, women face all types of violence including marital rape, dowry related murder, acid attacks, and many forms of physical and mental torture by close family members or intimate partners. According to Ain O Shalish Kendra, as many as 191 women have been murdered by their husbands in 2016 alone.
However, while all these forms of violence perpetrated against women are considered to be crimes, marital rape is still not considered a crime by society. And since child marriage is still prevalent in our society, marital rape is all too common here.
But unfortunately, the issues relating to domestic violence are not discussed much in public and there is hardly any awareness among the victims with regard to how and where to seek remedies for this. Needless to say, the "socially accepting attitude" towards this kind of violence prevent victims from reporting these incidents. Other factors behind the low reporting rate include fear, social stigma associated with these incidents and also considering domestic violence a "private" matter.
A Bangladesh Bureau of Statistics (BBS) survey found that 72.7 percent women, who experienced violence by their partners, never reported the incidents; only 2.1 percent women reported them to local leaders, and only 1.1 percent sought police help.
Therefore, our fight against domestic violence must address all the factors that have contributed to this horrific situation. There is no alternative to raising awareness among people against this social malaise. All forms of domestic violence—physical or mental—must be recognised as crimes. The patriarchal attitude as well as the social perception that domestic violence is a "trivial" and "private" matter has to change.
If that can be done, it will encourage more women to report such cases. But where would they go to report or lodge complaints, especially without facing any repercussions for taking such action? In this regard, appropriate information should be disseminated among women to make them aware of the resources and channels to safely file legal complaints and grievances.
In 2012, the Ministry of Women and Children Affairs established a helpline centre to help women and children victims, their families and other stakeholders with relevant information and various advice, services and support. Anyone can call 109, a toll-free number, to get assistance. Information regarding this helpline must be made available to all.
Needless to say, the media has a crucial role to play here. That 75 percent of the media reports on VAW are about rape and gang rape, as found in the ActionAid research, is a clear indication that the media has not given domestic violence due importance. The media should raise awareness about domestic violence, report more on this and put pressure on all the parties concerned to take concrete steps to fight such violence.
Domestic violence is something that affects women irrespective of their social class and economic status. And while dealing with such incidents, both physical and mental harassment must be taken into account.
Only two years ago, Akter Jahan Joly, an associate professor of mass communication and journalism at Rajshahi University committed suicide for what she said in her suicide note was mental and physical stress. But there were allegations by her colleagues and close relatives that her ex-husband had provoked Joly into committing suicide ("RU teacher's suicide: Colleague withdrawn from academic activities", The Daily Star, September 22, 2016). There are many such cases that occur behind closed doors.
Remember Rumana Manzoor, an assistant professor of International Relations at Dhaka University, who was blinded and maimed in an attack by her husband more than seven years ago? Her silence regarding the torture she had suffered at the hands of her husband had almost cost her life.
How much has changed in the country since the incident of Rumana Manzoor? Not much, it seems. And it will not, until social attitude towards such violence change and society comes forward to support the victims.
In an interview with the Vancouver Sun in 2014, Rumana Manzoor said: "…I know that many people in my country...are suffering from domestic violence and they think it's a shame for themselves to talk about it or share it with anyone and sometimes they are just scared…my ex-husband was only caught when my students at the University of Dhaka and my colleagues...put pressure on the police force…Until that support comes from society, I don't think that change can be possible."
---
Naznin Tithi is a member of the editorial team at The Daily Star.
---
Follow

The Daily Star Opinion

on Facebook for the latest opinions, commentaries and analyses by experts and professionals.
To contribute your article or letter to The Daily Star Opinion, see our

guidelines for submission

.
---