An insidious silence
The pervasive problem of domestic violence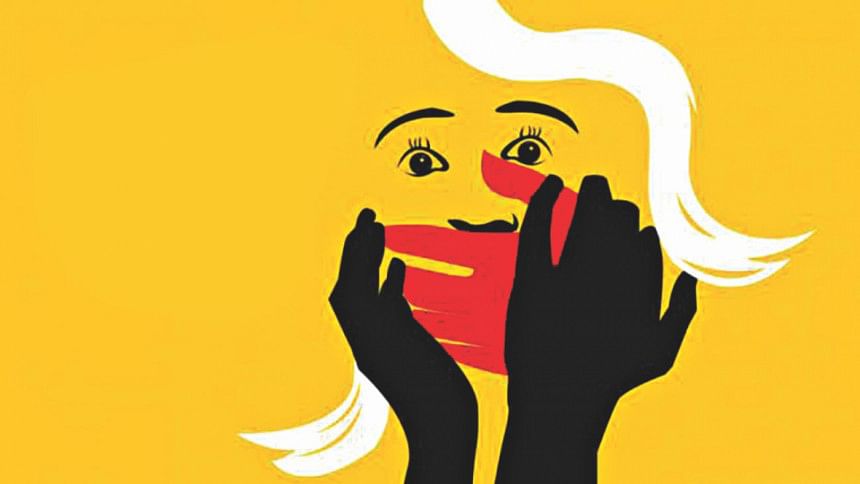 When I was an undergraduate student, I remember reading about a campaign in Libya by a grassroots organisation, Voice of Libyan Women. They were, at the time, running a campaign against domestic violence. They started out by handing out eye-catching fliers with messages about domestic violence, something that had been a successful approach elsewhere in the world. But much to the frustration of the members of the organisation, what had worked elsewhere, simply wasn't working in Libya. Schools would not open their doors. Shopkeepers refused to allow them to leave their leaflets. Even the young men and women they targeted would immediately dispose of the materials. So Murabit, the founder, and her team were naturally at a loss.
It was later concluded that domestic violence, wasn't seen as a problem in the country. Problematising the phenomenon was thought of as a "western agenda".  They then customised the messaging accordingly to better suit the culture of Libya resulting in the Purple Hijab Day.
In my early twenties, I was intrigued by the campaign primarily because of the clever solution they proposed. But also, a few months before I read about the case, I had called the police to report my then neighbour, who was swearing profanities at his wife. 
My neighbours in Bangladesh aren't any different. Domestic violence is a universal problem that is often swept under the rug. Maybe, unlike Libya, anti-domestic violence campaigns aren't met with hostility. But what happens inside a home is people's private matter. So we let it stay silent. 
In a recent study quoted by The Daily Star, over 80 percent of the currently married women in Bangladesh have experienced violent behaviour from their partners at least once. Moreover, up to 55 percent of the married women faced physical or sexual harassment in their lifetime as found in the Violence against Women Survey 2015 carried out by the Bangladesh Bureau of Statistics, cited by UN Women according to the same report. Also only 2.6 percent took any legal action for physical or sexual violence by a partner.
Let us first define what domestic violence is. Domestic violence, also known as Intimate Partner Violence, can broadly be defined as a pattern of abusive behaviours by one or both partners in an intimate relationship such as marriage, family, friends or cohabitation. Domestic violence has many forms including physical aggression or threats, sexual abuse, emotional abuse, controlling or domineering, intimidation, stalking, passive/covert abuse (e.g. neglect). 
A cross sectional study was carried out from July 2013 to June 2014, published in Delta Med Col J. Jan 2017, where a total of 1,143 cases of the victims of Violence against Women, who underwent treatment at One Stop Crisis Centre (OCC) and burn unit of Dhaka Medical College took part in the study. The report found that 71.91 percent of the victims were married. Majority of the victims i.e. 60.37 percent were homemakers. The perpetrators were mostly husbands (64.65 percent).
Before someone gets defensive, I am not making sweeping statements like all men are abusers, or all women who choose to be homemakers are abused. I am well aware that men can also be victims of domestic violence and women who choose to be homemakers are perfectly capable of exerting control and power over themselves and over the household. I have fine examples at home. 
However, it is important to acknowledge that while there is a general silence and stigma surrounding violence against women, the silence and stigma around intimate partner violence is even worse. Domestic violence can be, and is, an extremely difficult topic for people to talk about. Or even hear about. But that is what makes it crucial that more people start to recognise when either themselves or someone they know has become a victim of domestic abuse. 
Contrary to popular belief, I would assert that it is not limited to a class either. The "rickshawalas beat wives-not us" argument doesn't fly. Even though there is no data on this, if the idea that "poor uneducated people beat wives" held merit, than I wouldn't hear my next door neighbour screaming profanities as often as I do. I live in a fairly "classy neighbourhood".  And while I want to go knock on her door, and ask her why she can't just leave I have to remember that the best way to help those suffering domestic violence is to listen. Believe them. To not judge, and respect their decisions. And for that I have to wait until she volunteers to tell me her story and then remind her how brave she is being in telling me her story. Each domestic violence story is unique, disturbing and troubling in its own way. And the seemingly simple solution of "turn the abuser in" is never that straightforward, but a complex, twisted compilation of lives involved.
But on a less individual, and more structural level, the first thing to do is to challenge beliefs and behaviours about women and men that contribute to intimate partner violence, including cultural messages that exalt a violent model of masculinity, glorify aggressive men as our heroes in popular culture, excuse controlling behaviours as typical parts of romantic relationships, and tacitly or overtly accept violence against women as normal. This is not to say that men suddenly have to be "feminine" or "effeminate". This is to say that aggression doesn't make you male, and there is no reason to glorify it. The second is to educate the public about the common dynamics and patterns of abuse that are extensively recognised by experts but largely unknown or misunderstood by the general public. And the third is to redefine norms about how we bystanders should act in response and what we can do when we see signs of domestic or sexual violence. 
As this challenging conversation evolves, it is essential to remember that the problem is bigger than the act of violence itself. Domestic violence is a pervasive, complex public health issue that necessitates an equally pervasive and multi-layered response. It has devastating psychological, physical, and economic consequences for those who experience it. A myriad of long-term physical and mental health problems that have a significant impact on their ability to live a healthy, productive and fulfilled life plague survivors. And it's not something that happens just to other people. It could as easily happen to me as to you.  
---
Shagufe Hossain is the founder of Leaping Boundaries and a member of the editorial team at The Daily Star.
---
Follow

The Daily Star Opinion

on Facebook for the latest opinions, commentaries and analyses by experts and professionals.
To contribute your article or letter to The Daily Star Opinion, see our

guidelines for submission

.
---