'Change laws that undermine women's position in the family'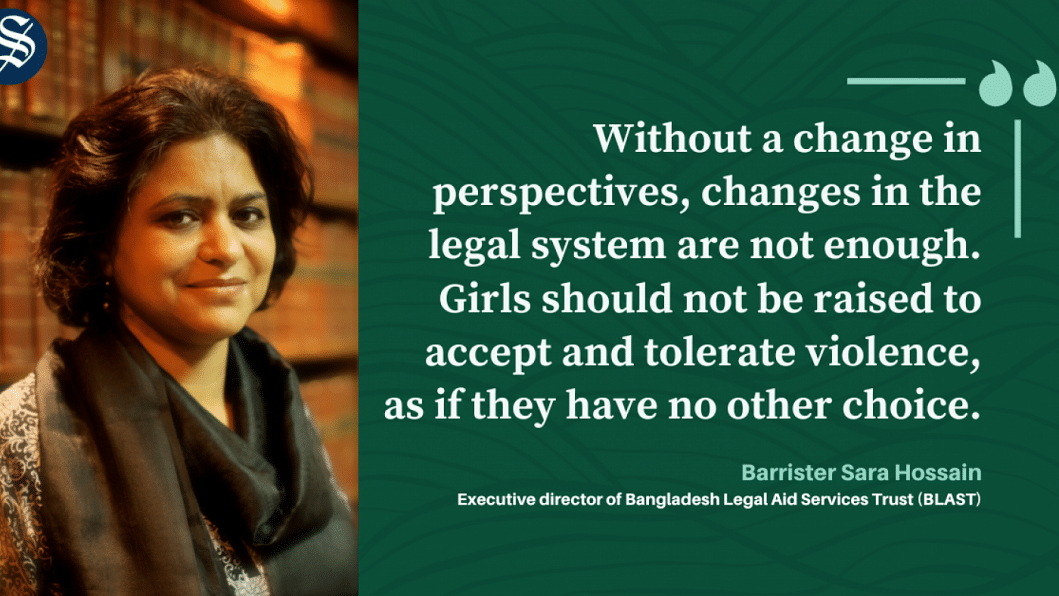 Barrister Sara Hossain, executive director of Bangladesh Legal Aid Services Trust, speaks to Shuprova Tasneem of The Daily Star about where we go next in dealing with violence against women in Bangladesh.
The recent amendment that disallows the use of character evidence in rape trials is a positive change that rights activists have long been campaigning for. What is the next major change you would like to see?
If we look at the evolution of laws related to gender-based violence (GBV) in Bangladesh, the changes – fuelled by women's outrage at the status quo – have come from a place of understanding the right to equality, dignity and self-determination, not from a position of pity for a victim. It started with a demand for accountability for routine and extreme violence, although unfortunately, we still continue to witness the powerful using their influence to evade justice.
What we need now is a focus on the survivor, and the financial assistance, health support (including for mental health), and safety and security that she requires to survive a process of justice that can be unacceptably lengthy. So far, our whole focus has been on criminal law and punishment and accountability, and less on reparations and compensation for survivors.
While we can't stop looking at legal barriers, we must also demand emergency shelters, improvement of safety net measures that already exist, speeding up the process of claiming maintenance and, crucially, we need to make sure those seeking justice through the courts are not threatened or intimidated by the accused.
We have heard government officials talk about how GBV cases are lower in Bangladesh than in certain countries (although we must remember that these are just reported cases). But our concern is not with numbers; it's with what happens to a woman who faces violence. Can she report it? Can she seek support? Whether through a legal process and accountability, or by simply getting on with her life, we still don't have the same pathway to justice and reparations that we see elsewhere.
We also need to address the issue of rights within the family, since this hugely impacts women's capacity to seek protection against violence. Our current family laws give women very different rights from men, and also create inequalities between women. For example, the difficulties Hindu and Christian women face in seeking divorce clearly limits their ability to ensure their own safety. Muslim women can only get three months of maintenance after divorce, and no rights to the home she built with her husband or any other safety net provisions. How can you seek protection against domestic violence in such situations?
If we're really serious about tackling GBV, we have to look at laws that continue to undermine women's position within the family, particularly within marriage.
Finally, we need to address the stigma that is still very much prevalent, especially around unmarried and divorced women. We need to stop viewing survivors as "unfortunates" and acknowledge that women are entitled to seek justice.
What concrete measures can the state take right now to remove the obstacles that women face when seeking justice?
When we were young, girls were taught that life would send many problems their way and they would have to deal with them. If you are harassed, you can't talk about it, you just have to avoid it. Without a change in perspectives, changes in the legal system are not enough. Girls should not be raised to accept and tolerate violence, as if they have no other choice.
In terms of concrete measures, the reform of laws that discriminate between the sexes is a priority. The current rape law still has many colonial-era influences that women's rights activists have long been campaigning against, and the removal of character evidence is a result of this, although now we need to ensure its implementation.
There has been a lot of institutional changes within the police, especially in terms of dealing with GBV, such as its establishment of victim support centres. Although there aren't enough, they exist in quite a few districts and are working with women's rights organisations on a regular basis. More recently, police created help desks for women, children, disabled persons, etc. The system is not always put into practice, but at least the intent is there and a basic structure has been put into place.
There is also a High Court directive that clarifies that police cannot refuse someone filing a rape case, that they must be given medical care immediately, and that police cannot discriminate in this regard. There are also different police circulars on how they should treat rape survivors.
Despite that, there are still instances of police refusing to accept cases or not providing support to survivors, especially if they don't have family support, either. At the end of the day, police, lawyers, and judges all exist within a patriarchal society and are influenced by its norms. The attitude that if you are a victim of violence, then you must learn to deal with it, is still too common.
The main thing we need to work on now is removing the power of influentials over the process of justice and ensuring that women get equal rights and opportunities when pursuing justice.
The issue of social stigma against survivors of violence always comes up in these conversations. Can we ever get past this huge obstacle faced by them?
The way the state and society responded to the Birangona after 1971 carries lessons for us on how we should think about survivors of violence today. We know that giving them recognition as survivors of extreme sexual violence was an important part of the response they needed, as well as the initial support in government rehabilitation centres (1972-1975). Steps were taken to ensure opportunities for employment, financial support, critical medical intervention like MR and, crucially, victims were almost immediately seen through the lens of survivor. Obviously, there were many challenges over the next 40 years, and state recognition only came recently, but it happened.
Groups like Naripokkho also campaigned against the use of words like ijjot or shombhrom when talking about Birangona, arguing that it's not the women or their communities who have been dishonoured, but the men who carried out these acts of violence. These words are very loaded, but unfortunately continue to be used today, even coming up recently in a draft legislation. An important step would be to move away from subjective terms like "decent" or "moral" and talk about dignity instead.
We must also highlight the question of consent. You still hear the victims being questioned – how did she get herself into this situation? The question of consent in sexual violence cases can be complex, and there will be other corroborating factors as well, but it cannot be completely missing from cases, like it so often is now.
The notion of what consent is for and the extent to which it is given has to be clearly understood. As women, we often don't realise that we have the right to withdraw consent or not give it for longer, because society doesn't allow you to think that and our law is quite difficult in terms of how it's applied.
A big shift needs to happen, and it needs to come from the understanding that girls and women have the right to determine their own lives and, very importantly, what happens with their own bodies.