The Tireless Warrior Speaks
Ilias Kanchan is a name known to us all, not only for his super-hit movies, but also for the road safety movement that he has been pioneering since the last two and a half decades. The National Film Award winner and Ekushey Padak awardee initiated his road safety movement 'Nirapad Sarak Chai' in 1993 after the death of his wife in a tragic road accident, and ever since he has been working relentlessly to improve the road safety situation of the country. This week, in a candid interview with Rafi Hossain, the veteran actor shares his views on the student protests demanding safer roads and the initiatives that can be taken to address the situation.
Tell us about this battle that you have been fighting alone for the last 25 years.
When I started the Nirapad Sarak Chai/NISCHA (We Demand Safe Roads) movement, it was difficult to deliver the core message to the mass people. In the last 25 years, I have seen many ups and downs while trying to raise awareness about road safety. But finally, now the mass people have realized how important it is to ensure our safety on the roads.
I have fought for building road-dividers. At one point, 33% of the accidents happened due to head-on collision. The number of accidents due to rear-end collision was on the rise as well. To avoid such hazards, we needed to check the vehicles' speed. Private cars and industrial heavy transportations do no ply at the same speed. As a result, the slower cars are often hit from the back. So I pointed out a number of solutions, including the proper implementation of traffic rules. Most of the public transport drivers are illiterate and untrained. They do not have sufficient education on road safety.
I have endured a lot to establish the fact that national development is unthinkable without the total development of our roads and transportation sector. People were used to handling traffic offenses by offering 50 taka to the police, and sometimes it even worked! After years of efforts the government finally prepared a draft on this issue in 2012.
It looked like a complete and foolproof draft. But for many reasons unmentionable, that draft did not see the light of the day. In 2016, another draft was prepared. Unfortunately, it had a lot of loopholes, which many of us had pointed out and sincerely tried to rectify. We suggested to have a look at the law in India. They it the 'Suraksha and motor vehicle' law. You might ask, why the word Suraksha (safety) is there? It is there, because road safety and assurance of lives and livelihood on the roads are now global issues. This issue is in the 7th position in the list of the top 10 major global problems. And the UN is also looking into this matter very seriously. They even omitted the expression 'road accident' and called it 'road crash'. This was done because in 'accidents', people have no conscious or intentional contribution.
But when termed as 'crash', it indicates that certain individuals are responsible for what has happened and have to take full responsibility for their actions. The UN has taken numerous initiatives to bring down the crash rates to at least 50%. Some countries like Sweden have even targeted to eliminate the problem with 'Zero Tolerance' policy. Technology has enabled us to actually make the UN's goal come true. But we, as a nation, are awfully reluctant. We are only concerned about our own safety. We often forget that others who are also on the roads want to go back home to their loved ones unharmed.
Also, we hardly see sufficient funding and other infrastructural support from the top-level authorities, which is why the task has become even more difficult. Currently, we have around 16 lakh registered drivers for around 33 lakh registered vehicles. So, it is clearly visible on paper that almost half of our vehicles are being driven by drivers who don't have the permission to drive! But if people raise their voice against road crashes, these very drivers call on transportation strikes and blackmail the masses. For all these unfortunate reasons, I have devoted myself to help the nation see better days with its transportation system.
Now that the nation stands on the verge of breaking a threshold, teenagers from schools and colleges have taken to the streets to seek a solution. What are your thoughts on this?
The whole nation has somewhat come to a standstill over the past few days. Even the government is embarrassed to some extent, unsure of how to destroy the monster that has been laying eggs for decades. Some are claiming that there are evil agenda of opposing political elements, and that they are trying to manipulate the situation to make matters worse. I hope that this is a false news, because I am completely out of words thinking how someone could possibly be so heartless as to use innocent little kids to achieve heinous political benefits.
How do you think the current situation can be solved?
I would expect the students to return home. They are just too young to be on the roads. They have established their demands. The government has assured them of quick solutions. Any kind of brutality or vandalism, be it from any political party, will now be considered as criminal acts. I have heard that many institutes have threatened the students with rustication; I hope that is not true. No student deserves to get rusticated for claiming their rights. They are immature; we should not be so harsh on them! I will be expecting bold statements from the top tier people, like the ministers and celebrities, that from now on, nobody will take unjust advantage of their power and social position. Law is equal for everyone, and everyone needs to oblige by the law. Also, the traffic police need to be more strong and active on the roads and discharge their duties with sincerity. There shall be no room for errors.
Do you think the artists' community of our country can play a special role to resolve this issue?
Of course! Most of the common people idolize the artists and celebrities. We are the role models for many, and how we present ourselves with our works and our words can actually play a vital role in changing the people's behavioral tendencies. We have a certain level of credibility and people look up to us. So if we request them, and help them understand the depth of the issue, I am hopeful that it will end in something positive.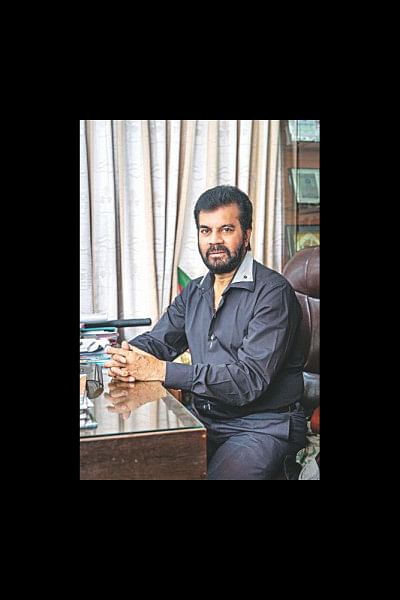 Have you had any discussion with the government on this issue, yet?
No, not yet. And to be honest, I am not even trying anymore. I have dropped two letters already, requesting permission to have a discussion session with the Prime Minister. Even before winning the Ekushey Padak, I tried to reach the government high-ups many times, because I have seen that our Prime Minister is very understanding, and once she is made aware of a problem, she doesn't waste time in taking steps to solve them. After winning the Ekushey Padak, I spoke again with the Prime Minister's protocol officers myself, hoping that maybe now they will value my opinions. But my request and letters never managed to reach their ultimate destination. I have worked hard day and night along with Shamsul Haque from BUET, another official from BRAC and the Chairman of BRTA to design and prepare plans that can be implemented through text books, so that we can create a road-safety aware nation for tomorrow. We have reached the Education Ministry and Transportation Ministry to cooperate with us in implementing these plans. But these efforts yielded no positive result. If I had a child 25 years ago, by now they would be an adult, perhaps ready to get married and start their own life. But my child-like initiative Nirapad Sarak Chai still seems to be in its infancy, even after 25 long years. I am not losing hope though. The government can set-up an office, consisting of officials from all related ministries which will work on improving the road safety situation of the country. 
How do you think the protests will end?
As I have said, the infiltration of dirty politics in this case is very likely to choke the voices making rightful demands. So the innocent children must act rationally now. We do not want to see any injury or casualty anymore. Enough blood has already been shed. Therefore, I would like to request the protestors to go back to their homes. You have made your point and we are all with you. Now please go back home safely where your loving parents are waiting for you.
Tasbir Iftekhar