Aid management in Rohingya camps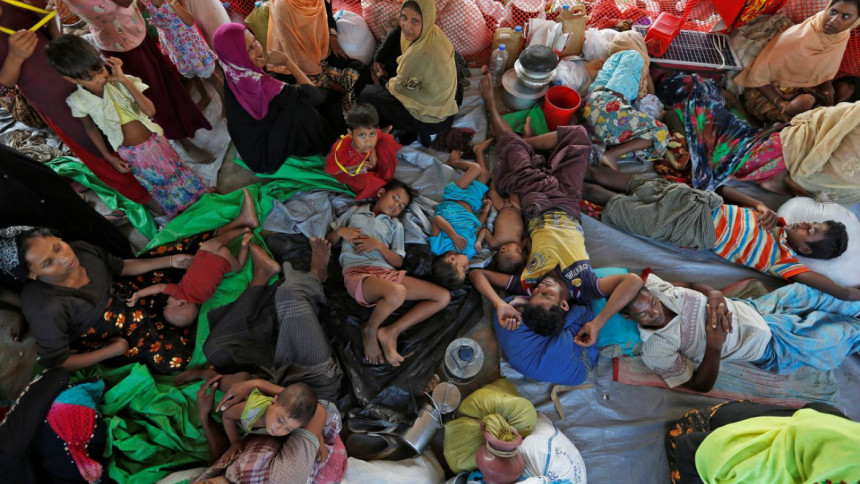 UN agencies leading the Rohingya crisis response appealed for USD 951 million for humanitarian assistance covering the period from March to December 2018. As only one-third of the appealed amount has been collected so far, there are reasons to get concerned about the future of the humanitarian response. However, with funding comes the responsibility of effective management of those funds. In this respect, on the part of humanitarian agencies, some issues of effectiveness and accountability need to be mentioned.
Non-contextual relief items
It is being consistently reported that the living conditions of the Rohingya refugees in the makeshift camps fall short of "accepted international humanitarian standards." With full sympathy for the refugees, how realistic it is to expect the so-called international standards in a country of limited resources and competing priorities? Or, does the distribution of relief items that apparently serve little to no purpose to the refugees, but nonetheless, offers humanitarian agencies to tick-mark project activities, constitute a good example of "international standards"? These realisations were prompted looking at the distribution of a good number of non-food items (NFIs), which the Rohingyas do not know how to use and finding them useless, sell them away to the local markets in Ukhia. For example, every household of refugees in one surveyed camp receives a hygiene kit after every two months: 39 bathing soaps, 21 laundry soaps, four pairs of sponge sandals (two pairs for adults and two pairs for children), among a few other things. For the sake of seeking value for money, does a household with an average of five members, need 39 bathing soaps in a 60-day period, really?
Citing another example, an international NGO was seen distributing a bucket that consisted of hand gloves, Harpic, liquid soap and the like. While distributing these materials, a few Majhis (Rohingya men in charge of blocks in camps) said confidently to the author that the households would use none of these items. Were the households provided with lessons of operation and maintenance of latrines? Of what use were the Harpic or hand gloves then?
Looking at the quantity and types of NFIs being distributed to Rohingyas, it appears that rarely any consultations were made by international humanitarian agencies or other charities to understand what Rohingyas themselves want, what their traditions, social values and institutions are—this is significant information that could guide programme designing, behaviour-change communication and awareness-raising activities. In the absence of such knowledge in the humanitarian response—and also in the attempt to meet "international standards"—what we see is, distribution of certain goods and services that Rohingyas find useless. Therefore, in dealing with the Rohingya emergency, the response operation is getting "international-ised" to the point where some aspects are being non-contextual and irrelevant.
Impact assessment of products and services
Following from the above, distribution of non-contextual relief items actually points at the lack of or insufficient impact assessment of services that are being delivered in all sectors to show how a particular relief item is or is not being used or to what extent the delivered services are serving their purposes. As an example to explain this point, a number of pharmacies and road-side vendors have mushroomed around the Kutupalong and Balukhali camps to sell medicines—and some of these medicines could be easily identified as being fake. Besides, in some cases, these newly-established pharmacies avail medicines from Rohingyas, who in turn get these for free in health facilities. This is an issue that was reported by all the health workers that were interviewed—it is a common practice among some Rohingyas to visit health facilities on the pretext of illness to get free medicines, which they sell to the local pharmacies.
Greater accountability of aid workers
Speaking on accountability and oversight mechanisms to monitor the work of both NGOs and INGOs, officials in the district and local administration revealed that leakage happens when organisations do not deliver the amount of goods and services they promise in their project proposals (FD 7) or compromise with quality. For instance, a certain organisation mentioned giving every refugee two Gamchas worth Tk 200 each and showed the entire budget in the project proposal accordingly. But at the time of delivery, one Gamcha was cut into two pieces, which means instead of Tk 400 for two Gamchas as shown in the proposal, an effort was made to get away by delivering only one.
Personal visit and statements of a couple of elected representatives revealed elements of ill-governance on the part of local contractors and NGOs alike. For example, local contractors were seen charging exorbitant amounts for the construction of latrines and tube-wells. For instance, where the cost of constructing a latrine ranges between Tk 30,000 to 40,000, contractors were found charging more than Tk 100,000. Additionally, there was no planned construction of latrines—a trend which is still continuing today. In the surveyed camp, currently, 100 latrines are again being constructed haphazardly by an international agency on landslide and flood-risk locations. Apparently, meeting deadlines and quantitative targets set by donors is more important for NGOs and INGOs alike, thereby prompting them to deliver fast by defying logic and quality.
Speaking of tube-wells, if NGOs collected permission from NGO Affairs Bureau to construct 700-feet deep tube-wells, contractors constructed tube-wells whose depth ranged from as low as 50 feet to a maximum of 300 feet, thus rendering them useless within a short period of time. If such practices continue, there will never be either sufficient latrines and tube-wells or sufficient funding to construct these for the whole refugee population.
Overhead cost versus activity cost in projects
One finds a colourful variety of interventionists in Cox's Bazaar these days and the spectacular sight that captures the attention of locals is the sleek motorcade of international agencies wheezing daily on the Ukhia-Teknaf road.
This brings us to the topic of international recruits. While it is true that some senior overseas technical experts bring years of work experience from refugee crises across the globe, the same justification cannot be attributed to expatriates in junior and mid-level positions, which can make use of the Bangladeshi workforce. Importantly, when a humanitarian response is being led without any knowledge of the local context and culture, it has implications for strategic planning and decision-making—the distribution of 39 soaps in a two-month period perhaps testifies to this.
The expenses incurred by the recruitment of expatriates by international agencies are reflective of high overhead costs which, in turn, might affect allocation for "real" humanitarian work on the ground. Furthermore, although the omnipresence of posh office vehicles and logos may add value to organisational branding and visibility, unfortunately, they are exacerbating the perceived divide between host community and refugees and the growing resentment among locals who are under the impression that Rohingyas are so fortunate to enjoy the custody of rich, international patrons.
Therefore, a careful assessment and reduction of overhead costs is urgently required to ensure that the benefits of limited humanitarian assistance are maximised at all times.
In summary, keeping the uncertainty of funding in mind, the overarching objective of the humanitarian response should not be to create a consumerist economy in the Rohingya camps. If that is done, then there will never be enough funding to meet expectations. As both local and international NGOs are contracted as implementing partners of donor agencies, hence, the line of accountability also rests with donors, and not just with the government to identify and avoid misuse of funds by directing them for products and services that are in line with the traditional practices of Rohingyas, and easily understood and owned by them.
---
Nazneen Ahmed is researcher, BRAC Institute of Governance and Development (BIGD), BRAC University. The article reflects the author's experience as a researcher on assignment to conduct a rapid assessment of the emergency response in January, 2018.
---
Follow

The Daily Star Opinion

on Facebook for the latest opinions, commentaries and analyses by experts and professionals.
To contribute your article or letter to The Daily Star Opinion, see our

guidelines for submission

.
---