S Alam's Aladdin's lamp
No official record of a single taka taken out of country, yet he and his wife obtain citizenship of Cyprus through investment, go on property-buying spree in Singapore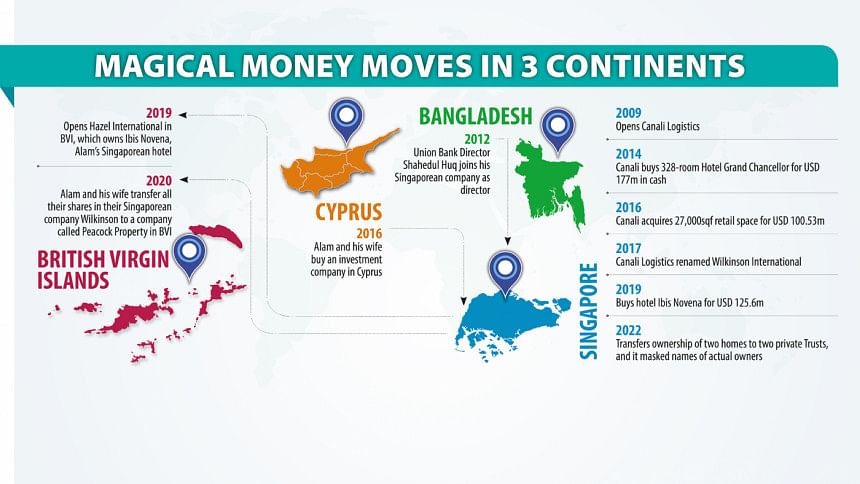 S Alam Group owner Mohammed Saiful Alam has built a business empire in Singapore worth at least about USD 1 billion, although there is no record of him taking any permission from Bangladesh Bank (BB) to invest or transfer any funds abroad, an investigation by The Daily Star has found. 
 
The Bangladesh central bank has so far allowed 17 companies to invest outside the country, and this Chattogram-based business giant is not on that list. Yet in Singapore, Alam bought at least two hotels, two homes, one retail space, and other properties over the last one decade, all the while seeking to remove his name from the paper trails, documents show.
As of January 10, 2023, the central bank has cleared roughly about USD 40.15 million to be invested abroad globally, a BB document shows. The figure is 10 times less than what Alam has spent just to buy two hotels and one retail space – worth over USD 411.8 million – in Singapore since 2009.
The BB document also shows that just over USD 107,000 have so far been sent to Singapore legally by a number of companies, and none of them is owned by Alam.
The Daily Star contacted Bangladesh Bank in writing for comments on S Alam's investment abroad, but the Bank did not give any official response.
Basic information about overseas investment is not officially classified. Yet it appears to be regarded as a top secret by the regulatory bank.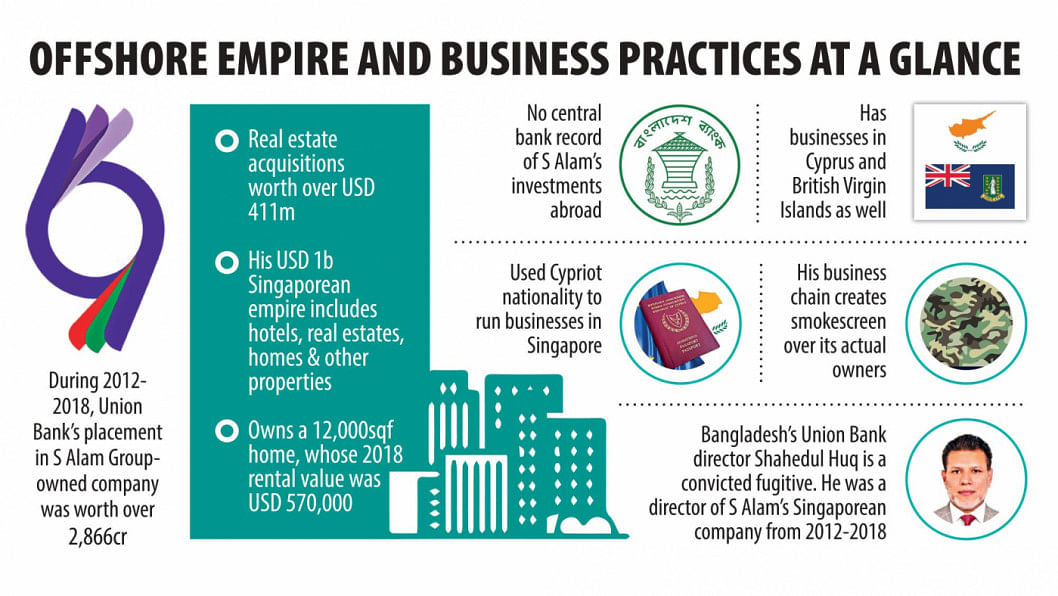 However, three highly-placed sources within the central bank having direct knowledge of the matter confirmed that Alam never took permission from them. All of them spoke on the condition of anonymity but confirmed the authenticity of the BB document that we have obtained.
"You can rest assured that S Alam has never taken our permission to send money abroad," one of them told The Daily Star, which was separately corroborated by the two other sources.
Bangladesh's Money Laundering Prevention Act 2012 prohibits offshore investments without clearance from the central bank. It is punishable by up to 12 years of imprisonment and a fine twice the amount sent out.
S Alam Group was founded by Alam in 1985, and has since risen to become one of Bangladesh's largest conglomerates.
His business interests range from commodity trade to fishing, building materials to real estate, textiles to media, intercity buses to shipping, and power and energy to banking and insurance. 
The Daily Star contacted Saiful Alam in writing twice – on July 6 and on July 23 – to comment on our findings. We sent Alam a set of elaborate questions detailing our findings about his source of funding and investments abroad, requesting him to give his version. He responded through his lawyers, A Hossain & Associates, both times, saying he would not make any comment unless we shared the full report with him before publication, which is not a journalistic practice.
Hopscotching havens 
This newspaper is in possession of documents that reveal parts of the web of the offshore business Alam has built with his wife Farzana Parveen. Our investigation has tracked down investments linked to Alam and his wife in Singapore, British Virgin Islands and Cyprus.
A small Mediterranean nation, Cyprus launched its Golden Passport programme in 2007. Under the scheme, wealthy foreigners were offered Cypriot citizenship in exchange of investments of about €2 million (USD 2.5 million) in their real estate, along with another €200,000 in contributions to the Cypriot government's research and land development fund, according to a number of international business consultancy firms.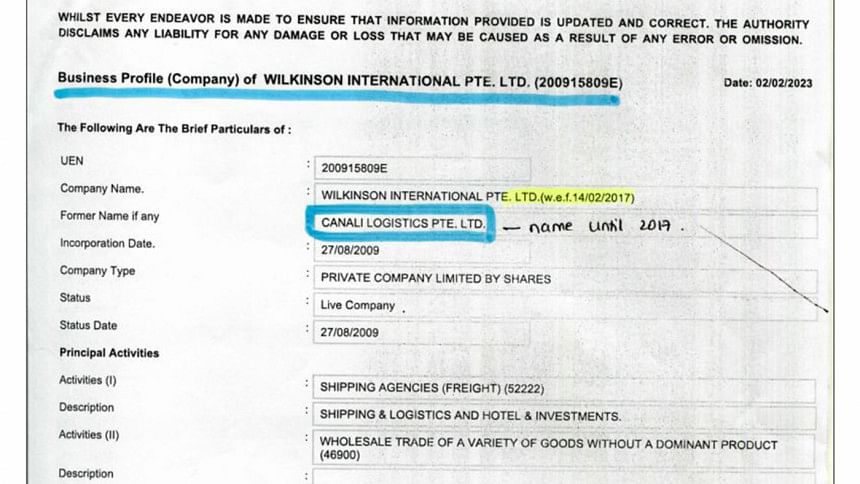 Two years later, on August 27, 2009, Saiful Alam and Farzana Parveen founded Canali Logistics Pte Ltd in Singapore, listing themselves as Cypriot citizens and residents of Singapore, according to the company profile obtained from Singapore's Accounting and Corporate Regulatory Authority (ACRA).
The company's issued and paid-up share capital was worth USD 22.34 million (30 million Singaporean dollars) at the time. Alam and his wife were the sole shareholders, with Alam controlling 70 percent of the 30 million shares and his wife the rest 30 percent.
Non-Singaporeans can get residence permit if they invest in Singapore. Singapore is home to some of the world's top businesses, including some Bangladeshi conglomerates. According to the offshore leaks database created by the International Consortium of Investigative Journalists, nearly 6,000 shell companies are linked to Singapore.
---
>> Click here to see related documents <<
---
Alam and his wife are also linked to an offshore shell company, Peacock Property Ltd, in the British Virgin Islands (BVI). More than 17,000km away from Singapore, BVI is a tax haven with no income, corporate, or capital gains tax.
Alam also bought a company – ACLARE Investment Ltd – in 2016 in Cyprus, another tax haven. The company was later renamed ACLARE International, according to documents obtained from Cyprus' Department of Register of Companies and Official Receiver.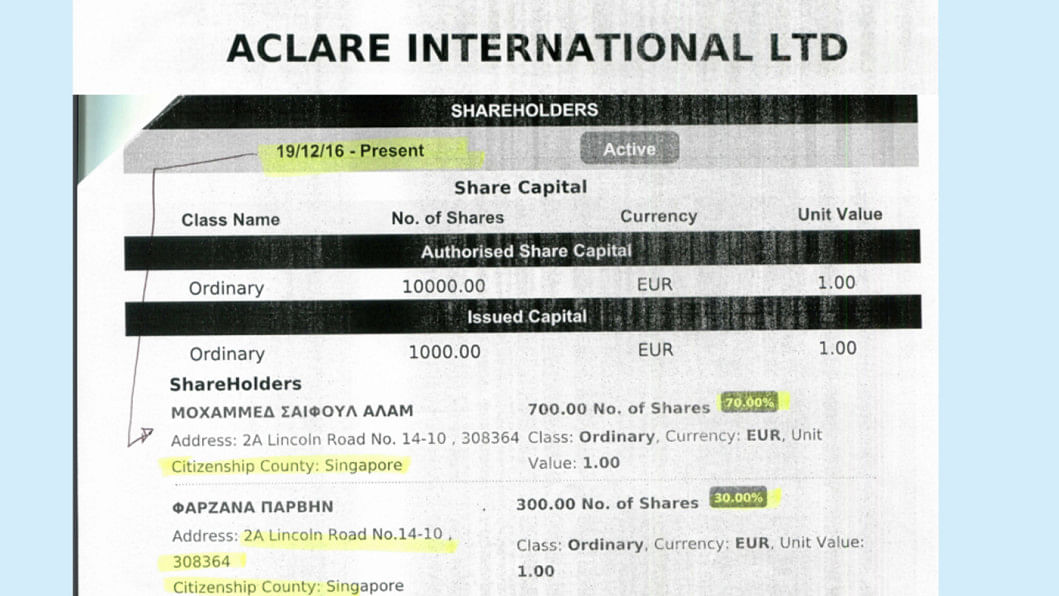 "This is a clear example of illicit financial transfer, especially if no credible evidence is available that payments made for the Golden Passport, purchase of assets and investments made out of the country, including offshore companies in tax havens came from legitimate foreign income," said Dr Iftekharuzzaman, executive director of Transparency International Bangladesh.
Former Bangladesh Bank governor Dr Salehuddin Ahmed said there are two legal ways to send money abroad for investment or trade by businesses.
One is the Exporters' Retention Quota (ERQ), which is a share of the forex remittance earned by an exporter that they are allowed to retain "only for imports and repayment of foreign loan of the exporters or their subsidiaries and sister concerns" as per BB rules.
The other method, Dr Ahmed explained, would be taking permission from the BB to invest a portion of this ERQ abroad.
"But this does not mean they can open a wholly different entity and do business there. It could be a subsidiary. Bangladesh Bank has allowed only a handful of companies to do this [invest abroad]," he said, without giving any names.
The Gold Rush 
Five years after its launch, Alam's Canali Logistics proceeded to buy a 328-room hotel – Hotel Grand Chancellor Pte Ltd – in Singapore's "Little India" for about USD 177 million, according to a circular sent by the hotel's previous owners to its shareholders and the Singapore Securities Exchange on August 26, 2014.
"Under the SPA [sales and purchase agreement], it is provided that the Consideration [the contract value] will be paid in cash in various instalments," the circular reads, adding that Canali has already "paid S$18.6 million (about USD 14m) inclusive of the initial deposit and the balance deposit upon execution of and pursuant to the terms of the agreement."
A Singaporean law firm represented the hotel in the deal.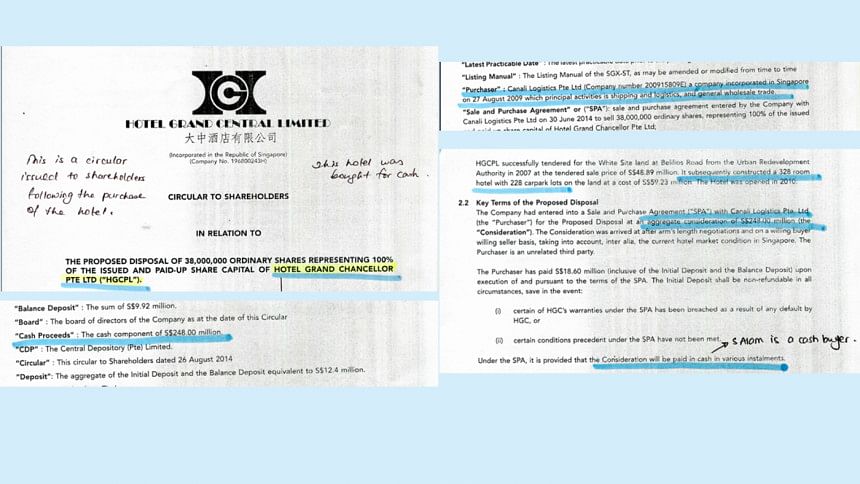 Filings made by Hotel Grand Chancellor with ACRA, the Singaporean regulatory authority, said its assets were worth USD 314 million at the end of 2021, with a yearly revenue of roughly about USD 7.4 million.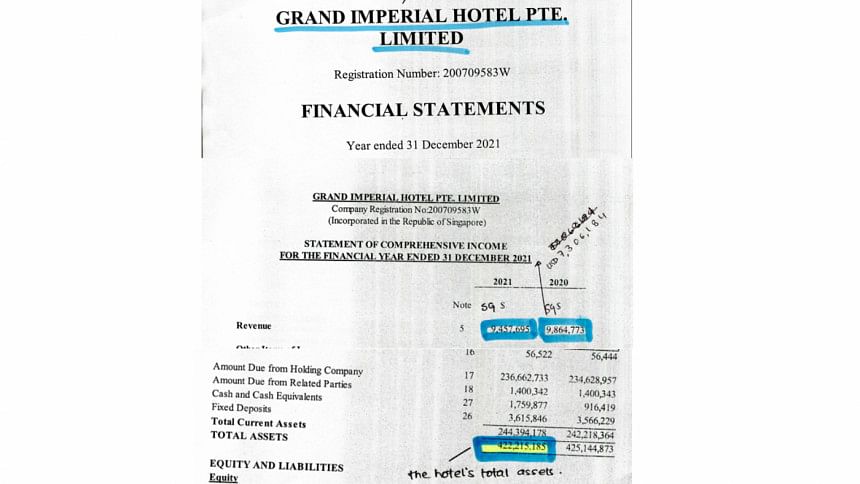 The hotel's company was renamed Grand Imperial Hotel Pte Ltd a year after the purchase, and now operates under the brand name of Hilton Garden Inn Serangoon at the heart of Singapore.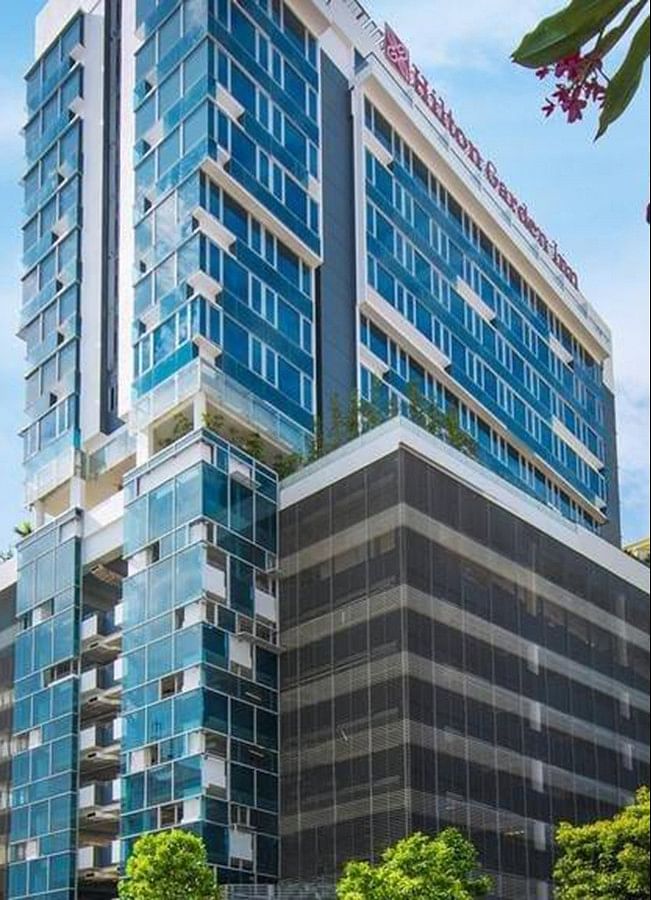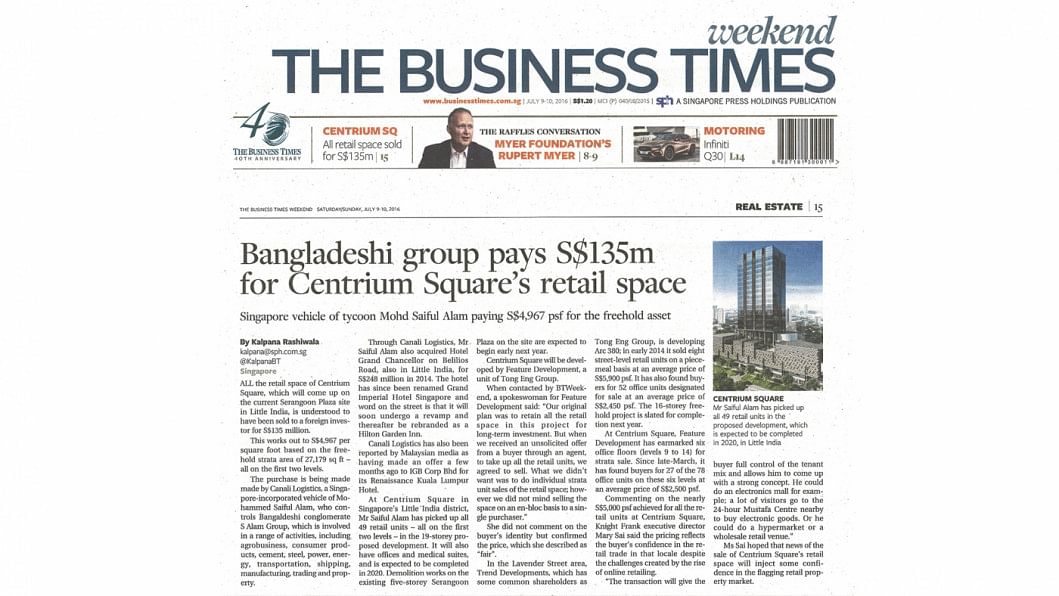 In 2016, Canali bought a 27,000 square feet commercial space in Singapore's 19-storey Centrium Square for USD 100.53 million, according to The Business Times, a Singaporean newspaper.
A year after this acquisition, Canali Logistics changed its name to Wilkinson International Pte Ltd, whose assets were worth nearly USD 1 billion (Tk 10,000 crore) in 2021. At the time of writing this report, the Singaporean authorities did not have the 2022 files.
While the corporation purchased one property after another, its three-year annual turnover did not reveal that it made as much money as it spent.
Wilkinson's financial statements show its annual sales revenue never topped USD 78 million between 2019 and 2021. It was USD 35 million in 2020 and USD 36 million in 2019.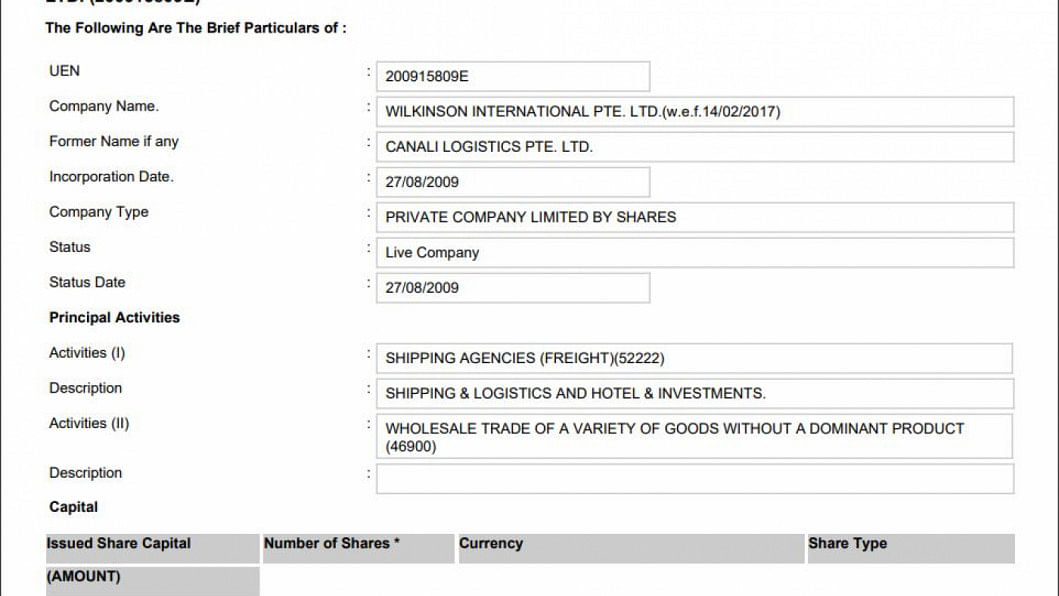 Yet between 2019 and 2021, the company spent at least USD 567 million in investments, which is several times the amount it earned, Wilkinson's financial statements show.
To balance this, the company took USD 458 million in financing during this period.
While financing could mean both equity and borrowing, analysts looking at the statements noted that since Alam and his wife were the sole shareholders at least until the end of 2020, this amount would potentially have to be bank borrowings or cash loans, and not equity.
The smokescreen  
This massive Singaporean business operations run behind the façade of an address that appears to exist only on paper.
The Daily Star sent a source to the registered address of Wilkinson who looked through the business directory in the lobby of the Ocean Financial Centre on Collyer Quay Road, the official address of Wilkinson. Wilkinson International was not on the directory. But the law firm that was involved in the company's hotel deal was found at the same address.
According to Singapore's open government data portal accessed by The Daily Star in June 2023, over 500 shell companies ran their operations from that building, although some of them are no longer in operation.
Alam and his wife resigned as directors from Wilkinson on December 16, 2020, and transferred ownership to an offshore entity, Peacock Property Holdings Ltd, in the British Virgin Islands. An infamous tax haven, British Virgin Islands made headlines after the 2017 Paradise Papers leak exposed offshore activities of some of the world's most powerful people and companies.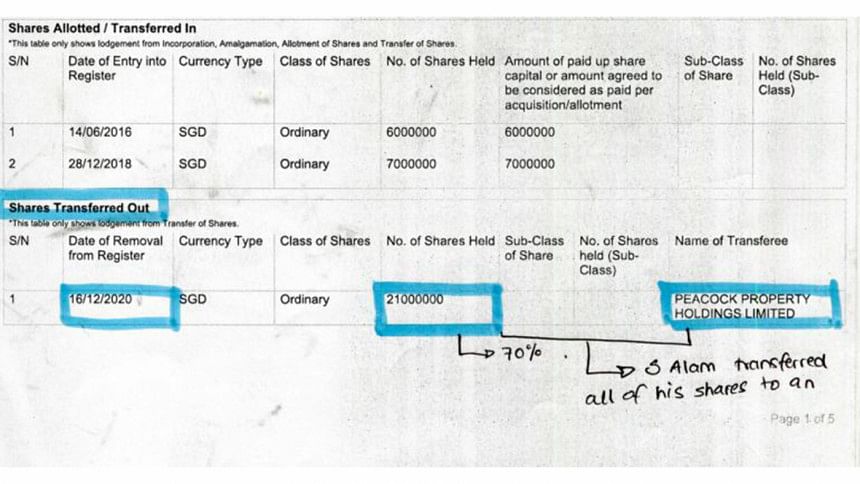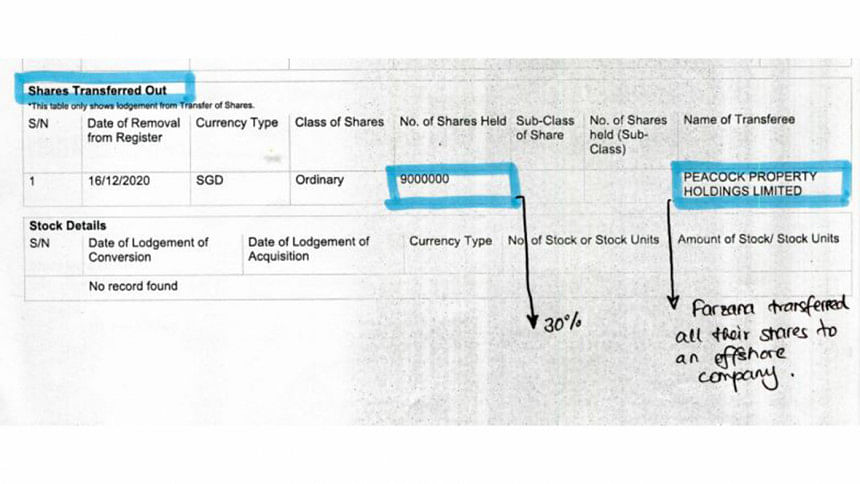 Peacock Property's address was found to be registered in the name of an offshore agent, Newhaven Corporate Services, registered with the British Virgin Islands' Financial Services Commission.
Newhaven's office, located in a modest four-storey yellow building near a central roundabout on James Walter Francis Highway in British Virgin Island's Road Town, serves as a postal office box for other offshore companies too, according to the 2017 Paradise Paper leaks. 
In 2015, Newhaven Corporate was penalised with a fine of USD 25,000 under BVI's money laundering laws "for failing to properly engage in or undertake customer due diligence" and "for failing to adopt relevant measures or additional measures or checks in non-face to face business relationships."  
Cleaning the slate 
Alam nominated Ong Lay Kim, a Singaporean national with no discernible online presence that The Daily Star could find as the sole director of Wilkinson after he removed his name from the Singaporean company.
Alam's name cannot also be found anywhere in the documents of Hotel Ibis Singapore Novena, the widely-publicised 2019 purchase by his company for USD 126 million.  
 
Filings with the Singaporean authorities made by the hotel show that it is owned by a string of paper companies, all existing in the offices of the law firm mentioned above – and the ultimate owner is an offshore company in the British Virgin Islands.   
 
The hotel is – and has been – owned by a company called Canopus II Pte Ltd since 2013, but the company's current address is the same as Wilkinson's, down to the unit number.  
Canopus's sole shareholder is a BVI-based company called Hazel International Pte Ltd, also registered at Wilkinson's office address. Hazel was set up just three months before its sale to Alam-controlled company in June 2019, according to documents obtained from Singapore's Accounting and Corporate Regulatory Authority.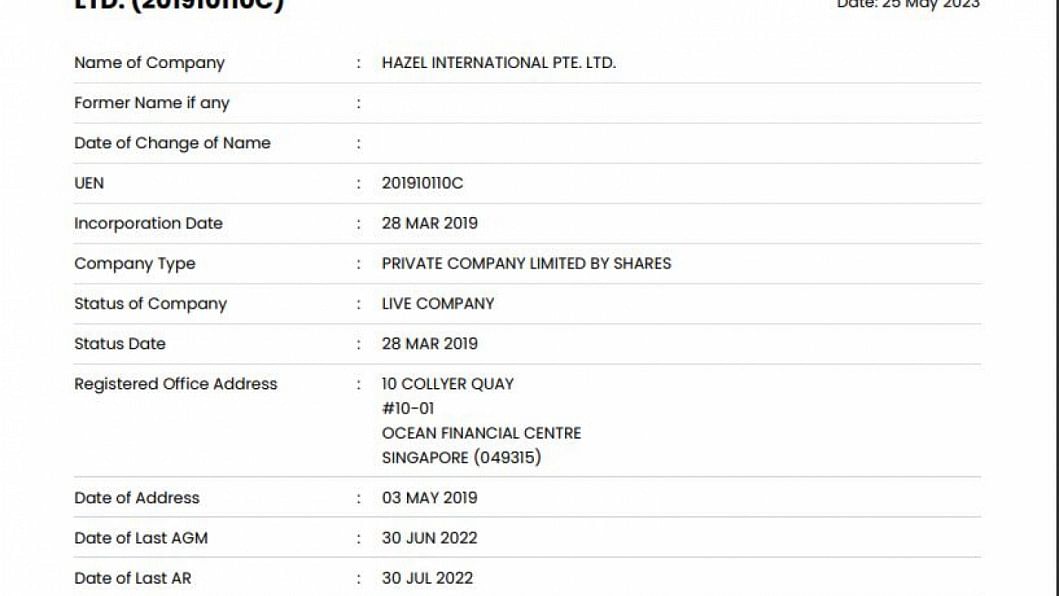 In addition to being a tax haven, the BVI is a secrecy jurisdiction, and companies are not legally obliged to name their shareholders or directors on any official filings.
Countries in the Caribbean islands do not usually go after shell companies, because they want the money to circulate within their system, said Ahsan H Mansur, Executive Director of Policy Research Institute.
"They do not need the tax. They need the investment. So, they can offer tax exemptions. But we need our taxes, and by taking the money out of the country, they [money launderers] are depriving our country of taxes," said Mansur, also former chairman of BRAC Bank.  
 
He noted that this needs to be stopped at the source, for example, by not allowing these people to own banks.  
The puppet director 
Alam brought "Casino kingpin" Shahedul Huq on the board of his Singaporean company on October 25, 2012.  
 
At the time, Shahedul was a director of Dhaka-based Union Bank, owned partly by S Alam Group. Alam's son Ahsanul Alam was Union Bank's chairman until mid-June 2023, when he became chairman of Islami Bank, where S Alam Group has significant stakes. The junior Alam, 28, is also a current director of S Alam Group.  
 
Shahedul was a director both at Union Bank and Wilkinson until 2018.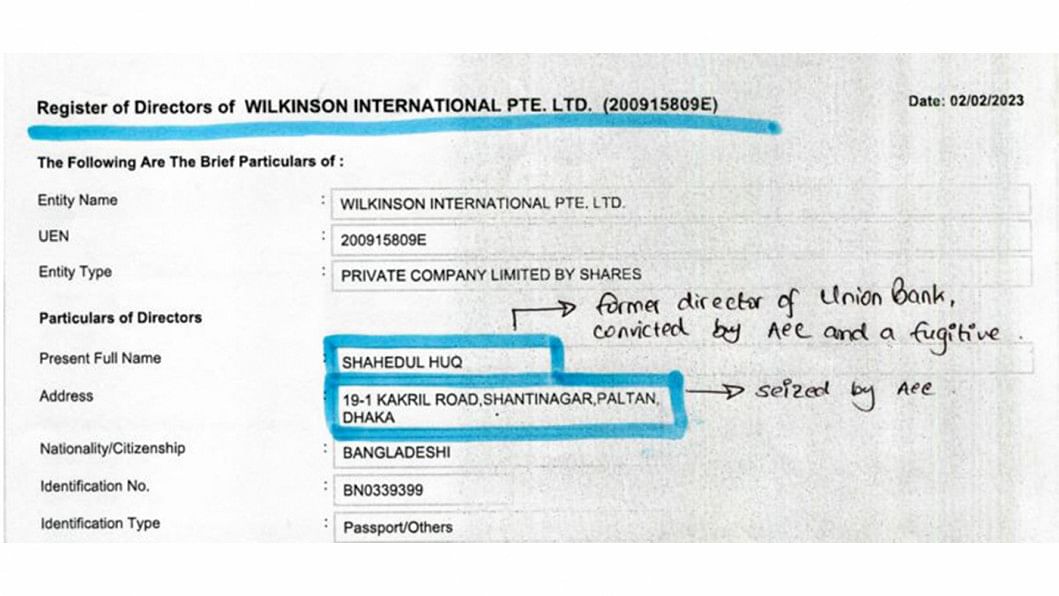 During this period, Reliance Finance, an S Alam Group-owned Bangladeshi company now renamed Aviva Finance, received placements worth more than Tk 2,866 crore from Union Bank, according to Union Bank's financial reports.
Placements are the sale of securities or bonds to investors to raise capital.
Following media reports late last year exposing how S Alam Group had been borrowing money from Islamic banks it has significant stakes in, Bangladesh Bank found that majority of Union Bank's total disbursement went to 300 local shell companies, or companies that exist only on paper, Bangla daily Prothom Alo reported at the time. 
During the 2019 drives against illegal casinos, the Anti-Corruption Commission identified Shahedul among those using gambling dens to launder dirty money – and he was given the popular moniker of "Casino Shahedul". 
 
In November last year, a Dhaka court sentenced him to five years in a case over possessing Tk 32 crore in illegal wealth. Shahedul fled the country and never showed up before the court, ACC investigators said.  
 
Open data from American voter records show that Shahedul and his wife Sarina Tamanna Huq are registered voters in Canton, Michigan, and have properties there.   
Tale of two homes  
Records obtained from the Inland Revenue Authority of Singapore show that Alam and his wife owned a 12,260 square feet residential property in Novena, central Singapore, until 2021.  
The asset's rental value was USD 570,000 in 2018, the earliest year the property could be linked to Alam. Then in 2022, a Singaporean trust – Zico Trust Ltd – became its legal owner. 
Zico Trust's website states that the benefits of setting up a trust include confidentiality and wealth protection. "Trusts can be established offshore (outside of the settlor's home country) and privately, thereby ensuring confidentiality of the settlor," said the website.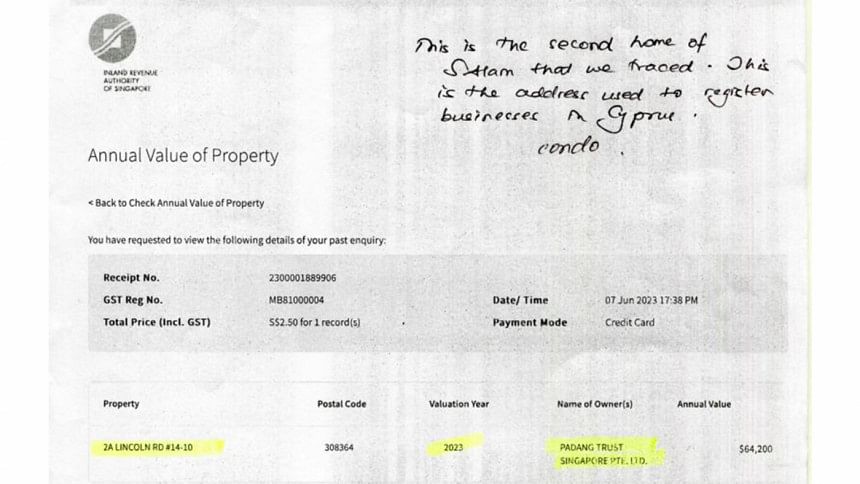 It adds, "Wealth protection is a major advantage of private trusts. Since the trustee is the legal owner of the assets, the settlor relinquishes his rights. In most cases, this ensures a form of protection against creditors, bankruptcy, exchange controls, hostile governmental authorities etc." 
The couple owned a second home in Singapore until 2023, when the ownership was transferred to another trust called Padang Trust Singapore Pte Ltd.   
 
Singapore abolished estate duty in 2008. So, the income distribution of capital from Singapore trusts are exempt from tax and successors of a Singaporean trust can be included as beneficiaries without any estate duty. 
UNDER ACC SCANNER  
Capital flight has long been a global problem, with many big corporations and high-profile individuals running offshore businesses to evade high taxes at home. As for Bangladesh, between 2009 and 2018 the country lost USD 8.28 billion, nearly three times the cost of the Metro Rail Line 6 (Uttara to Motijheel), to illicit money outflow every year, according to an estimate by Washington-based think-tank Global Financial Integrity.
In the wake of mounting allegations of capital flight from Bangladesh, the government offered an amnesty in FY 2022-23, allowing Bangladeshi nationals to bring back their undeclared money from abroad by paying a flat 7 percent tax. The government has withdrawn the amnesty this year.
When S Alam's Singaporean empire was expanding and changing hands in 2020-21, different media, including English daily New Age, reported how S Alam Group had been borrowing thousands of crores from Islami Bank and other Shariah-based banks in Bangladesh.
After media reports in 2022 unearthed how his companies were securing one questionable loan after another, the High Court ordered the Bangladesh Financial Intelligence Unit of BB, the Anti-Corruption Commission and the Criminal Investigation Department to investigate the loan scams.
In a suo moto rule on December 4, 2022, the HC asked the respondents to explain why "the failure and inaction of the respondents in taking appropriate legal steps and actions against the entities and persons who have misappropriated and laundered a huge amount of money from the Islami Bank Bangladesh Ltd. and other banks taking loans in the name of fake, fabricated and non-existent companies/entities using various unethical mechanisms and massive irregularities as mentioned and disclosed in different newspaper reports, shall not be declared illegal."
The court also asked the respondents to take action against the wrong-doers.
The HC order reached the ACC on April 4 this year.
"We remain vigilant about money laundering. Currently we are investigating Islami Bank's lending," said Md Khurshid Alam Khan, panel lawyer for the ACC.
---
Note: all figures were converted from Singaporean dollar on August 3, 2023.