Containing dengue: The deaths belie claims of success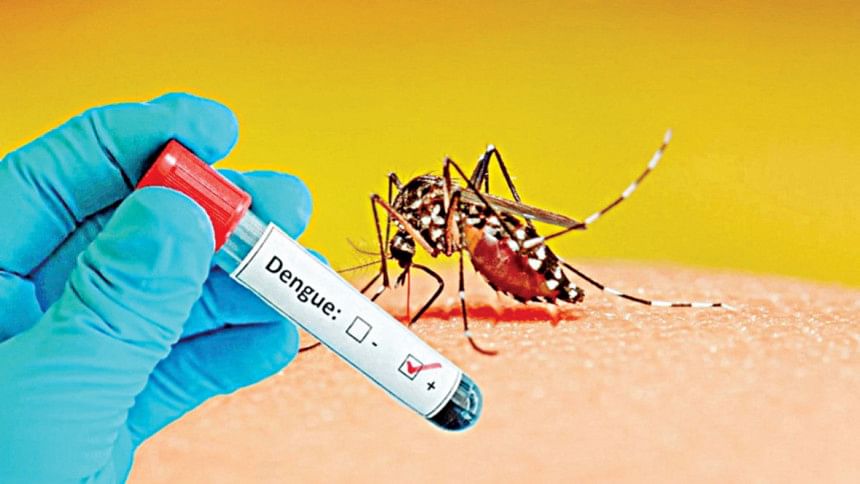 Every day when you look at the TV scroll around 6:00pm, you will see a news ticker displaying the number of people who died from dengue in the latest 24-hour period.
In recent days, the daily average of fatalities has risen to nearly 20. It has become a mere number for many, except those who are losing their loved ones from a disease that has grown out of proportion in the absence of any serious attempt to control its vector -- the Aedes mosquito.
Amid rising dengue cases, the common stories have been the shortage of IV saline and its skyrocketing price, acute shortage of beds in hospitals and shortage of blood.
The crisis has reached a stage where a victim's family now accepts its fate as an unavoidable misfortune instead of pointing their fingers at anybody else.
This is because those who should have taken responsibility are chanting narratives of their success in controlling dengue, while putting the blame on the common people.
The two mayors of the Dhaka City Corporations (North and South) have time and again been urging people to be aware, saying "fogging and cleaning" by the authorities was not enough to prevent the spread of the deadly disease.
From setting up control rooms to destroying mosquito breeding grounds, launching cleaning activities, running mobile courts, conducting day-long combating operations to awareness campaigns, it seems they have done enough.
And so, the ball now is in the people's court; it is up to the ordinary citizens to decide whether to become aware or face dire consequences.
On July 30, Dhaka South City Corporation Mayor Barrister Fazle Noor Taposh claimed that their dengue control programme had been a success.
Since his announcement, 685 more people died from dengue across the country till today. The figure might be higher as DGHS data is based on information from only 57 public and private hospitals, whereas around 16,000 public and private hospitals, clinics, diagnostic centres and blood banks across the country are providing dengue care.
Echoing Taposh, Dhaka North City Corporation (DNCC) mayor Md Atiqul Islam on August 30 claimed dengue was under control in his jurisdiction.
It was a wake-up call for Bangladesh when the world saw the highest dengue cases in 2019. But the responsible persons kept on harping their success stories, doing little.
A complete lack of planning, coordination and accountability among the government bodies has emerged as the narrative of Bangladesh's fight against the Aedes.
And the result? Dengue deaths have already beaten all records.
The question now is how many more deaths will it take for authorities to accept their failure or for the government to consider it a health emergency and take all-out measures to control this scourge.
The answer, my friend, as iconic singer Bob Dylan sang, is "Blowin' in the Wind".