Dengue Situation: Now alarming also outside the capital
Poor healthcare facilities in rural areas a big worry; experts call for a social movement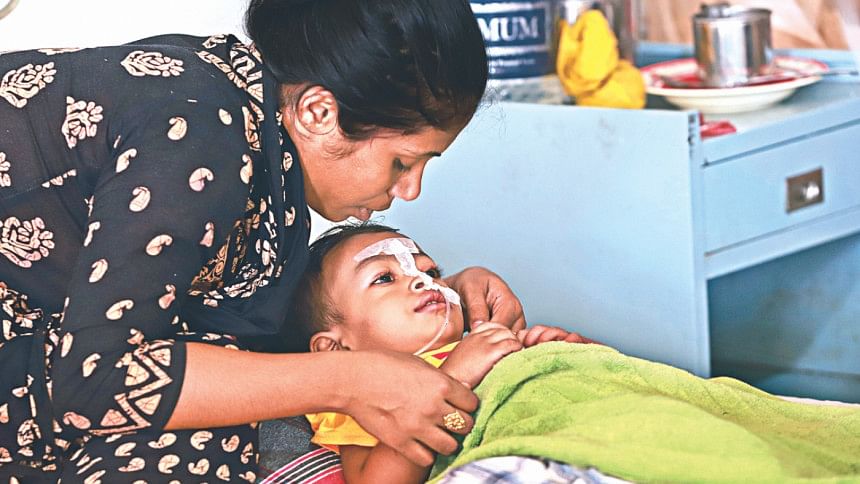 Over the last one week, hospitals outside Dhaka are receiving more dengue patients than those in the capital.
Experts have termed this particularly alarming given the state of healthcare facilities in rural areas.
In 24 hours till 8:00am yesterday, 972 dengue patients were admitted to hospitals across the country compared to Dhaka's 734.
Between August 12 and 18, at least 12,000 dengue patients were admitted to different hospitals across the country -- 6,866 of them outside Dhaka.
With the number of patients rising, hospitals outside Dhaka are facing huge challenges to cope with the pressure.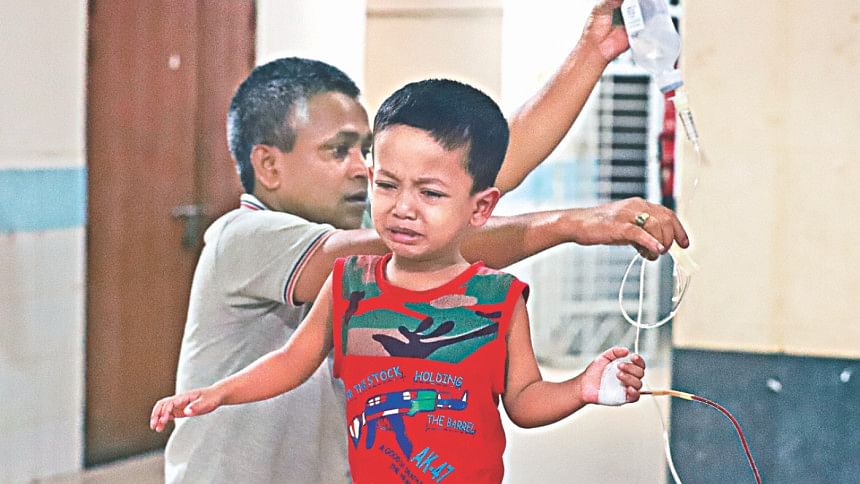 Also, many upazila health complexes do not have pathology labs, which will put dengue patients in more trouble.
In Faridpur, for example, only three of the nine upazila health complexes have pathological test facilities, said district Civil Surgeon Enamul Haque.
The 500-bed Faridpur Medical College Hospital is now handling 751 patients, 277 of them dengue patients, said Kamoda Prosad Saha, superintendent of the hospital.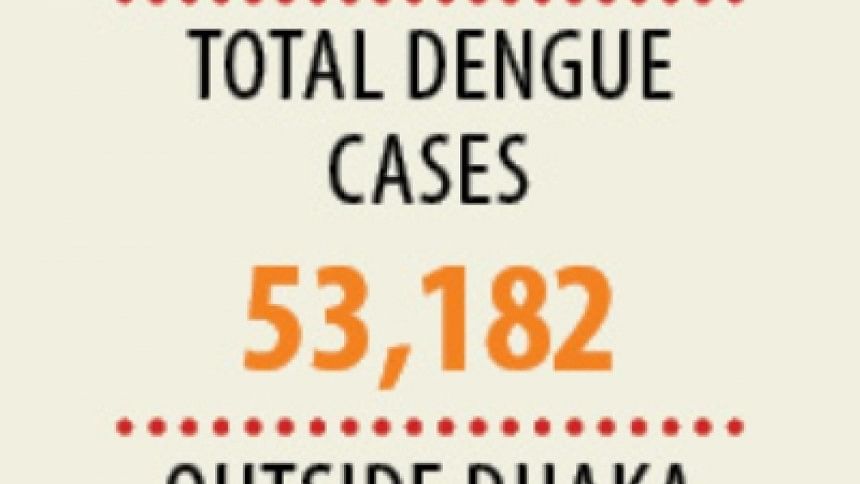 The hospital has half the required manpower, and the current flow of dengue patients has increased their burden, he said.
In Barishal's Sher-e-Bangla Medical College Hospital, 186 dengue patients were taking treatment yesterday, said Bakir Hossain, a physician there.
If the number of patients continues to rise, it will be a huge challenge for the authorities, he added.
Another doctor at the hospital said that not all the nine upazila health complexes in Barishal had the facilities to conduct dengue tests such as NS1, IgG, IgM and CVC. As a result, patients from different areas are forced to go to their hospital, which creates a huge pressure.
The current spell of dengue started from Dhaka and is now spreading fast to outlying districts as a huge number of people travelled from the capital to different districts during Eid vacation, health experts said.
Given the inadequate health facilities in rural and remote areas, experts suggested a set of preventive measures.
"As there is a huge number of Aedes mosquitos outside Dhaka, using mosquito nets is very important. Or else, it will spread further," said Prof Kabirul Bashar, an entomologist at Jahangirnagar University.
If a dengue patient does not remain under mosquito nets, and if a non-infected Aedes mosquito bites him, that mosquito will also be infected and will spread the virus, he warned.
During an epidemic-like situation, a disease can quickly spread outside the affected areas, he added.
A huge number of people travelled outside Dhaka during Eid vacation, which contributed to the spread in other parts of the country, he noted.
Mahmudur Rahman, former director of Institute of Epidemiology, Disease Control and Research (IEDCR), echoed his views and recommended taking preventive measures.
Prof Meerjady Sabrina Flora of the IEDCR said controlling Aedes mosquito at source is the key to reducing the number of dengue patients.
Testing kits are not a problem now, as the government has supplied those everywhere, she said.
Doctors outside Dhaka have also been trained, she added.
Prof Kabirul warned that Aedes mosquitos are now out of control and everyone should come forward and take effective measures to destroy all breeding sources.
"It will require a social movement to control the situation," he said.
Meanwhile, a Kishoreganj man died of dengue at Mymensingh Medical College Hospital yesterday, said Dr AB Md Shamsuzzaman, assistant director of the hospital.
Russell Mia, 35, had gone home on Eid vacation from Dhaka and had been diagnosed with dengue at Kishoreganj General Hospital, said Dr Sultana Razia, deputy director of the hospital.
[Our Barishal, Faridpur and Mymensingh correspondents contributed to the report]