Double trouble for the poor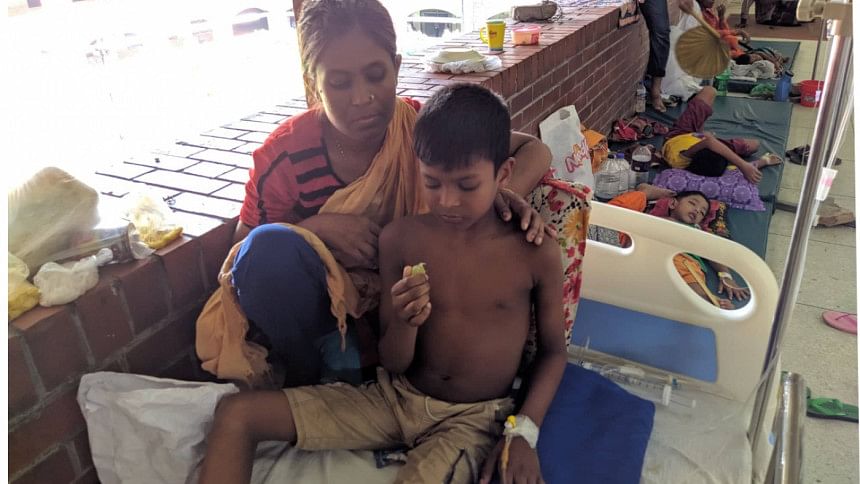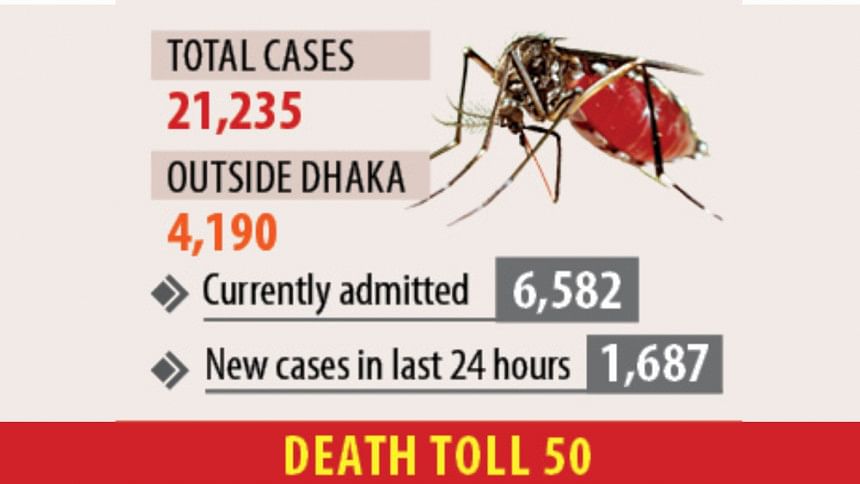 Rabbi's dengue fever has left him and his family devastated.
The nine-year-old boy, living with his parents in Tejgaon, started having a fever on Monday. The temperature kept going up and the next day, he was diagnosed with the disease at a private hospital in Mohakhali.
The hospital demanded Tk 10,000 in advance for admission, which Rabbi's rickshaw-puller father Idris Ali could not afford. He earns no more than Tk 700 a day.
The hospital authorities said Idris might have to spend Tk 10,000 more for medical tests, food and other things during Rabbi's stay in the hospital.
Rabbi's mother Laily Begum said they had already spent over Tk 3,000 by that time for medical tests, medicines and transportation. 
"We could no way arrange that much money. So we took him to Dhaka Medical College Hospital hoping to get a bed there."
The DMCH was, however, absolutely flooded with dengue patients, she recalled, adding, "We had no other option but to return home."
The next day, her son's condition worsened and at one point, he fainted. "I was so scared. For a moment, I thought I would lose him forever. It would not have happened had my son received treatment right away".
On Wednesday, they managed to get a bed on the corridor of Shaheed Suhrawardy Medical College Hospital.
Sitting on the bed yesterday, Rabbi was eating some grapes with brief pauses. With a cannula inserted into his left hand, he looked fragile.
Laily, despite being devastated for having passed sleepless nights by her son, was happy that Rabbi was recovering. She thanked the doctors there.
"This is the first time my son is eating something since he caught a fever on Monday," Laily said sitting next to him.
She said they had already spent well over Tk 7,000 for the treatment. "We took nearly a loan of Tk 10,000 from our neighbours. I don't know how we will pay the money back," she added.
Like them, many others, especially those from the low income group, were going through similar situation. For them dengue has come as a double blow: both physically and financially.
At a time when the country's public hospitals are grappling with a record number of dengue cases, these people can't afford to get treatment at private hospitals. 
Take the case of six-year-old Rahim Kha for another example.
Lying on another bed on the public hospital's corridor, the boy, who lost his father five years ago, was recovering from dengue.
His mother said he was diagnosed with the mosquito-borne disease after they came to visit one of their relatives in Mirpur from Pirojpur. 
Later, Rahim had been admitted to a clinic for two days.
"For those two days, the bills jumped to over Tk 6,000. I borrowed the money from my brother and had my son released from the clinic immediately," she said.
"I don't earn anything. I had to bring my son here," she said, adding, "I've already spent a hefty sum. I will have to spend my land to pay the money back."