Law enforcement agencies most corrupt sector: TIB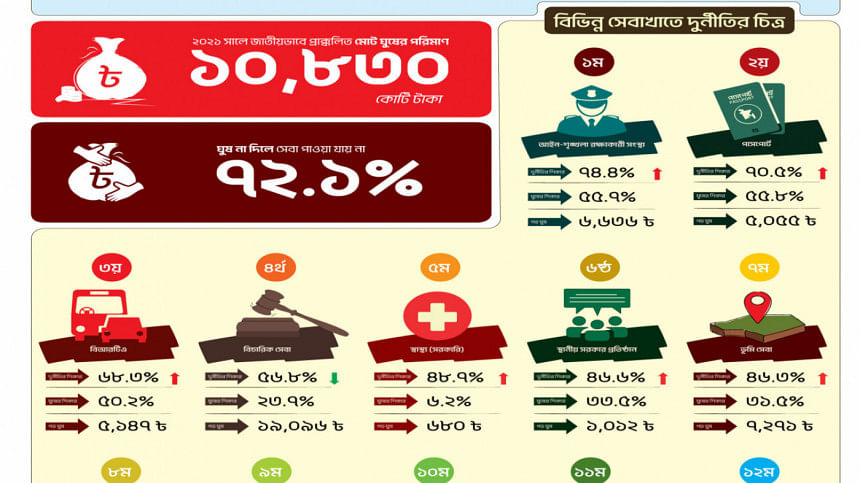 Bangladesh's law enforcement agencies were the most corrupt in 2021, Transparency International Bangladesh said.
Passport office and Bangladesh Road Transport Authority (BRTA) were also in the top three most corrupt list, TIB has said, quoting the National Household Survey 2021.
It was disclosed at a press briefing at TIB office in Dhaka's Dhanmondi this morning (August 31, 2022).
The agency also said that the highest number of bribes have been taken in these three sectors last year.
TIB researcher Farhana Rahman presented the survey data. So far, the company has conducted nine surveys on the service sector.
According to the 2021 survey, 70.9 percent households of Bangladesh have faced corruption while taking services from various government and private sectors or organisations, TIB said.
Among them, law enforcement agencies have been identified as the most corrupt sector with 74.4 percent corruption; passport sector follows with 70.5 percent corruption, BRTA with 68.3 percent, judicial service with 56.8 percent, public health services 48.7 percent, local government institutions 46.6 percent, and land service 46.3 percent, TIB pointed out.
TIB also said that the overall analysis shows that the rate of corruption in the service sector has increased in 2021 compared to 2017.
In 2017, the corruption rate was 66.5 percent. In 2021 it has come to 70.8 percent.