Don't clip the wings of investigators
ACC empowering its secretaries to transfer and promote investigation officers is illogical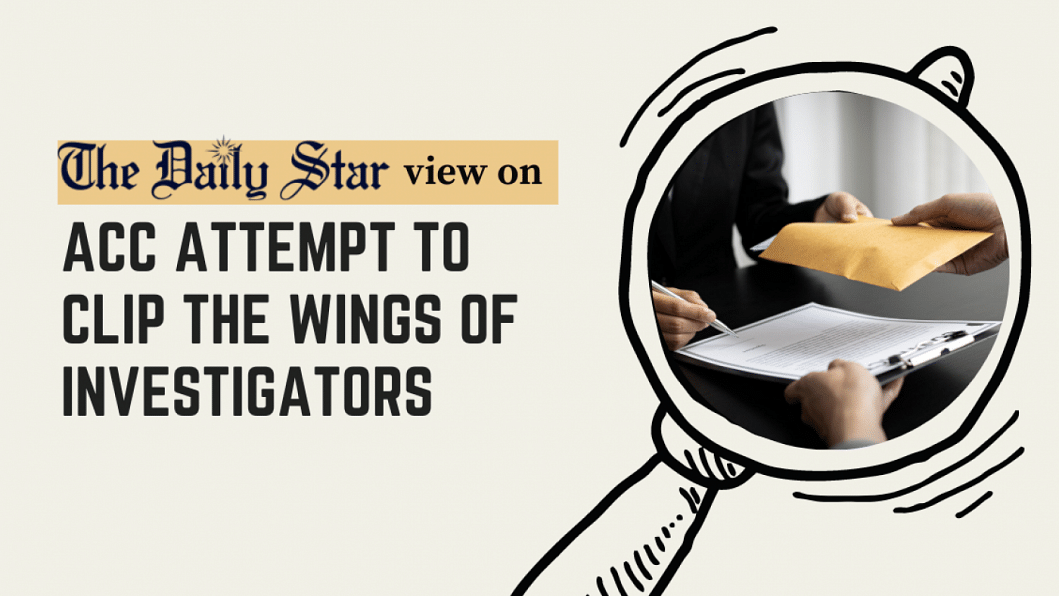 We are shocked to learn that the Anti-Corruption Commission (ACC) has decided to hand absolute power to its secretaries to deal with the investigation officers. The ACC published an order in this regard on December 18, according to which the secretaries have been given the authority to transfer and promote its deputy directors and assistant directors, who are mainly involved in enquiry and investigation related tasks. Previously, such decisions were taken by the commission's permanent members, but now it will be done by bureaucrats who remain attached to it for only a fixed period.
The decision has naturally raised questions about the anti-graft body's independence and autonomy. The Transparency International Bangladesh (TIB), for example, has said that the move will make the ACC a "toothless tiger" and transform it into a government organisation. TIB, therefore, asked the commission to withdraw the decision. We also think withdrawing the decision is the right thing to do as it will make the institution more ineffective in curbing corruption and irregularities, which have been plaguing our public institutions.
If we look into the records of the ACC over the past one decade, it will become clear that it has largely failed to live up to its mandate. The organisation has often failed to complete the corruption investigations that it has initiated. A TIB report in 2016 found that only 37 percent of those charged by the ACC were convicted. In 2017, a TIB report again revealed that it had failed to dispose of about three-quarters of the complaints filed against 12 public service-oriented institutions. There is also the example of ACC's incompetence in its investigations into the Basic Bank loan scam. Even after over seven years, it has failed to complete the investigations or even submit charge sheets in any of the 56 cases filed in this connection.
Needless to say, public confidence in the ACC was again dented when, last year, it sacked Sharif Uddin, one of its assistant directors who reportedly investigated graft allegations against some land acquisition syndicates. Reportedly, the decision to sack him was not taken following proper procedures. It is also evident from the way the ACC has acted over the past decade that it is not free of political influence. It often failed to act neutrally when it came to dealing with corruption and money laundering.
The ACC already lacks the power to initiate investigating corruption charges against public servants. And now this fresh move – giving executive power to the secretaries to transfer and promote investigators – will only curtail its power further, and definitely discourage officials to investigate allegations against the powerful people. Overall, the decision will be a barrier to ACC's independence and impartiality. We, therefore, urge it to reconsider the decision for its own sake and that of the public.