Bribery eats up Tk 10,830 crore
TIB study finds 71 percent households became victims of graft while getting services last year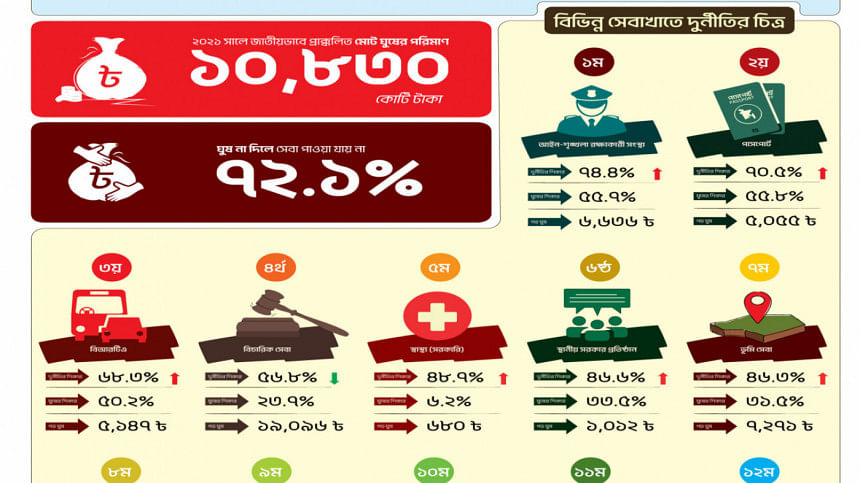 "It is usual that any sort of crime will turn institutional and spread its wings in the absence of trial and punishment. This has been happening here."
Almost 71 percent homes had to endure corruption while getting services last year, which is 4.3 percent more than that of four years ago, found a Transparency International Bangladesh survey.
Unveiling the "Corruption in Service Sectors: National Household Survey 2021" on 15,454 homes nationwide, the TIB yesterday said the most graft-ridden service sectors were the police and its different wings, Department of Immigration and Passports, and Bangladesh Road Transport Authority.
The households had to pay an estimated Tk 10,830 crore in bribes last year, which is 0.4 percent of the country's GDP and 5.9 percent of the revised budget of 2020-2021 fiscal year, it said.
On average, each home had to pay Tk 6,636 in bribes to get services last year, said the report.
The TIB has been publishing this report since 1997 with a usual interval. The latest one, the ninth edition, was delayed by the pandemic.
The report covered at least 22 service sectors "riddled with petty corruption" but excluded areas known for large-scale corruption such as procurement, supply chain, and mega projects, the TIB said.
"… the overall service sector graft situation is alarming and [corruption] has taken an institutional form," said TIB Executive Director Iftekharuzzaman at the press conference organised for the report unveiling at its office.
He said corruption situation in some sectors worsened last year while some others, including education, power, and agriculture, improved, albeit still at high level.
Iftekharuzzaman said bribery, extortion , embezzlement, deception, negligence of duty, nepotism and attempts to spread influence were marked as corruption under the study.
Unfortunately, corruption continued to spread in sectors that are supposed to control it and ensure enforcement of law, he said.
According to the report, 74.4 percent homes seeking services from law enforcement agencies endured corruption last year compared to 72.5 percent in the 2017 report.
At least 70.5 percent households dealt with graft in getting passport-related services. It was 67.3 percent in 2017.
In the case of BRTA-related services, last year's number was 68.3 percent and 2017's percentage was 65.4 percent.
The report said the average monthly income of each household surveyed was Tk 25,187 and the average expenditure was Tk 22,055.
At least 55.4 percent homes faced difficulty in getting services due to negligence of duty. This is worse as the percentage in 2017 was 39.9 percent.
The report said 40.1 percent homes had to pay bribes or make irregular transactions of money. This is an improvement as the report of 2017 put the number at 49.8 percent.
Iftekharuzzaman said the decline in homes enduring bribery could be considered an "achievement" but such achievement has been overshadowed by the rise in overall corruption. The misuse of power continued in various other forms, he said.
More than 72 percent of the respondents said they had to bribe or else they would not get the services, Iftekharuzzaman said.
Digitalisation of some services in a few sectors could be a reason for the decline in bribery, he said, adding that it was a highly effective method of reducing corruption.
It is possible to control corruption effectively by ensuring digitalisation of services along with ensuring accountability and punishment of the culprits, he said.
He said the government's top level had committed to "zero tolerance" for corruption but corruption was rampant among public servants responsible for making the government pledge a reality.
The government and the Anti-Corruption Commission have mechanism to prevent corruption but there is a lack in effective enforcement, he said.
"It is usual that any sort of crime will turn institutional and spread its wings in the absence of trial and punishment. This has been happening here," he added.
Iftekharuzzaman said about 19 percent of the respondents filed complaints with the authorities concerned and of them only 0.2 percent lodged complaints with the ACC. The ACC should find out why so many people are not interested in seeking their support, he added.
Contacted, Jahangir Alam, additional secretary (police and NTMC wing) of the home ministry's Public Security Division, yesterday said they would be able to make comments on the report after going through it.
"… I will check tomorrow [today], discuss it with the secretary, and then would be able to give an opinion," he told this paper.
"Bangladesh is a democratic country. There is freedom of expression and anybody can say anything," he added.