Road Accidents: Casualties keep mounting for indiscipline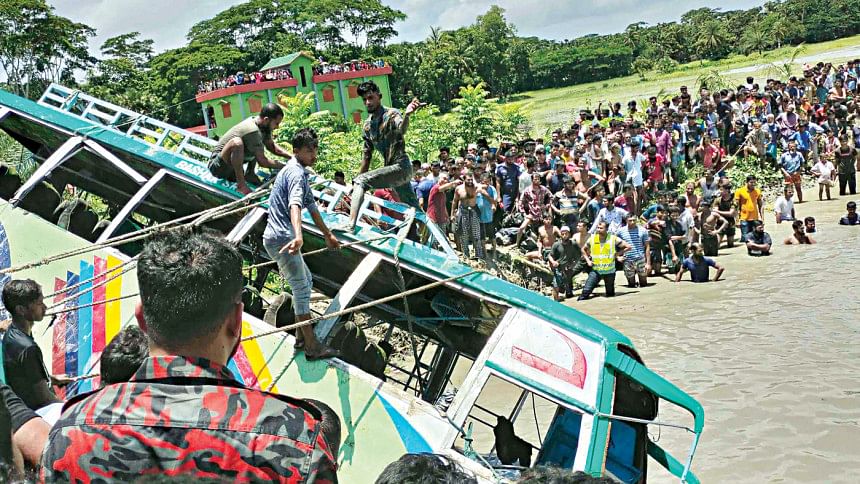 Indiscipline continues to reign supreme on the roads, taking a heavy toll on lives and properties, as the government's steps to address the malaise remain perfunctory, experts said.
The issue reared its ugly head again yesterday after a "negligently driven" Barishal-bound bus veered off the road and fell into a waterbody in Jhalakathi Sadar upazila -- claiming 17 lives and injuring 35.
Before this accident, there were 2,865 road crashes this year until Friday, killing 2,737 and injuring 4,201, according to data from the Bangladesh Road Transport Authority.
The actual number of fatalities is higher, according to reports from non-government organisations working for road safety.
"The accidents take place for overspeeding, overtaking and overconfidence," said Mozammel Haque, deputy inspector general (operation) of Highway Police.
Talking on the phone is another reason for the accidents; some use headphones to hoodwink law enforcers, he said.
"Roads will remain unsafe until proper enforcement of the law is ensured," said Ilias Kanchan, a prominent road safety crusader, referring to the Jhalakhati bus accident.
There is a serious lack of enforcement of the law by the Highway Police, said Moazzem Hossain, professor at Buet's department of civil engineering.
On his recent road trip to Barishal and Kuakata, he found the buses were going at a faster speed than his sports utility vehicle (SUV) on the highway. Heavy vehicles like buses and lorries are supposed to drive slower than light vehicles like cars or SUVs.
"The buses were overtaking everywhere -- they even got into speeding competitions on the expressway. They do this to get more passengers. This is dangerous and shows that there is no discipline on the road."
The bus drivers do not have the necessary training too, said Hossain, also the former director of Buet's Accident Research Institute.
"All these are known facts. So, the authority cannot avoid their responsibility here."
In recent times, the road infrastructure has gone through major upgrades but the driving population has not upgraded their skill accordingly.
"So the government cannot claim that they were ensuring the protection of people's lives."
The government can deploy vehicle inspectors at every major bus terminal and check whether the bus has fitness or whether the driver has the necessary document before departing.
"This method can prevent road accidents but the authority is not interested," he added.
As many as 564,739 vehicles were due for regular fitness checks but did not take the clearance as of April 30, shows BRTA data. Of them, 20,362 were buses, 11,245 minibuses, 61,339 trucks and 6,767 taxicabs, shows the document.
Haque of Highway Police said it is not possible to stop the accidents only by enforcement.
"We are taking action and filling cases whenever any anomaly comes to notice. There is a need for raising road safety awareness. Drivers, as well as the passengers, need to stop rush driving," he said, adding that vehicles without fitness should be barred from roads.
Road accidents are taking place as people are driving faster for the smoother roads built by the government in recent times, said ABM Amin Ullah Nuri, secretary of road transport and highways division.
"There should be a social movement against this -- we are working on it."