New rail line to link Manikganj to Dhaka
Railway to start feasibility study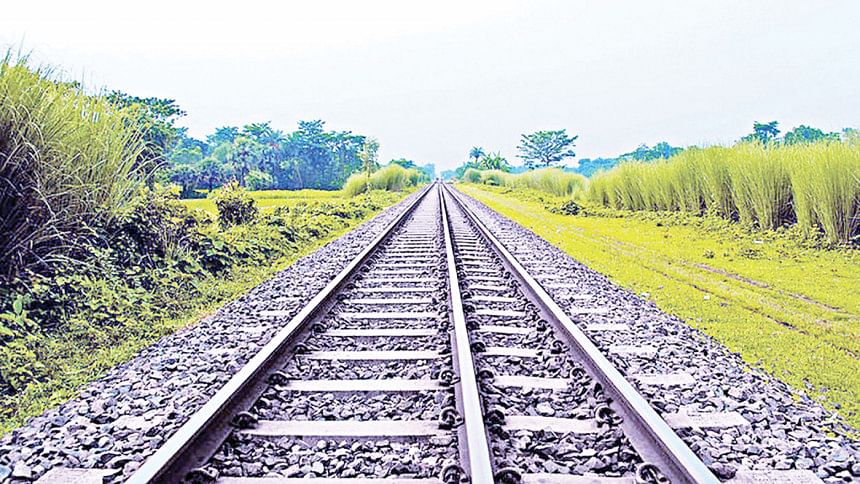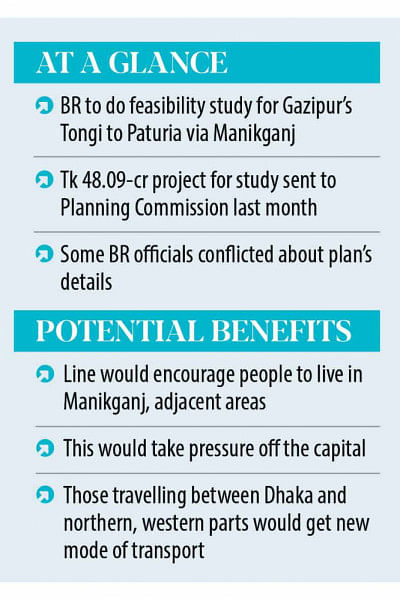 Bangladesh Railway (BR) has taken a move to bring Manikganj under the railway network.
The state-run transport agency will do a feasibility study for building a rail line from Gazipur's Tongi to Paturia via Manikganj.
A Tk 48.09-crore feasibility-study project has already been sent to the Planning Commission last month for approval, BR officials said.
Once the line is built, it will encourage people to live in sub-urban areas like Manikganj and its adjacent locations. They will be able to swiftly go to and from Dhaka for daily work, which will ultimately take some pressure off the city, they said.
Besides, those travelling between Dhaka and northern and western parts will get a new route, which will reduce travel times.
However, it would take quite some time for all this. If the Planning Commission approves the project, BR will hire a consultant to carry out the study and work out the design, they mentioned.
If the line is found to be feasible, BR, depending on the availability of funding, will take another project to build it, they added.
However, some BR officials said the project may not be viable until the second bridge over Padma River, on Paturia-Daulatdia route, is built.
Mentionable, Daulatdia has long been connected to the railway network.
Besides, BR should work on building more important tracks, like one from Dhaka to Cumilla via Narayanganj to reduce the distance between Dhaka and Chattogram, they said.
However, other BR officials said since the government is definitely going to build the second bridge, they want to plan out the Dhaka-Paturia track beforehand.
As a point of argument, they said the Padma rail-link project was taken several years after the Padma Bridge project, and due to this, they cannot start both road and rail operation on the bridge simultaneously.
DHAKA-MANIKGANJ LINE
Leaders of different socio-cultural organisations of Manikganj have long been demanding a rail line from Dhaka to Paturia via Manikganj town.
BR took a move around three years ago to carry out the feasibility study and held several meetings over the issue, BR sources said.
After discussions, the Planning Commission had several queries and asked to recast the development project proposal (DPP), they said.
After answering all those queries and recasting the DPP, Bangladesh Railway, through the railways ministry, sent the DPP to the Planning Commission last month, they added.
As per the proposal, around Tk 34 crores would be spent for consultancy services for feasibility study, designs and tender documents.
Around Tk 14 crore would be used for other works, including project management, show documents.
The consultant will carry out a feasibility study for constructing a railway link from Tongi of Gazipur to Paturia via Manikganj.
Asked why the track would be built from Tongi, a BR official said a direct line through the capital may not be possible, so Tongi was discussed.
However, the consultant will check all viable options, he said, wishing not to be named.
The Daily Star could not reach BR's director general Dhirendra Nath Mazumder for comments.