Metro Rail seeks Tk 1,000cr more to cover operation, maintenance costs
This time to cover operation, maintenance cost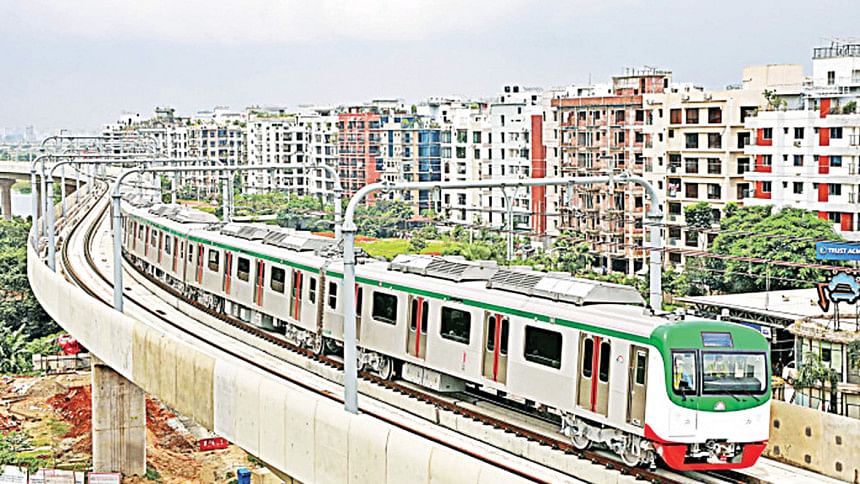 Metro rail authorities have sought another Tk 1,000 crore from the government to cover operation and maintenance cost.
Dhaka Mass Transit Company Ltd (DMTCL), the executing agency of the country's first ever metro rail project, asked for the money even before beginning the metro rail's operation.
Receiving a proposal last year, the Road Transport and Highway Division had asked for some clarifications. As it failed to respond, the DMTCL was asked again on January 18 to come up with a reply by tomorrow.
"We have sought seed money to start operations because we won't be able to earn anything before the metro rail begins," MAN Siddique, managing director of DMTCL told The Daily Star last night.
Formally known as the Mass Rapid Transit Line-6, the elevated rail line is being constructed between Uttara Sector-3 and Motijheel.
Commercial operation of the Uttara-Agargaon section will begin on December 16 -- Victory Day -- this year. The full section will be operational by December 2023, as per a DMTCL announcement.
The original cost of the project was Tk 21,985 crore but the authorities last year sought a further Tk 11,487 crore for additional work, including extension of the line up to Kamalapur and building spacious footpaths outside the stations for convenient entry and exit of passengers.
If the recent proposal for additional funds is approved, the cost of the fast-track project would amount to Tk 33,472 crore and the deadline would be December 2025 -- a year and half longer than the original one.
ANOTHER TK 1000 CRORE
Upon receiving DMTCL's proposal seeking another Tk 1,000 crore, the RTHD in October asked the agency to give its business plan, which was not submitted till a January-18 meeting over the fare of the metro rail, and its operational and maintenance cost, sources said.
An RTHD official told the meeting that the division will need to know the fixed and operational cost of the metro rail, and the possible income from ticket sales.
The DMTCL was then asked to provide details on which sectors the Tk 1,000 crore would be used in.
At the meeting, DMTCL officials also said they have submitted a proposal over the fare to the committee concerned in December last year.
The meeting asked the committee to quickly finalise the fare.