Eid journey: Ferry shortage hampers commute on Aricha-Kazirhat route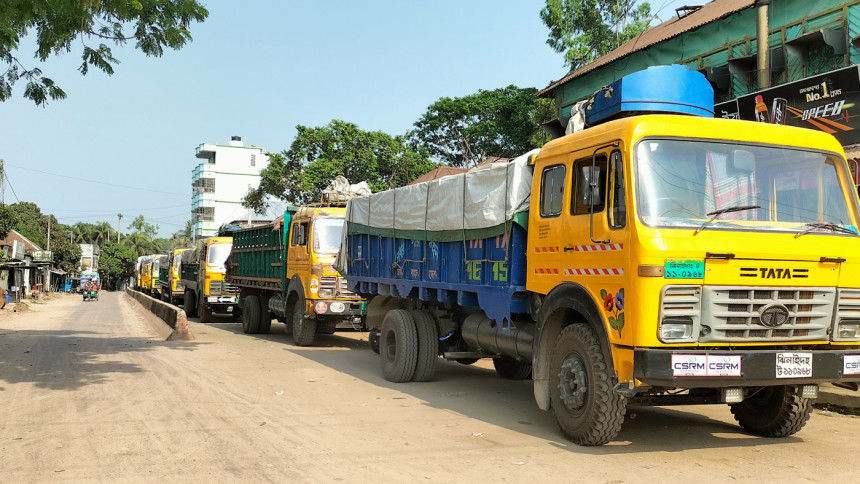 Ferry service on Aricha-Kazirhat route, on the Jamuna river, has been hampered due to shortage of ferries.
Passengers from the districts – Dhaka, Manikganj, Pabna, Sirajganj, Kushtia, Chuadanga, Meherpur, Magura, Jhenaidah, Chapainawabganj, Rajshahi and Bogura – usually travel through Aricha ghat in Manikganj and Kazirhat in Pabna.
Vehicles from Bangabandhu Bridge and Dhaka-Tangail highway use Aricha-Kazirhat waterway to avoid traffic jam on the road.
Sources at Aricha Regional Office of Bangladesh Inland Water Transport Corporation (BIWTC) said that three ferries are currently running on the waterway. The ferries are old, so it takes over two hours to cross the river, our Manikganj correspondent reports.
The Ranikhet ferry was out of operation yesterday (April 26, 2022) due to engine problems. But now it is running on the route, the sources said.
Ahead of Eid-ul-Fitr, pressure of vehicles has been increasing on the route.
Around 350 vehicles, including trucks, private cars, and microbuses, cross the river every day. Commuters often face sufferings due to the ferry shortage on the route.
Mahtab Pramanik, a truck driver from Pabna, said, "I arrived at Aricha Ghat at 2:15 am on Monday. I could not get on the ferry at 4:00 pm on Tuesday. I don't know when I will be able to."
"More than 100 trucks are stuck at Aricha ghat," he said.
BIWTC's Assistant General Manager (Marine) Abdus Sattar said there are three ferries on the route. Currently two are running and another will be in operation soon.
"We have a plan to take a ferry from Paturia ghat to ease the traffic congestion," he said.
He added: "There is a shortage of ferries on all the waterways of the country. We are not above limitations. If there is a problem somewhere, we try to solve it by bringing ferry from elsewhere. Hopefully, we can solve this problem."