Flood: 4 die in Kurigram, Sirajganj
Jamuna, Dharla and Brahmaputra waters still above danger level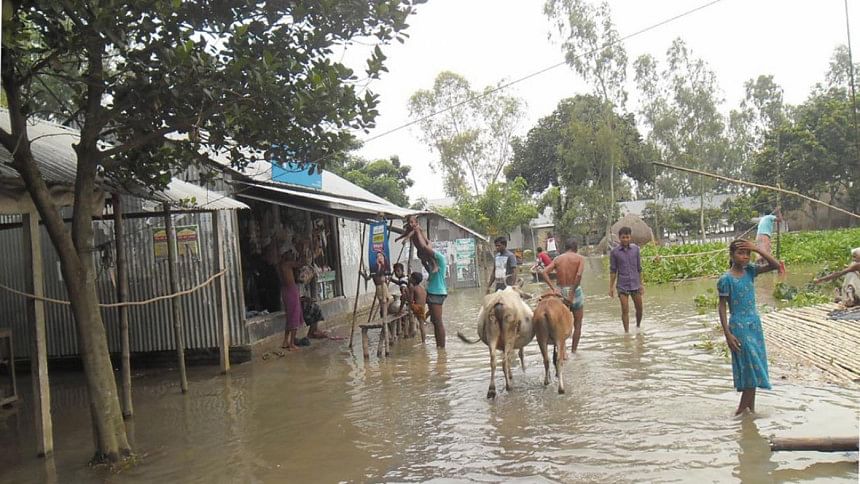 Four people died in Kurigram and Sirajganj today while the flood situation has remained unchanged in most northern districts as the rivers were either receding or remained steady.
The death toll in floods sweeping across the country in the last five days now stands at 43.
Read more: Misery mounts in north; Dhaka at flood risk
In Kurigram, three people died as flood situation in the district remained unchanged, with Dharla and Brahmaputra rivers still flowing above the danger level but having receded further since yesterday.
The identities of the deceased could not be known immediately. A total of 12 people have died while one remains missing in the district so far.
Brahmaputra was flowing 61 centimetres above the danger level at Chilmari point in Chilmari upazila while Dharla was flowing 51 centimetres above the danger level at Dharla Bridge point in Sadar upazila, our correspondent reports quoting Kurigram District Relief and Rehabilitation Officer Enamul Haque.
Meanwhile, water levels of Teesta and Dudhkumar rivers were flowing 118 centimetres and 19 centimetres below the danger level respectively, the official said.
In the nine flood affected upazilas of the district, a total of 4,79,820 people were affected by flood, with 1,00,170 of them now living in 194 shelters across the region.
Out of a total of 468 shelters in the district, only 194 were being used while the rest were inundated by flood waters. The flood has so far damaged 44 kilometres of embankment and 42, 351 hectares of crop land in the district, the official added.
In Sirajganj, a two-year-old boy, Faim Hossain, drowned in Bakhua village under Ullapara upazila of Sirajganj today, Bangla daily Prothom Alo reports quoting Dewan Koushik Ahmed, officer-in-charge of Ullapara Police Station.
The flood situation in the district has remained unchanged as water level in Jamuna did not rise any further today but still continues to flow 152 centimetres above the danger level since yesterday, reports our Pabna correspondent quoting Sayed Hasan Imam, executive engineer of Water Development Board in Sirajganj.   
In Lalmonirhat, the flood situation has been improving slowly as Dharla and Teesta rivers were flowing seven and 50 centimetres below the danger level respectively, reports our district correspondent.
In Dinajpur,  there has been an improvement in the flood situation in the last 48 hours as Punorbhaba and Atrai rivers were flowing two centimeters below the danger level while Ichamati was flowing just 0.07cm above the danger level.
However, In Naogaon, the flood has worsened as nine out of 11 upazilas in the district were completely inundated by flood water. 
In the district, Chhoto Jamuna river was flowing 80cm above danger level and Atrai river 214cm above danger level, our Dinajpur correspondent reports quoting Anwar Hossain, Executive Engineer, Water Development Board in Naogaon.