Jamuna furious in Bogra, Sirajganj
Dharla and Teesta threaten to wash away villages in Lalmonirhat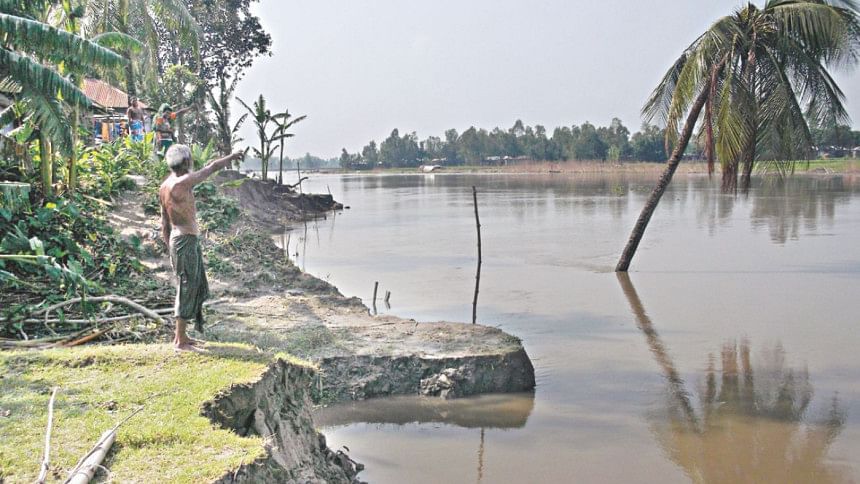 The Jamuna river has devoured vast areas in Sariakandi upazila of Bogra while erosion by the river has taken a serious turn in Shahzadpur upazila of Sirajganj.
The Dharla and Teesta rivers are threatening to wash away ten villages in three upazilas of Lalmonirhat. 
Locals said the right bank of the Jamuna from Dhalirkandi in Kutubpur union to Sheikhpara Ghughumari village in Chandan Baisha union suddenly started breaking down from last Wednesday. 
Chan Mia, 70, of Dhalirkandi said local politicians assure them that erosion will never occur again, but his homestead has been eroded by the Jamuna river.
Bulbuli Begum, 60, wife of Shamsul Haque of the same village lost her 10 decimals of land. "I don't know what to do now," Bulbuli said. 
Farmers said arable land has been devoured by the river and floodwater has left silt on the croplands, which makes it impossible to prepare the lands for farming, so they have to take up fishing to survive.
"The problem of river erosion is nothing new here. I informed the authorities concerned repeatedly, but no steps have been taken to solve it," said Kutubpur Union Parishad Chairman Imran Ali Rony. 
Water Development Board (WDB) Divisional Officer Moyez Uddin said a project of Tk 301 crore is being implemented to stop erosion in a 5.9 km stretch from Dhalirkandi to Roudah.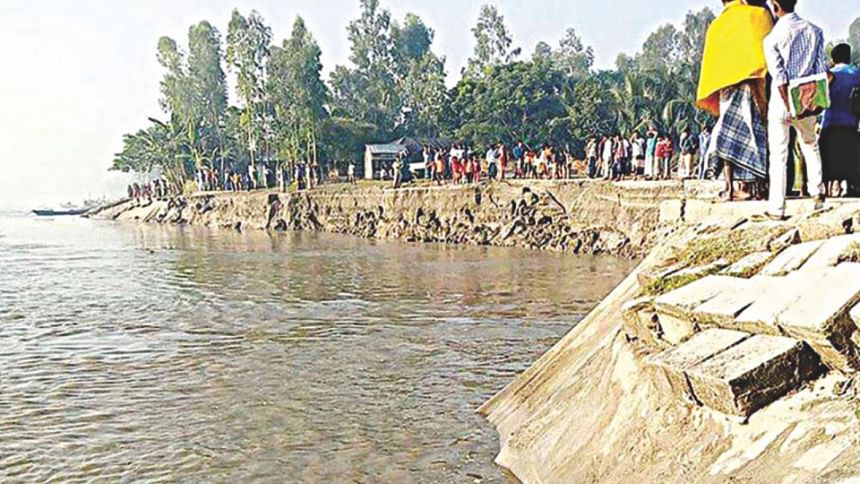 Meanwhile, erosion by the river has taken a serious turn in Shahzadpur upazila of Sirajganj during the last few days. 
A total of five kilometres in five unions of Shahzadpur face threat of erosion due to lack of protection work.
"There is no protection work downstream of the river at Enayetpur, so the river is engulfing river banks quickly," said Sub-Divisional Engineer Md Abdul Wahab.
Ismail Hossain of Gudibari village said around 600 metres of land were eroded in the last few days.
Amzad Hossain of Vatpara village said the river engulfed about 200 metres of Vatpara Natunpara on Friday and the market and 300 houses are threatened. 
Many educational institutions are under threat, said Nurjahan Khatun, headmaster of Hordighulia Government Primary School. 
Engineer Abdul Wahab said Vatpara and Gudibari points of Jamuna river are out of Sirajganj WDB's jurisdiction, so they cannot take any steps there. 
Ten villages in Lalmonirhat are under threat of erosion by the Teesta and Dharla rivers. 
Villagers fear that erosion may devour their villages at any time if there is no emergency protection work to check it.
"If WDB takes emergency steps, our village can be saved from erosion by the Dharla," said Moslem Uddin, 65, of Shiberkuti village in Sadar upazila.
Dawabari Union Parishad Chairman Rezzakul Islam said the village may be devoured by the Teesta at any time. "I informed the WDB authorities, but no step has been taken yet," he added.
Sub-Divisional Engineer Md Al-Mamun said they are working on temporary basis to check erosion at the most vulnerable points. "Permanent work is also going on in some areas to check erosion by the Teesta and Dharla rivers," he added.
Our correspondents from Bogra, Pabna and Lalmonirhat contributed to the report.