Jamuna banks eroding near Bangabandhu bridge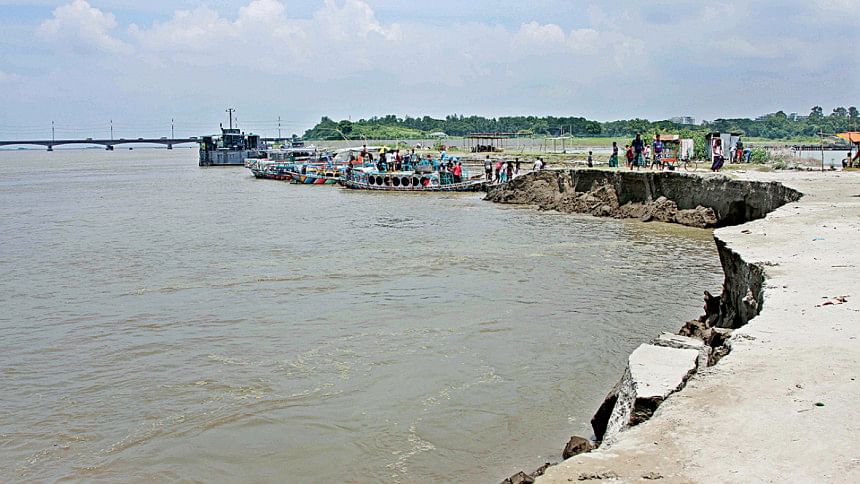 Erosion of the Jamuna has begun near the east end of the Bangabandhu Multipurpose Bridge in Tangail's Kalihati upazila since Thursday. 
Officials of the Bangladesh Bridge Authority's site office in Tangail told The Daily Star yesterday that about 150 metre areas of a char near the bridge's harbour point, some 700 metres south from the bridge, already eroded away. 
After visiting the spot yesterday, Tofazzal Hossain, superintendent engineer of BBA, said the erosion could not harm the bridge and its guide embankment.
BBA officials of the site office are conducting a survey on how to protect the area, while geo bags are being dumped in the area to stop the erosion, he said.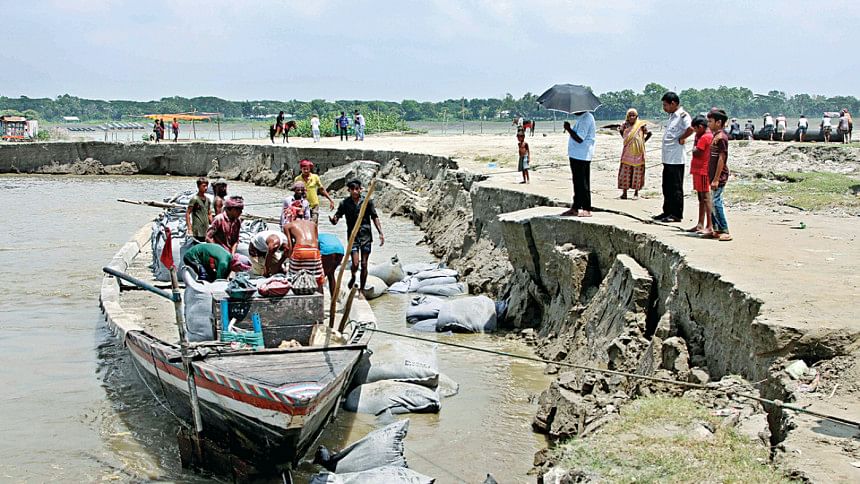 Locals said the erosion was threatening a nearby road and several villages, including Gorilabari, Beltia, Alipur, and Singulee in Kalihati upazila.
 Last year, a 200-metre-long village protection embankment of BBA, which is around 1.5km south from the east end of the bridge, in Gorilabari area was devoured by the river with a number of houses from August 20 to 23.  
Locals have blamed that indiscriminate sand lifting from the river by powerful dredgers is one of the main reasons behind the erosion in the area. 
Recently, people of several villages under Gohaliabari and Durgapur unions demonstrated at Alipur, demanding stopping of sand lifting to save the villages from erosion and construction of an embankment for protecting the area.
They also demanded punishment of those involved in the illegal sand lifting.
Although sand lifting is prohibited within six km of the bridge, some influential people have been doing illegal sand business near the east end of the bridge, putting the important structure under threat, said the site officials.
Tofazzal said they used to detain the illegal sand lifters and handed them over to police.
Locals said the administration launched mobile court drives once or twice a year and fined one or two sand traders, but it was not enough to stop the sand lifting. 
The 5.63km Bangabandhu Multipurpose Bridge situated between Tangail and Sirajganj was built on the Jamuna for easing communications of northern and southwestern parts with other parts of the country, and it was opened to traffic in 1998.