Jamuna losing navigability
Dozens of cargo vessels stranded near Paturia, Daulatdia ferry ghats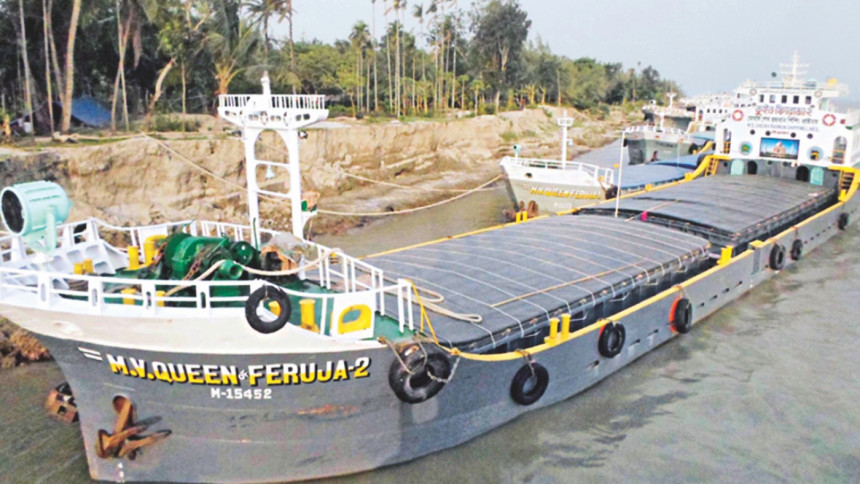 Around 50 laden cargo vessels heading towards the northern region have been stranded near Paturia and Daulatdia ferry ghats for the last couple of days due to poor navigability in the Jamuna river.
It is feared the current Boro cultivation in 16 northern districts might be disrupted as the cargo vessels ferry, among other goods, fuel, coal and fertilisers.
During a visit to the areas on Tuesday, around 30 cargo vessels were found anchored at Mandrakola, three kilometres off the Paturia ghat in Shibalaya upazila of Manikganj. Around 20 other vessels were anchored near the Daulatdia ghat under Goalanda upazila in Rajbari.
The stranded vessels were heading to the northern districts from Dhaka, Narayanganj and Chittagong, said the crewmembers.
They added movement of cargo vessels have been hampered for the last three weeks due to poor navigability at 10-12 points on a 25-kilometre-long route between Paturia-Daulatdia point and Baghabari Oil Depot in Sirajganj.
The vessels need 10-12-foot-deep waterway, but the points with poor navigability are only seven to eight feet deep.
The companies are counting loss as they are forced to transport their goods to their destinations with small engine boats, the crewmembers added.
Ruhul Amin, an official of Deshbandhu Company, said five cargo vessels of his company were forced to anchor at Mandrakola. He added they had to count additional Tk 2 lakh for unloading the goods and chartering small boats.
"We are facing serious problems including financial crisis for being stranded here," said Rafiqul Islam, a labourer of cargo vessel Beauty of Queen, which came from Chittagong.
 Md Milon, master of Queen of Feroza-1, alleged the navigation crisis is created every year due to poor and unplanned dredging by the Bangladesh Inland Water Transport Authority (BIWTA).
He alleged the BIWTA dredgers dump the removed sand near the dredging spot, allowing it to return to the dredging spot within a very short time.
He terms the dredging eyewash that makes the main channel of the river narrower every year.
The BIWTA officials have meanwhile claimed there is no navigation crisis at those points.
BIWTA Deputy Director (conservancy) at Aricha Abdus Salam said they have directed everyone concerned in writing to maintain seven feet draught.
But the vessel owners and operators violate the directive and fall into troubles. In most cases they overload their vessels beyond capacity, losing the minimum depth of water for smooth navigation, Abdus Salam added.
The goods suppliers and crewmembers urged the authorities concerned to take necessary steps to make the channel navigable for safe passage of their vessels.