Homes lost as erosion strikes again in Sirajganj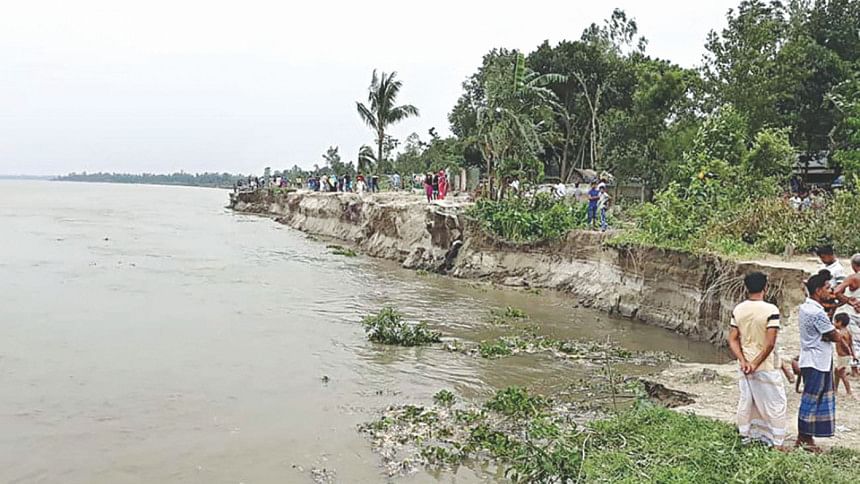 Several villages in Sirajganj are once again under serious threat of river erosion as the Jamuna has already devoured at least 50 homes at Enayetpur point in Shahzadpur.
More than 50 families have lost their homes, while several hundred other people took shelter at any safe space they could find, as the constantly swelling river has been eroding homesteads and farmland since the day after Eid-ul-Fitr.
"The Jamuna is damaging houses and properties at every moment. At least 50 houses went under water in last one week, while more than five thousand establishments face the threat of erosion in five villages of Enayetpur," Nazmul Hossain Khan, Shahzadpur upazila nirbahi officer (UNO) said.
Those living in the affected areas were leaving their houses as quickly as possible, the UNO said, adding that a list of the victims of the erosion was being prepared by the district administration. Once the list is made, they plan on offering assistance to those affected.
While speaking to journalists, the victims of the erosion, however, complained that the Water Development Board (WDB) has not taken any steps as yet to prevent the erosion.
"Our houses and farmland are all submerged. While people are enjoying the Eid festival, we are leaving our homes as the river erosion began the day after Eid," Jamila Begum, of Brahmagram village, said.
However, WDB has said that while the erosion occurs almost every year, it happens in different areas of the district at different times, for which it is difficult to take early preventive measures from.
The saturation of water from the upstream is what began this erosion of the Jamuna river, Ranajit Kumar Sarker, assistant engineer of WDB, Sirajganj, said.
"We have already submitted a report to the WDB headquarters requesting urgent protection work in the erosion hit area of Enayetpur and Shahzadpur," he said adding that after approval from the WDB headquarters, they would start work immediately.
On the other hand, the WDB has a long-term plan to build a dam on the riverbanks stretching from Enayetpur to Shahzadpur to prevent further occurrences of river erosion in the area.