Public transport in Dhaka
E-ticketing remains only on paper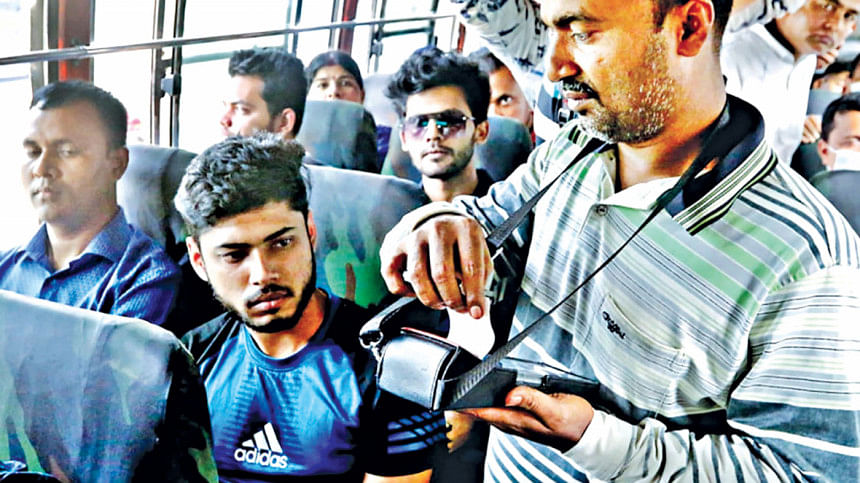 E-ticketing for all buses in Dhaka was launched last year, first on Mirpur route and then on other routes for over 3,000 buses, aiming to bring discipline in the capital's public transport sector and reduce conflicts between passengers and bus helpers over additional fares.
The service, however, now remains on paper only!
Since the very beginning, allegations were raised  against bus staffers for refusing to use the POS (point of sales) machines provided by the bus owners' association for e-tickets and collecting fares, and the situation has only gotten worse over time.
Upon boarding 25 buses in Gulistan, Paltan and Farmgate areas recently, this correspondent did not find a single bus using POS machines for e-tickets.
It seems these POS machines have disappeared in thin air from Dhaka buses.
Many commuters remain unaware that they are supposed to get e-tickets for local buses. Even as signs inside most buses read, "Do not pay fare without a ticket," this directive often goes unnoticed.
Shamim Khan, a regular passenger of Akash Paribahan on the Paltan- Bashundhara route, said, "I didn't even know e-tickets exist. The bus helpers never informed me about it once."
In response, Ajmot, who collects fare for Akash Paribahan, answered, "If the passenger wants, I give the ticket. The machine (POS) cannot be hung around the neck all the time."
When this correspondent told him to show the POS machine, he could not.
This correspondent had a similar experience on board a bus of Malancha Paribhan, which runs from Mohammadpur to Katherpool intersection.
On his way from Paltan to Shahbagh, when he asked the helper to provide an e-ticket, Shakil, the helper, said, "There are no machines, if you want to travel on this bus, you have to pay the pre-decided fare."
Shariful Islam, a resident of Mirpur's Senpara Parbata area, comes to his office at Kawran Bazar every day by bus.
"When the service was first launched, they provided us e-tickets for the first two months. But the situation went back to usual from the beginning of this year. POS machines are no longer in use it seems," he said.
The Dhaka Road Transport Owners' Association introduced the e-ticketing system on November 13 last year, originally encompassing 1,643 buses from 30 companies, with the goal of extra fare collection on Dhaka city and suburban routes. On January 10 of this year, an additional 717 buses from 16 businesses joined the initiative in the second phase.
The e-ticketing system was then further expanded to 947 more buses from 13 additional companies on March 1. Currently, 3,307 buses from 59 firms are expected to use e-tickets as per the association's decision.
Contacted, Khandkar Enayet Ullah, secretary-general of the Dhaka Road Transport Owners' Association, reiterated the association's commitment to collect fares through e-tickets.
"There is no lack of effort from our side. But it is not possible for us to monitor every single bus. Passengers should also be aware to this end."