To the relief of passengers
E-ticketing launched for buses on Mirpur route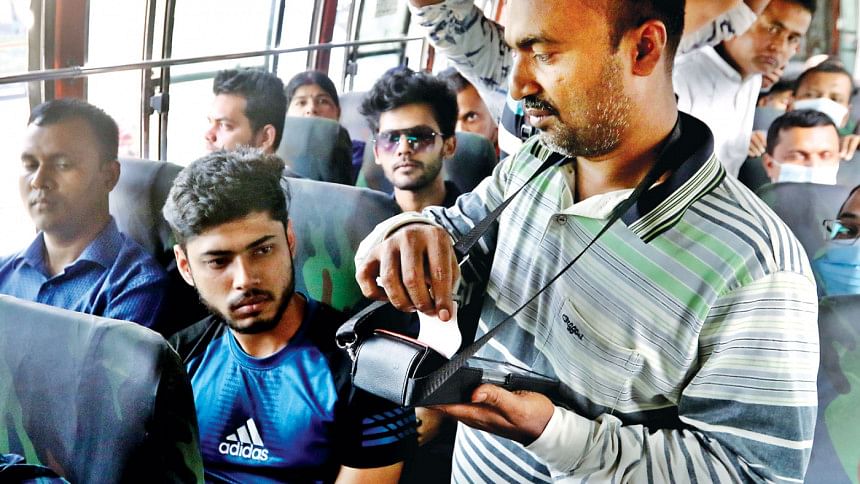 The much-awaited e-ticketing service for buses on Mirpur route finally began yesterday.
In a press conference on Saturday, Bangladesh Road Transport Owners Association General Secretary Khandkar Enayet Ullah announced e-ticketing services for all buses on the route from yesterday.
Out of 30 bus companies, e-ticketing has not been introduced in the buses of at least five companies. Bus officials claim that they could not provide this service due to a shortage of human resources and a lack of ticketing machines.
Passengers appreciated the initiative on the first day.
Ashraf Hossain, a resident of Mirpur-2 and banker, said every day, many get into quarrels with helpers over bus fare.
"Due to the introduction of e-ticketing, we will be able to pay the proper fare for a certain distance," he added.
However, all the buses are yet to start the process due to a lack of POS ticketing machines. While visiting Farmgate area between 9:30am and 10:00am, this correspondent talked to the staffers of seven buses that ply Mirpur-Jatrabari and Mirpur-Sadarghat routes.
Five of them claimed that they could not go for the system as they are yet to receive the machines.
Bus companies are acquiring these machines from private organisation Jatri.
Three staffers of Shikar Paribahan said they have heard that a meeting was held in this regard, and they will get the devices soon.
Rahman Mia, a passenger who travelled to Farmgate from Mirpur-10, said he did not get any e-ticket. "I had to pay the money to the bus conductor directly."
Staffers of Bihanga Paribahan and Tanjil Paribahan said they did not take fares from passengers through ticketing machines.
Al-Amin, a helper of Tanjil Paribahan, said, "We have the machine. But because of the lack of manpower, we could not use it. But we will start using it as soon as possible."
In this regard, Enayet Ullah said, "We have just introduced the service. So problems will arise, but we are working on them."
In the press conference on Saturday, he said 60 bus companies will operate in Dhaka from January 31, 2023, while 97 buses of Dhaka and its suburbs will run under e-ticketing from February 28.
This implies that the operation of 5,650 buses in Dhaka and its suburbs will be brought under the system by February 28.