The sudden disappearance of e-tickets
Bus staffers unwilling to carry on with the service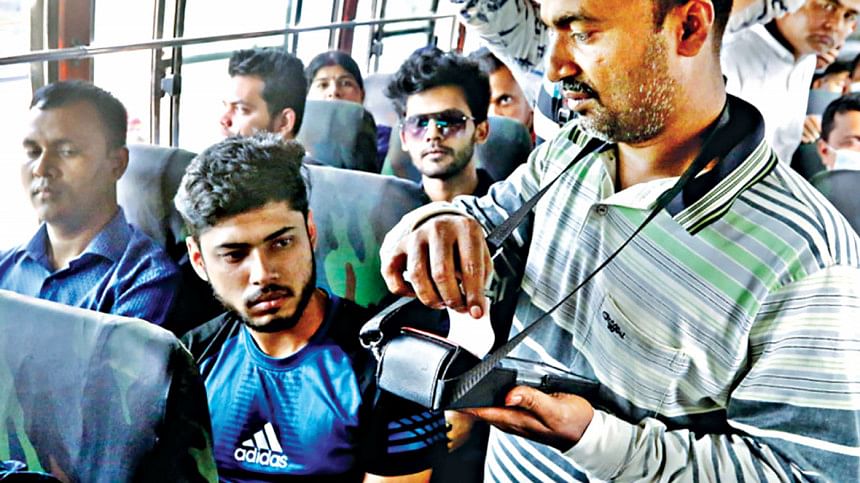 Amid much hype and excitement, e-ticketing for all buses on the Mirpur route was launched to reduce conflicts between passengers and bus helpers over additional fares. However, just two months after its introduction, the service disappeared.
The initiative, which was appreciated by passengers, has been refused by bus helpers. They are refusing to use the POS (point of sales) machines provided by the bus owners association for e-tickets and collecting fares.
Moreover, a significant number of buses do not even have POS machines.
Upon boarding 15 buses in the Mirpur and Mohammadpur areas recently, this correspondent found that only 2 out of the 15 buses had POS machines for e-tickets, which were found in the helpers' pockets. In these two buses of Ayat and Shikar Paribahan, helpers were seen collecting fares manually instead of using the POS machines.
The remaining 13 buses did not have POS machines at all.
Md Arif Hossain, a private job holder and resident of Farmgate, shared his experience of boarding an Ayat Paribahan bus on the Chiriyakhana-Kamalapur route to go to Mirpur 10.
"The supervisor took Tk 20. After a long altercation over an e-ticket, he brought out a machine from his pocket and gave me an e-ticket where the fare written was Tk 15," he said.
Hossain also mentioned that the helpers on the bus never willingly provided him with e-tickets and that he had to argue with them almost every time.
This correspondent boarded Malancha Paribahan on the Mohammadpur-Doyaganj, Ramjan Paribahan on the Mohammadpur-Demra staff quarter, and Midline Paribahan on the Mohammadpur-Khilgaon routes. However, none of these buses had POS machines to provide e-tickets.
A POS machine was found on a Paristhan Paribahan bus on the Bosila-Abdullahpur route, where the helper was seen collecting fares manually. Similar pictures were found of at least 15 buses in Shahbagh.
Mahbub Rahman Bhuiyan, a banker and resident of Bosila, got on Paristhan Paribahan from Mirpur 10 to go to Mohammadpur.
"Despite having a POS machine, the helper is collecting fares manually. He gave me an e-ticket only when I told him that I will not pay the fare without an e-ticket," he said.
When asked about their reluctance to use POS machines, some helpers claimed that the machines often go out of order, while others said the paper rolls of the machine run out quickly.
Wishing anonymity, a helper of Midline Paribahan (which does not have a POS machine), stated that the machines were taken back by his company.
"It was difficult and time-consuming to operate the machines. Carrying it constantly on our shoulders was painful as well," he said.
While talking with this correspondent, at least 10 passengers expressed their disappointment over the discontinuation of the service, citing the lack of proper monitoring.
"When the service was launched, I thought it would give us relief and we wouldn't see any more quarrels between helpers and passengers over the fare," said Md Nurul Alam Shikdar, a resident of Mirpur 10.
Bangladesh Road Transport Owners Association's secretary general Khandkar Enayet Ullah has announced to launch the third phase of the e-ticketing service in 947 buses under 59 companies in Dhaka from March 1. This will bring the total number of buses under the service to 3,307.
The first phase of the e-ticketing service began on November 13, 2022, with 1,643 buses under 30 companies operating on the Mirpur route. The second phase was launched on January 10, covering 717 buses under 16 companies.